Fox Business Network Announces Debate Lineup, With Paul And Fiorina Sent To Kid's Table
Rand Paul and Carly Fiorina are the biggest losers in the lineup for the latest Republican debate on Thursday.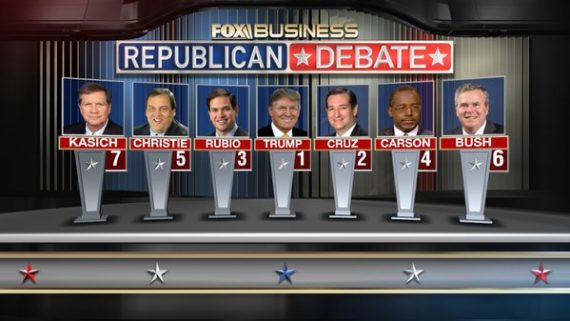 Late yesterday, Fox Business Network announced the line up for Thursday's Republican Debate and, as expected, the main stage will be somewhat smaller than it has been in the past:
Rand Paul and Carly Fiorina have been booted to the undercard in Thursday night's Republican primary debate as the number of main-stage candidates was cut to seven by stricter polling criteria.

Paul, who is struggling to gain traction in the presidential race, immediately cried foul, and vowed to not participate in the event.

Fox Business Network, which will televise the sixth GOP presidential debate this week, announced the debate fields on Monday evening, after weeks of speculation that Paul would for the first time not make the cut for the primetime event. The seven candidates who will appear on the main stage in North Charleston, S.C., are Donald Trump, Ted Cruz, Marco Rubio, Ben Carson, Chris Christie, Jeb Bush, and John Kasich. Kasich qualified as a result of his strength in New Hampshire.

Paul and Fiorina are set to join Mike Huckabee and Rick Santorum in the undercard — if Paul decides to participate. The Kentucky senator told CNN Monday evening, just before the official announcement, that Fox Business had made "a mistake," and he wouldn't attend.

"We will not participate in anything that's not first-tier," Paul said. His campaign confirmed to POLITICO that he will sit out Thursday's debate.

His campaign elaborated in a statement that multiple polls showed him well within the network's criteria for qualifying, and contended that the margins of error in polls make them a poor tool for determining who makes the main stage.

"To exclude candidates on faulty analysis is to disenfranchise the voter," the statement said. "Creating 'tiers' based on electoral results of real votes might make sense but creating 'tiers' on bad science is irresponsible."

Regardless of whether he takes part in the undercard debate, the downgrade could be a crippling blow for Paul — who has insisted that he would remain in the race through the Feb. 1 Iowa caucuses, even though he also faces a reelection campaign this year for his Senate seat.

In an interview with POLITICO last week, Paul called for organizers to abolish the earlier undercard debate. "I'm not sure what the purpose is anymore, if there ever was one," Paul said.

The Paul camp has fought hard to keep its candidate on the main stage, where he has appeared for the prior five debates. Earlier Monday, the campaign released a memo stating that "multiple national polls" have the Kentucky senator "in 5th or 6th place" — even though he's in seventh place in the average nationally and in both early states. "By any reasonable criteria Senator Paul has a top-tier campaign and has qualified for the stage," the memo said.

But it was clear that Paul didn't meet the criteria Fox Business had outlined prior to Monday's qualification deadline. The network said it would average the five most recent polls nationally, and in both Iowa and New Hampshire. The top six candidates nationally would qualify – and if any other candidate appeared in the top five in either early state, they would be added.

Paul was in seventh place nationally and in both early states, according to POLITICO's calculations.
When Fox Business Network announced its debate criteria just before Christmas, it was apparent that Paul, among others, was at the very least on the bubble for being pushed into the undercard debate due to the fact that he had been falling significantly in the polls over the past several months notwithstanding the fact that he had made the main stage in every debate since the first one back in August. Indeed, given the fact that Paul is, as noted, in seventh place both nationally and in Iowa and New Hampshire in the poll averages as measured by both RealClearPolitics and the broader measurement used by Pollster, it has almost seemed as though Republican voters have like Paul less the more they've gotten to know him. In any case, Paul made it clear shortly after the criteria were announced that he would not participate in an undercard debate if that were his only option, so I suppose that the campaign's announcement of the same last night isn't a surprise since he would risk being called a hypocrite for going back on his word. At the same time, though, to the extent that Paul still wants to maintain the image of a campaign that still actually exists it seems foolish to turn down an hour to an hour an a half of free media time. Perhaps it wouldn't have much of an impact on the race as a whole, but it certainly doesn't seems like it would hurt all that much, especially given the fact that he would be going up against such relative lightweights as Mike Huckabee, Rick Santorum, and Carly Fiorina.
As for the main stage debate itself, the biggest drama Thursday night is likely to be right in the center of the stage, with Donald Trump, Ted Cruz, and Marco Rubio, who have generally been among the top three nationally and in the early primary states for the better part of a month now. That would seem to give plenty of opportunities for a repetition of the clashes that we've seen over that time between Cruz and Rubio over issues such as immigration over the past month, as well as an opportunity to see if Trump continues his recent lines of attack against Cruz, who has become his closest competitor in Iowa and, potentially, the candidate who could end up surpassing him in the race if he manages to pull off a win in the caucuses. Additionally, this debate and the one that follows two weeks from now are likely the final opportunity for candidates such as Jeb Bush, John Kasich, and Chris Christie to make an impression on voters that could catapult them beyond February. All three of these candidates have risen steadily in New Hampshire over the past two months or so, but it seems clear that only one of them is likely to get their ticket stamped coming out of the Granite State and be given the chance to try to capitalize on their performance there in other parts of the country. These two upcoming debates will go a long way toward helping to decide how that plays out.