'From the River to the Sea'
When the obvious is controversial.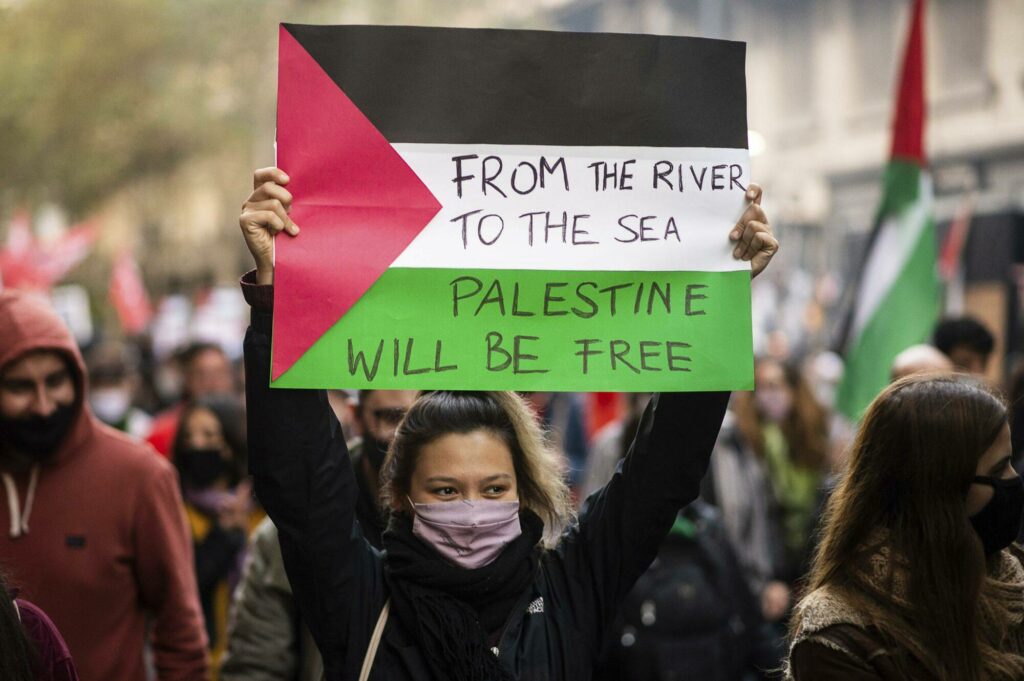 An exchange on Twitter substitute Bluesky Social this morning demonstrates the degree to which it has become nearly impossible to have a productive conversation on the Israel-Gaza crisis.
In a new-deleted post, a scholar associated with the Harvard Kennedy School asserted that pro-Palestinian protestors who have no desire to see Israeli Jews harmed were carrying signs with the slogan "From the river to the sea, Palestine will be free."
I responded, "Is there a version of 'From the river to the sea' that doesn't end the existence of a Jewish state?"
To which he immediately replied, "I am not going to engage in this kind of convo."
Even though we've followed each other at the other place for years and this place for a few weeks, I figured it was quite possible he didn't understand where I was coming from. So I quickly responded, "I think it's possible to agree that Israeli policies have contributed to the radicalization of its enemies, that Israel is usually disproportionate in its retaliation, that the settlements are illegal, etc. while acknowledging even non-radical Palestinians oppose a Zionist state in the region."
Crickets.
I don't think my initial assertion was antagonistic, or even controversial. Any search for a history of the phrase "From the river to the sea, Palestine will be free" is anti-Zionist. Most are from Jewish-leaning sites, where it's painted as an eliminationist slogan. The most forgiving, pro-Palestinian accounts portray it as a call for a single Palestine in which Arabs and Jews can live together in peace. But, even if we take that version at face value, it, by definition, means the end of a Jewish state.
Now, I don't much care about this particular exchange. I follow lots of experts on these platforms and often forget who they are or where they're coming from on a given issue. Most people who follow me don't read OTB, much less everything I post here. He may well have gotten a ton of abusive commentary on this issue over the past few days and is just over it.
But I have gotten a general sense that this is just a topic where it's pretty much impossible to have a productive conversation outside one's narrow niche. So, it's quite possible for Ezra Klein, Spencer Ackerman, and Peter Beinart to sit down and discuss the matter for an hour within the safe space of "the Jewish left." Or even Ross Douthat, Michelle Cottle, and Lydia Polgreen to be civil in a conversation with Thomas Friedman in which they defer to him as an oracle of Middle East wisdom.
Mostly, though, calls for Israel to be constrained in its attack on Gaza—even, perhaps especially, when it comes from American Jews—are dismissed as antisemitic, if not a wish for Jews to die. Similarly, defenses of Israeli's right to retaliate against a massive attack against its civilian population, even if it results in the collateral death of innocent Palestinians, is seen as a call for genocide.
Indeed, it's a longstanding if entirely anecdotal observation of mine that, at least within the broader political science-international relations space, Middle East scholars writ large are the least dispassionate group in the academy. It's not just Israel-Palestine. I've heard lily-white American academics express their hatred of the Kurds. And I've given up hosting panel discussions on Middle East topics because, even when the invited scholars are truly accomplished, the discussions are more rants than conversations.
Obviously, there's a lot of history and bad blood in the region. But, hell, that's true in most areas of IR scholarship. Americans were in shooting wars with Germany, Japan, Italy, Korea, and Vietnam in living memory and we can have civil conversations about those conflicts, even with opposing combatants in those wars. The Middle East is just a different animal.