The (American) Politics of Israel-Palestine
Pick a side. No nuance allowed.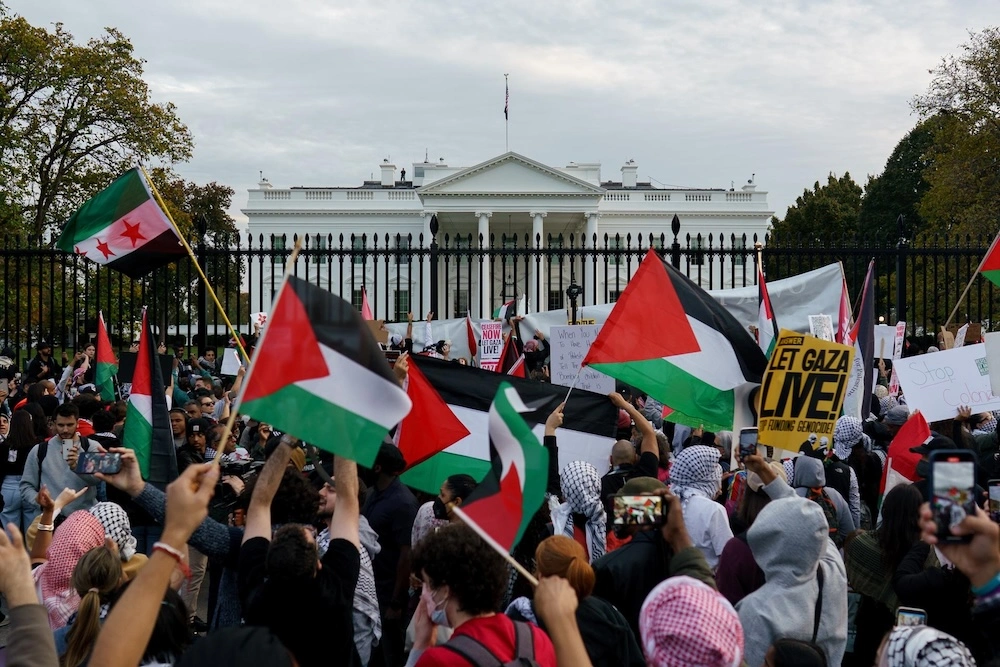 Some loosely related reports and op-eds overnight in the US press.
Lisa Lerer, NYT ("Obama Urges Americans to Take in 'Whole Truth' of Israel-Gaza War"):
Barack Obama offered a complex analysis of the conflict between Israel and Gaza, telling thousands of former aides that they were all "complicit to some degree" in the current bloodshed.

"I look at this, and I think back, 'What could I have done during my presidency to move this forward, as hard as I tried?'" he said in an interview conducted by his former staffers for their podcast, Pod Save America. "But there's a part of me that's still saying, 'Well, was there something else I could have done?'"

Mr. Obama entered the White House convinced he could be the president who would resolve the decades-old conflict between Israelis and Palestinians. He left office after years of friction and mistrust with Prime Minister Benjamin Netanyahu of Israel, who was frustrated by the president's masterminding of the Iran nuclear deal and by his demands that Israel suspend new settlements.

In his comments on Friday, delivered at a gathering of his former staff in Chicago, Mr. Obama acknowledged the strong emotions the war had raised, saying that "this is century-old stuff that's coming to the fore." He blamed social media for amplifying the divisions and reducing a thorny international dispute to what he viewed as sloganeering.

Yet he urged his former aides to "take in the whole truth," seemingly attempting to strike a balance between the killings on both sides.

"What Hamas did was horrific, and there's no justification for it," Mr. Obama said. "And what is also true is that the occupation and what's happening to Palestinians is unbearable."

He continued: "And what is also true is that there is a history of the Jewish people that may be dismissed unless your grandparents or your great-grandparents, or your uncle or your aunt tell you stories about the madness of antisemitism. And what is true is that there are people right now who are dying, who have nothing to do with what Hamas did."

Still, Mr. Obama appeared to acknowledge the limits of his musings about bridging divides and embracing complexity.

"Even what I just said, which sounds very persuasive, still doesn't answer the fact of, all right, how do we prevent kids from being killed today?" he said. "But the problem is that if you are dug in on that, well, the other side is dug in remembering the videos that Hamas took or what they did on the 7th, and they're dug in, too, which means we will not stop those kids from dying."
POLITICO ("Scott: 'Obama is dead wrong' on Israel-Hamas conflict"):
Tim Scott on Saturday slammed Barack Obama as "dead wrong" after the former president called for a more nuanced approach to the Israel-Hamas war.

"From Obama to Biden, Democrats have a problem: supporting Israel always has an asterisk," the South Carolina senator and presidential contender said in a statement to POLITICO.

"Obama is dead wrong and he has a legacy of aiding those who support terrorism," Scott continued. "The truth is simple: Hamas is evil."

Scott has repeatedly attacked President Joe Biden for being too weak in his support for Israel, claiming he helped fund Hamas' attacks on Israel by releasing $6 billion to Iran in a prisoner swap — a claim disputed by the administration, which said the funds released to Iran had not yet been spent.

The Biden administration has offered strong support to Israel, sending near daily military aid shipments, but Scott and other Republicans have been critical of calls to consider the impacts of the Israeli offensive on Palestinian civilians.
Alex Thompson and Andrew Solender, Axios ("Scoop: Biden's 2024 team roiled by Israel-Hamas war"):
Part of President Biden's political team is in turmoil over the Israel-Hamas war, as some aides see the White House as abetting an immoral attack on Palestinians — while others believe Biden is showing "moral clarity" in protecting Israel from terrorists.

Why it matters: The strife within the Democratic National Committee (DNC) — which Biden is leaning on for his re-election campaign — reflects larger generational and political divisions among Democrats.

Those divisions are chiefly between older pro-Israel Democrats and younger progressives who are more sympathetic to the plight of Palestinians.
Their differences have been exposed by the war in Gaza that began Oct. 7, after Hamas' surprise attack on Israel killed 1,400 people. Israel's counter-attacks in Gaza have killed more than 9,000 people, the Palestinian Ministry of Health claims.

Zoom in: Some staffers at the DNC feel despondent about the scale and death toll from Israel's response, and one staffer said they are considering resigning, citing Biden's resolute support for Israel.

A high-ranking DNC official who asked not to be identified told Axios: "The president centered his 2020 campaign on a 'Battle for the Soul of the Nation,' but it seems as though the administration is currently in a battle for its own soul."
"I don't know how you can see supporting the large-scale killing of Palestinian civilians as anything but immoral," the official added.

DNC chair Jaime Harrison told Axios in a statement that Biden "continues to display unparalleled leadership and moral clarity" — and that "Israel has a right to defend itself from terrorism and the continued threat posed by Hamas."

Harrison noted that Biden — who has called for a "humanitarian pause" in the fighting in Gaza, but not a ceasefire — has been "a strong advocate for both humanitarian assistance to the people of Gaza as well as protecting civilian lives."

Some DNC staffers say they've been rattled by emails and phone calls from Democratic grassroots donors angry about the administration's policy, according to a person familiar with the matter.

The DNC declined to comment on any discontent among staffers, supporters and donors.
The 2024 cycle "promises to be a long, grueling campaign, and the president is making it even harder," the high-ranking DNC official said.

On Friday, 51 DNC staffers — about 17% of the DNC's roughly 300 employees — signed a letter to DNC leaders saying that "we feel it is the DNC's moral obligation to urge President Biden to publicly call for a ceasefire," The Huffington Post first reported.

[…]

Zoom out: The internal conflicts at the DNC also are playing out among Democrats in Congress — and their staffs.

Former staffers for the presidential campaigns of Sens. Elizabeth Warren (D-Mass.) and Bernie Sanders (I-Vt.) have penned letters urging the senators to call for a ceasefire.
Warren called two of the organizers of the effort to hear them out, a person familiar with the matter told Axios.
Sanders' communications director did not respond.

Several House Democrats told Axios they expect more of their colleagues to begin speaking out about the humanitarian situation in Gaza.

"It's going to be very, very hard for Democrats, given what we are seeing on cable news … about what's happening in Gaza to just turn a blind eye," said one lawmaker, a supporter of Israel.
Sen. Chris Murphy (D-Conn.) turned heads Thursday with a statement calling for Israel to "immediately reconsider its approach" to the war.
The fight has seeped into the administration as well. One prominent State Department official has resigned and national security officials have hosted listening sessions for staffers, POLITICO first reported.
Michelle Goldberg, NYT opinion columnist ("When It Comes to Israel, Who Decides What You Can and Can't Say?"):
Last week, the Anti-Defamation League and the Louis D. Brandeis Center for Human Rights Under Law sent a letter to nearly 200 college presidents urging them to investigate campus chapters of Students for Justice in Palestine for potential violations of federal and state laws against providing material support to terrorism. As evidence for these very serious accusations, the ADL and the Brandeis center offered only the student group's own strident rhetoric, including a sentence in its online tool kit, which praised Hamas's attacks on Israel and said: "We must act as part of this movement. All of our efforts continue the work and resistance of the Palestinians on the ground."

Under the direction of Gov. Ron DeSantis, Florida has also ordered state universities to shut chapters of Students for Justice in Palestine. Citing the same tool kit, DeSantis said, "That is material support to terrorism, and that is not going to be tolerated in the state of Florida, and it should not be tolerated in these United States of America." Virginia's Republican attorney general has opened an investigation into American Muslims for Palestine, a national group that, according to the ADL, helps coordinate the activities of Students for Justice in Palestine, "for potentially violating Virginia's charitable solicitation laws, including benefiting or providing support to terrorist organizations." Several Republicans, including Donald Trump, have called for revoking the visas of pro-Palestinian student activists.

[…]

For Palestinian and Muslim students, the invocation of terrorism law is especially frightening. Attempts to curtail anti-Zionist activism are not new; about 35 states have laws targeting the boycott, divestment and sanctions movement against Israel. But now advocates for Palestinian rights describe a new level of repression. "The ADL is calling for the mass violation of students' rights in a manner that's reminiscent of the post 9/11 environment, but with a more intensely Palestinian twist," said Radhika Sainath, a senior staff attorney at the civil rights organization Palestine Legal. She predicts that if federal and state governments follow through on the ADL's demands, Palestinian activists will be subjected to an increase in surveillance, infiltration and investigation, even though their groups "pose zero threat and have done nothing but engage in speech 100 percent protected by the First Amendment."

[…]

No one should underestimate how awful the campus climate is for many Jewish students, who've experienced a surge in violence and abuse. At Cornell, an engineering student was arrested after threatening to shoot up a kosher dining hall and calling for Jews to be raped and murdered. Demonstrators at a rally in support of Palestinians assaulted Jewish counterprotesters at Tulane; one student had his nose broken. In October, Erwin Chemerinsky, the law school dean of at the University of California, Berkeley, wrote an opinion essay headlined, "Nothing Has Prepared Me for the Antisemitism I See on College Campuses Now." In it, he told of a student who insisted that she would feel safe on campus only if the school got "rid of the Zionists."

This hostile environment stems, at least in part, from the nearly vaunted role played by the Palestinian cause in the left's understanding of global dispossession. Because America helps underwrite Israel's military occupation, Palestinians are often viewed as singular symbols of imperialist oppression. For decades, radical Black activists in America have seen, in Israel's occupation of Palestine, a mirror of their own subjugation, and that identification was supercharged during America's 2020 racial justice protests, when a mural of George Floyd appeared in Gaza City. In some social justice circles, then, support for Israel is viewed as something akin to support for the K.K.K.

This contempt for Zionism has only accelerated with the pulverizing bombing of Gaza and its thousands of civilian casualties. And too often, on hothouse campuses full of young people with half-formed ideas and poor impulse control, anti-Zionism segues into hatred directed at Jews.

[…]

As with the conflict between Israel and Palestine more broadly, there's plenty of blame to go around. The Foundation for Individual Rights and Expression, a libertarian-leaning free speech organization, shared data with me showing that, since 2002, there have been more attempts made to de-platform pro-Palestinian campus speakers than pro-Israel ones. But attempts to shut down pro-Israel speakers, by disinviting or disrupting them, are more likely to be successful.

Both sides, then, have credible stories to tell about being censored and intimidated. The difference is where that intimidation is coming from. For supporters of Israel, it largely comes from peers and, in some cases, professors. For supporters of Palestine, it comes from powerful outside institutions, including the state.
Rather obviously, what the likes of Barack Obama, Joe Biden, and Tim Scott have to say—much less the use of state power to harass those who engage in free speech—are more important than what teenagers say and feel on college campuses. Still, the common thread here, aside from the crisis in Israel, is the lack of tolerance for acknowledging the complexity of an emotionally charged issue.
In the aftermath of the brutal slaughter of Israeli women and children by Hamas, any statement that begins "I condemn the attacks but . . . " will be received as throat-clearing. There's not a thing in Obama's statement on the matter with which I disagree, other than to chuckle at the sheer hubris of thinking that he could solve an intractable problem. But that sort of ego is probably a necessary component to running for the most powerful job on the planet, much less serving two terms. Scott's statement is simplistic but certainly works better as slogan.
We've seen division within the Democratic Party, including Biden's staff, from almost the beginning of this crisis. That's not surprising, really, since the party is simultaneously home to most American Jews (roughly 75% have identified Democrat in recent polls) and far more sympathetic to the Palestinian cause than the Republican Party going back to at least the Carter Administration.
It puts Biden in a tough spot. His literal embrace of Netanyahu and unwavering support of Israeli victory ties him to the destruction in ways that many younger Democrats find outrageous. At the same time, his calls for restraint and humanitarian pauses make him vulnerable to charges of being "soft on terrorism" and weak on antisemitism.
As to the various campus protests, I'm pretty much a free speech absolutist and that's even more true in an academic environment. College is a natural time for activism and outrage over the state of a world students are struggling to understand. But, of course, heated speech can incite violence, intentionally or otherwise. How to balance free expression while simultaneously making Jewish and Palestinian students feel safe is beyond my expertise.
Unless there's much more to it than Goldberg is letting on, though, it seems obvious that deporting Palestinian students for expressing their outrage over what's happening in their homeland—much less charging them under antiterrorism laws for doing so—is beyond the pale.