Gary Johnson, Bill Weld, and the 'Libertarian Party'
With two former Republican governors running under its banner, is there such a thing as a "Libertarian Party"?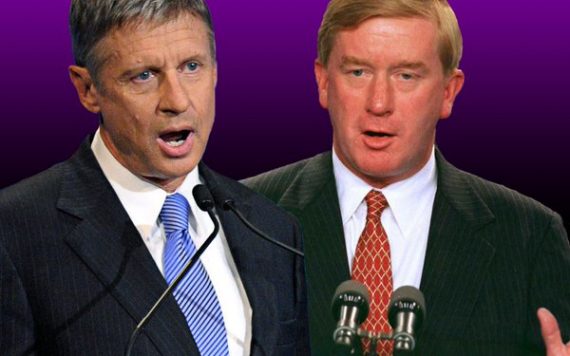 The Libertarian Party nominated former Republican governors Gary Johnson and Bill Weld as its 2016 ticket. As Doug Mataconis observed,
Johnson's nomination comes as the Libertarian Party experiences a period of greater notoriety than it has ever had in the past. To a large degree, of course, this is due to the dissatisfaction that voters in both parties have expressed via polling and other methods with the presumptive nominees of the two major political parties, both of whom enter the General Election season with historically high disapproval numbers and polls saying that the public quite simply does not trust them. On the Republican side in particular, there remains a sizable number of people who continue to say that they would not support Donald Trump under any circumstances, and speculation has run high as to whether or not these voters could be persuaded to support a third party candidate. The fact that both Johnson and his presumptive running mate are former Republican Governors should not be discounted in this respect and, indeed, Johnson has made no secret of his intention of seeking to attract disaffected Republicans, and Democrats, in an effort to increase the level of support for the party sufficiently to justify an invitation to the Presidential debates in the fall. Whether that strategy will succeed remains to be seen, but it's one that the delegates seemed to eventually support notwithstanding the purism that causes the LP to choose the path to irrelevance far too often.
In urging the delegates to choose Weld, Johnson argued that it's by far the Party's strongest bid to get on the debate stage with Trump and Clinton.  That's a long shot, of course, but Ross Perot did manage it in 1992. Getting invited requires achieving a 15 percent threshold in the national polls, an absurdly high barrier for a third party candidate.  Johnson doesn't have Perot's charisma. But he does have far and away the most disliked candidates ever nominated by the major parties, at least in the modern era.
There's next to zero chance that Johnson will be the 45th President of the United States. Even if Clinton were to be indicted following the FBI's investigation into the email scandal (and I don't think she will be) and people finally get outraged when Trump says something outrageous (more likely, but outrage at the system is so high that I don't think it'll happen) I simply can't see a path to 270 Electoral votes. Nor would a House of Representatives consisting of nothing but Democrats and Republicans elect a Libertarian.
In the comments to Doug's post, James Pearce contends,
Gary Johnson won't be running for president.

He'll be running a PR campaign to increase awareness of the LP so that someday they could (hopefully maybe) be a viable alternative to either of the dominant parties. As it is, the LP is little more than a refuge for former Republican heretics.
Stonetools follows up, predicting,
I think that some disaffected Republicans will take a look, then find out that libertarians want the Civil Rights Act repealed, think Social Security should be abolished and apparently believe that interstate highways "just happen". Then these Republicans will drift right back out again, thinking "Trump might be nuts, but these guys…"
The problem with all that is that there's no such thing as the Libertarian Party.  To a certain extent, that's true of the Democrats and Republicans, too. Today's Democratic Party has very little in common with the party of Andrew Jackson; it's not all that recognizable as the party of Walter Mondale and Mike Dukakis. And, as we've noted hundreds of times over the years here, today's Republican Party isn't the party of Ronald Reagan, much less the party of Abraham Lincoln.
In modern American politics, the presidential ticket defines the party. The recent kerfuffle over Bernie Sanders' attempts to hijack the Democratic Platform is at the end of the day meaningless. If, as strikes me likely at this juncture, Hillary Clinton is elected president, she'll govern based on her judgment as to what's most advantageous to her politically and within the constraints of what can get through the Congress or she can get away with in terms of executive orders.  A President Trump would do the same thing. Ditto the extremely implausible President Gary Johnson.
Indeed, moreso than Trump or Clinton, a President Johnson would be totally unconstrained by not only the Libertarian Platform but the party itself. Trump and Clinton have both alienated their party's Establishment and there will be a sizable contingent of Members of Congress—particularly US Senators looking for a promotion—who will take them on if they don't tow the party line. Johnson would have an even more difficult time governing, given that Democrats and Republicans alike would surely work to ensure that he's not re-elected. But, because there would be at most a tiny handful of Libertarians in the Congress, he would be free to govern as he saw fit.
Furthermore, Johnson and Weld have been Republicans throughout their political careers. The got elected governor of New Mexico and Massachusetts, respectively, as Republicans.  Yes, Weld held the Libertarian nomination when he sought to get elected governor of New York; but he vied and failed to get the Republican nomination as well. They're both small-l libertarians who have taken refuge in the Libertarian Party as a platform to advance their own agendas; they're not True Believers on a Quixotic bid to advance the LP brand.  I guarantee they won't be running on the abolition of Social Security and interstate highways.
Indeed, were Johnson and Weld to somehow catch fire, they would almost certainly mount a bid to join forces with the Republicans. In the short term, that would mean appealing to long-time Republican voters like myself who can't countenance Trump or stomach voting for Clinton. In the longer term—including in a fantasy world where they were somehow elected—they would surely seek to align themselves with the GOP as a governing strategy and then seek both the Republican and Libertarian nominations in 2020.
The far, far more likely scenario, of course, is that Johnson and Weld are this cycle's version of Ralph Nader in 2000, drawing almost all of their votes from people who would ordinarily vote for members of one party, in this case the Republicans. Unlike in 2000, though, few who pull the lever for them will be angry that their second choice didn't become president.