Gary Johnson Leaves GOP, Declares For Libertarian Party Nomination
Gary Johnson's quest is quixotic, but interesting nonetheless.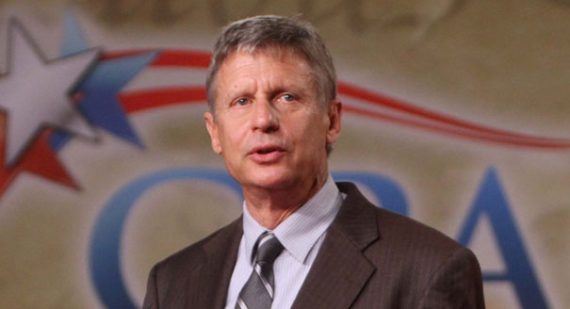 As expected, today former New Mexico Governor Gary Johnson abandoned his quixotic bid for the Republican Party nomination for President and announced his equally quixotic bid for the Libertarian Party's nomination for President:
(CNN) – Former New Mexico Gov. Gary Johnson announced his intention to seek the Libertarian nomination for president Wednesday.

Calling his choice "both a difficult decision-and an easy one," in a statement, Johnson decried the Republican presidential nomination process and pledged to bring a "libertarian voice" to the 2012 race.

Johnson blasted the inclusion of "candidates with no national name identification like Herman Cain, Rick Santorum, and John Huntsman" as well as "candidates with no executive experience like Michele Bachmann and Rick Santorum" in presidential debates while he was "arbitrarily excluded by elitist media organizations in New York."

The former two-term governor struggled to gain footing in national polls measuring support for GOP candidates seeking the 2012 presidential nomination and failed to meet criteria necessary to participate in debates. However, he has attended two debates: one in May, and another in September after reaching one percent support in five national polls.

And after "appeals to the Republican National Chairman for basic fairness were ignored," Johnson said he concluded that "the best answer is the simplest."

"I'm a Libertarian in belief. I successfully governed as a Libertarian in everything but the name, and I am running for president as a Libertarian."

As for that other Libertarian already running for president, "While Ron Paul is a good man and a libertarian who I proudly endorsed for president in 2008, there is no guarantee he will be the Republican nominee," Johnson said.

So far, he claimed "just the speculation that I might run as a Libertarian has garnered more national media attention than I ever received as a Republican candidate."

"I am excited," Johnson said. "I am liberated."
Johnson's candidacy is by now means assured, of course. There are already several candidates actively seeking the LP nomination, although none of them have the name recognition or the political experience that Johnson has. Additionally, Johnson's status as a former Republican is likely to draw some criticism from party activists, especially since there seems to have been some degree of blowback  within the party from the 2008 candidacy of former Congressman Bob Barr. Nonetheless, for much the same reason that LP delegates went with Barr in 2008, they may well back Johnson in 2012 for the simple reason that his presence on the ticket is likely to generate more media coverage than any other candidate would. Of course, for all the media attention Barr got in 2008, it didn't really translate into much of an impact on the race, although Barr did get more votes than any Libertarian Party Presidential candidate since 1980.
Johnson's status as a former New Mexico Governor who is still relatively popular in his home state could, however, have a potential impact on the outcome of the Presidential election:
In the swing state of New Mexico, Johnson as a Libertarian would draw 20 to 23 percent support in a three-way race for president, with Obama at 44 to 45 percent, and Gingrich or Romney coming in second, at 28 percent and 27 percent respectively, according to a recent Public Policy Polling (PPP) New Mexico survey.
It's not necessarily likely because voters tend to coalesce around the major party candidates as Election Day draws near, but New Mexico's five electoral votes could stand in the balance.
From his campaign announcement, here's what Johnson says his agenda is:
"My Agenda for America, a libertarian agenda, is clear. It is not at an agenda you will hear from any other candidate or party.

– I want to end deficit spending and cut federal spending by 43%. – I want to enact the Fair Tax to stimulate real economic growth and job creation.

– I want to end the manipulation of our money by the Federal Reserve. – I support the Second Amendment and oppose gun control.

– I oppose expensive foreign wars in places like Libya and Afghanistan where our national interest is not clear. -I want to cut the over-regulation of our families, our businesses and our lives.

– I support a woman's right to choose.

– I support marriage equality for gay Americans, as required by the Constitution.

– I support the legalization of marijuana, which will save us billions and do no harm.

– I demand a government free of special interest influence, crony capitalism and corruption.

– I support returning strict adherence to Constitutional principles to our government.

"I am confident this agenda will resonate with the American people because it actually reflects the true beliefs of a clear majority of Americans.

"Sadly, neither the Republicans nor Democrats will offer this agenda to the American people. The Republicans talk about cutting spending and taxes but insist on government regulating our personal lives. The Democrats support more liberal social policies but they will tax and spend and borrow us into bankruptcy. America needs a third way.
As I've noted before, Johnson has been virtually alone among the Republican candidates in reaching out to the Occupy movement and speaking out against crony capitalism. These, perhaps, are issues that could resonate well in 2012.