Gary Johnson Wins Libertarian Party Nomination For President
The Libertarian Party has chosen another former Republican politician as their Presidential nominee.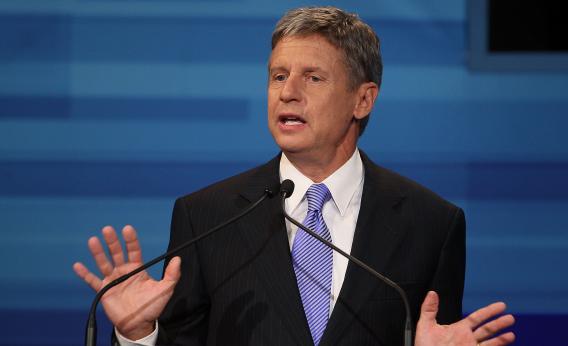 After dropping out of the race for the Republican nomination for President in December, former New Mexico Governor Gary Johnson quit the GOP altogether and began pursuing the Libertarian Party's nomination instead. Today at the Libertarian Party's convention in Las Vegas, that effort paid off with a first ballot victory:
Former New Mexico Gov. Gary Johnson is campaigning to win the White House as a Libertarian after receiving scant attention in the Republican presidential race.

Johnson easily became the party's presidential nominee at the Libertarian national convention in Las Vegas on Saturday. He hopes to appeal to voters fed up with the traditional two-party system this November.

Johnson was a longshot candidate for the Republican presidential nomination when he announced in December that he would instead pursue the Libertarian ticket.

He won 74 percent of the vote on the first ballot in Las Vegas, an unusual showing of support. In 2008, Libertarian delegates needed six rounds of voting to pick a presidential nominee.
As with previous Libertarian nominees, Johnson has said that he hopes to garner the 15% in national polling that would entitle him to an invitation to the national debates that will be televised in September and October (although whether the major parties would agree even to his presence even if he met that criteria is by no means certain). Recent national polling has placed him as high as 6%, and a recent state poll in Montana had him as high as 8%. However, it's probable that much of this support is based as much on voter dissatisfaction with the major party candidates as it is reflective of support for Johnson himself.
This is the second cycle in a row in which the LP has nominated a former Republican elected official as their Presidential candidate. In 2008, it was former Congressman Bob Barr, a selection that actually ended up causing some controversy inside the LP itself. Johnson is likely to be a far more popular choice largely because he's a candidate that the party has been pursuing as a potential nominee ever since he served as Governor of New Mexico. Additionally, Johnson's record as Governor was far more compatible with libertarian ideas than Barr's record in Congress, although Barr had largely renounced much of that record by the time he ran for the LP nomination for years ago.
I don't operate under the belief that Johnson has any real chance of winning the election, and I honestly don't think that he does either given his experience in electoral politics. Heck, his goal of 15% of the vote in a national polls is an incredibly high bar considering the fact that no Libertarian Party nominee has gotten above the roughly 1,000,000 votes that the Ed Clark/David Koch (yes, that David Koch) ticket got in the 1980 election, largely thanks to a national advertising campaign that Koch paid for out of his own pocket. At the same time, though, it's encouraging to see the Libertarians actually nominating candidates with a real political resume, and the possibility of reaching out to groups dissatisfied with both candidates on issues like the drug war and same-sex marriage (Johnson supports same-sex marriage, Obama and Romney do not). Getting real attention for a campaign of ideas? Yea I'd be happy with that.
Update: Jim Gray, a former Superior Court Judge from Orange County, California who most recently ran as the Libertarian Party Senate nominee against Barbara Boxer, won the LP nomination for Vice-President, which isn't surprising given that Johnson had endorsed him before the party convention started. I don't know much about Gray, but he's fairly solid on drug war and criminal justice issues.
Here's a recent interview he did with Reason:
Photo by Mark Wilson/Getty Images