Gas Prices Are Falling, But That's Not Necessarily Good News
Gas prices are falling nationwide but that's mostly because the economy kind of stinks.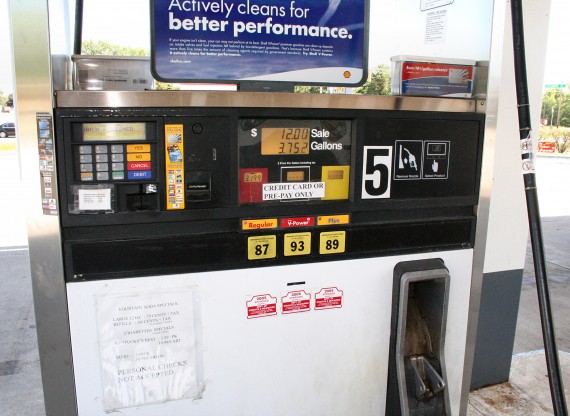 It was just a few months ago that we are all fearing the summer of $5.00/gallon gasoline, not it looks like we could see the summer of gas under $3.00/gallon but that's not necessarily a sign that things are improving:
The darkening clouds of the slowing economy could provide a bright spot for consumers: gasoline at $3 a gallon — or less — by autumn.

Nationally, regular gasoline averages $3.47 a gallon, down 47 cents from this year's high in April and well below the $5-a-gallon fears fanned earlier this year by energy speculators, Middle East tensions and oil refinery glitches that crimped supplies.

Those issues appear to be over, at least for now. Thursday, benchmark West Texas Intermediate crude oil fell 4% to $78.20 a barrel, the lowest price since early October and off 20% year-to-date. Coupled with slumping wholesale gasoline contracts for fall delivery, "the market is suggesting gas below $3 by Halloween, and certainly by Thanksgiving," says Tom Kloza of the Oil Price Information Service.

With production up, oil inventories at 21-year highs and tepid consumer demand, gas prices have fallen for 11 weeks. They're expected to drop more sharply after the peak summer driving season.

"Demand just isn't there," says Brian Milne of energy tracker Televent DTN, noting an Energy Departmentreport that demand for fuel over the past four weeks has fallen 5% below year-ago levels. "It's been dreadful.

Barring supply disruptions heading into hurricane season — which helped drive pump prices to an all-time $4.11 high in July 2008 — consumers could soon be filling up at prices not seen since December 2010.

The expected slump in gas prices could have far-ranging impact, from consumer spending to the presidential elections, where debate over the swift price run-up early this year dominated much of the debate over which political party and energy policy could keep a lid on prices. Now, economists say plunging prices could provide a bit of a floor on the sputtering economy.

"You're talking about roughly $114 billion in extra consumer spending power, and that's a big deal if overall consumer spending is up 2% to 2.5% this year," says Nigel Gault, chief U.S. economist at economic forecasters IHS Global Insight.
If nothing else, lower gas prices could act as an effectively counterbalance to the economic storms from overseas, thus shielding the United States from the worst of what looks a lot like a worldwide economic downturn. Whether it will be enough to actually have a significant impact on economic growth is something that remains to be seen.
What this does reinforce, though, is a fundamental truth about the oil and gas markets that I've made before. Namely, that the biggest influence on prices in those markets comes not so much from supply but from demand. We're heading into a period where economic slowdowns in Europe, China, and India are pushing worldwide demand down and that's why prices are falling. As the article notes, there could be supply-related issues could reverse this effect, of course. Hurricanes in the Gulf would have the most immediate impact on prices here in the United States, but increased tension in the Middle East would do the trick quite nicely as well. "Drill Baby Drill"? Yea, not so much.
So these falling gas prices are good news because it means consumers (and businesses) will have more cash to spend elsewhere and because it may help encourage more summer travel than we might otherwise have seen if gas prices had remained in the $4.00/gallon range, but they're also bad news because the reason they are falling is because the world economy as a whole is once again slipping into if not a recession at least a period of stagnant and slow growth. That's going to make it harder for our economy to recover from the 2007-2008 recession, and because we haven't fully recovered it means that any further slowdown is going to be all the more painful. When we, and the rest of the world, do start growing again we'll see the same thing happen that happened after 2009. Oil prices will start to increase as demand returns to normal levels and if we do end up in a showdown with Iran in the Middle East, then they'll rise even further. It's a question of being careful what you wish for, really.
Photo via Wikipedia