George W. Bush Gets CIA Award
President George W. Bush had a running battle with the CIA throughout his eight years in office. Now, they've given him an award.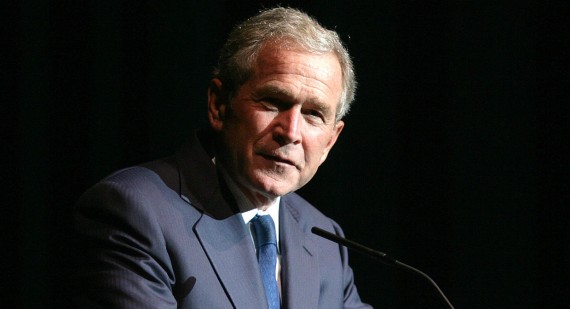 President George W. Bush had a running battle with the CIA throughout his eight years in office. Now, they've given him an award, Jeff Stein reports for Newsweek ("Bush Gets Intelligence Group Award"):
Every winter for the past several years, the CIA Officers Memorial Foundation has held a glittering dinner around Washington attended by hundreds of top intelligence and corporate officials. The stated purpose of the event, where the cost of sponsor tables ranges from $12,000 to $100,000, is to help raise money for the spouses and children of agency operatives killed in the line of battle since the September 11, 2011 terrorist attacks. But it also serves as an annual reunion of sorts for top intelligence officials and the corporate chieftains of America's biggest military contractors.

This year's off-the-record event, officially the Ambassador Richard M. Helms Award Ceremony, named for a Cold War-era CIA director, honored former President George W. Bush, an odd choice, it would seem, given all the trouble his administration caused the CIA (and NSA) during its eight years in office.

Whatever its accomplishments in Afghanistan and Iraq–or theaters unknown–the CIA seemed constantly in hot water under the Bush administration, from its failure to disrupt the 9/11 plot, to its false reports on Saddam Hussein's nonexistent weapons of mass destruction to justify the 2003 invasion of Iraq, to its use of torture on detainees under White House guidance. And more.
So, what's the official explanation?
Gerald Komisar, a longtime former CIA veteran who is president of the foundation, told Newsweek, "We were very happy that [Bush] was able to accept our invitation."

[…]

Bush was honored for the "totality of the eight years he was in office," Komisar said in a phone interview. "There were a lot of people there who attested to the fact that he did a great deal for and with the intelligence community."

Komisar, a China specialist who is now vice president of the Starr Companies, a New York-based global financial services firm headed by former AIG chief Maurice "Hank" Greenberg, acknowledged the many intelligence controversies that erupted under the former president, but portrayed Bush as a voracious consumer of CIA intelligence reports. And the people who briefed him appreciated the attention, he said.

"You know, there are always going to be bumps in the road, there are always going to be differences of opinion," Komisar said in a telephone interview, "but if you look at the totality of the record of entire eight years, his dependence on intelligence, his constant access, whether he was in Crawford [Texas] or Washington, D.C., at Camp David or wherever, he always had his intelligence briefer there. He had an intelligence briefer with him on the plane when 9/11 happened. He was a consumer of intelligence, and was always very, very clear on what he felt he needed in order to make policy decisions."

"We all know the Iraq thing was very unfortunate," Komisar added, "But if you look at the totality of his relationship with the intelligence community, particularly the CIA, and his fondness, his genuine fondness for the people he was briefed by—from George Tenet to John McLaughlin as directors, right down to the analysts that he was often exposed to–that's why we reached out to him."
There's truth in that, certainly. Despite the antagonism, with Vice President Cheney and others openly accusing the CIA of trying to subvert the administration's march to war in Iraq, there was doubtless a mutual respect. National security professionals understand their job is to serve the president and presidents—certainly ones whose father's name adorns the CIA headquarters—appreciate the expertise of CIA and other intelligence community professionals.
But the more important explanation is that the event is, at the end of the day, a fundraiser first and foremost. A former president of the United States is a huge draw, helping to sell corporate tables. And, whatever Bush's view of the CIA's role in Iraq, I have no doubt that he considers helping the families of its fallen heroes a cause worthy of his time.