George W. Bush Least Popular Living Ex-President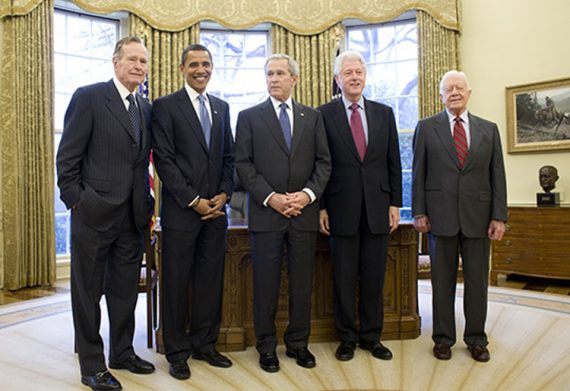 A new poll that George W. Bush is the least popular of the four living ex-Presidents:
Three and a half years after leaving office, a survey Thursday shows that former President George W. Bush remains unpopular among a majority of Americans — the only living president with an under 50 percent approval rating.

Only 43 percent of respondents had a favorable view of Bush, compared with 54 percent who had an unfavorable view, according to a CNN/ORC poll.

The 43rd president's approval rating has improved somewhat since he left office, however — in 2009, his approval rating was in the mid-30s.

(…)

Other living former presidents perform significantly better. Bush's father, George H.W. Bush, has a 59 percent approval, to 34 percent disapproval. Jimmy Carter is viewed favorably by 54 percent of the public, and unfavorably by about 30 percent. The 42nd president, Bill Clinton, is the most popular of the living former presidents, with a 66 percent favorable rating. Only 31 percent say they hold unfavorable views of Clinton.
Of course, it's worth noting that Bush is the most recent of the ex-Presidents as well, and that it has historically been the case that public opinion of a former President tends to increase as time goes by. Likely this is due both to the passage of time itself, and the fact that former Presidents may seem better by comparison to the then-current occupant of the Oval Office. Just look at the numbers for President George H.W. Bush and President Carter, both of whom lost their re-election bids and left office with relatively low approval numbers. They're both well above 50% now, and Bush Sr. is near 60%. Give it time, and I wouldn't be surprised to see Bush's son somewhere north of 50 percent in a decade or so. That's the way these things tend to work out.