Glenn Beck, Community Organizer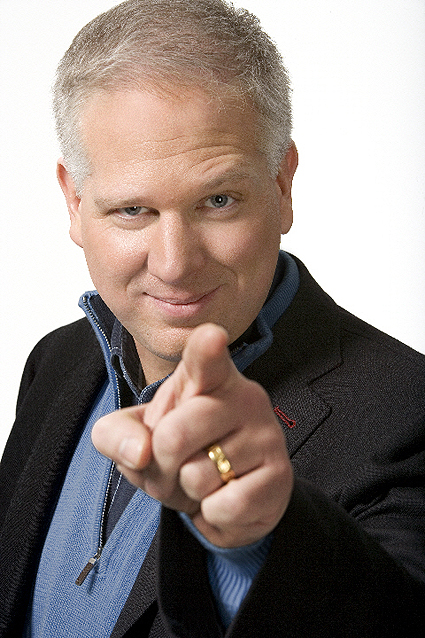 Glenn Beck has a plan.  Actually, the Plan.  Which he reveals on his website.
Today, I have stopped looking for a leader to show us the way out because I have come to realize that the only one who can truly save our country…is us. To change America's course we need to change ourselves, our expectations and our willingness to accept the unacceptable. When we refuse to allow our children to receive a trophy for participation, we are on the road to restoring the meaning of merit in our Republic. When we insist that no one is too big to fail, we will be able to learn from our mistakes, and when we demand that we are self-reliant, we will ensure that others can rely on us, not the government.

[…]

– Education is key, and not just for our children. To that end, we will be conducting a series of conventions. These will be full-day experiences where you will be immersed in learning about topics ranging from self-reliance, community organizing, the economy and how to be a political force in your own neighborhood and country. The first one will be in Orlando at UCF Arena on March 27th. You will also be able to vote to have a convention in your region by clicking here.

– I have begun meeting with some of the best minds in the country that believe in limited government, maximum freedom and the values of our Founders. I am developing a 100 year plan. I know that the bipartisan corruption in Washington that has brought us to this brink and it will not be defeated easily. It will require unconventional thinking and a radical plan to restore our nation to the maximum freedoms we were supposed to have been protecting, using only the battlefield of ideas.

– All of the above will culminate in The Plan, a book that will provide specific policies, principles and, most importantly, action steps that each of us can take to play a role in this Refounding.

– On August 28, 2010, I ask you, your family and neighbors to join me at the feet of Abraham Lincoln on the National Mall for the unveiling of The Plan and the birthday of a new national movement to restore our great country.
The Soviets and Chinese Communists were famous for Five Year Plans that Americans used to make fun of.  Beck, apparently, figures that their flaw wasn't the hubris of planning the next five years but stopping 95 years short.
Apparently, the plan has yet to be hatched.  It's intriguing to announce a 100 year plan but tell people they'll need to wait nine months and a week to get the details.
If nothing else, Beck has intrigued NYT correspondent Brian Seltzer and a few bloggers. Seltzer reports that Beck "emphasized that while candidates may align themselves with the values and principles that he espouses, he would not take the next step to endorse them."
Mr. Beck is not the only media firebrand trying to mobilize Americans disaffected with a Democratic-controlled government. The radio host Laura Ingraham is inviting candidates to sign a 10-point pledge on her Web site. Sean Hannity, on his afternoon radio show and prime-time Fox News program, is promoting "Conservative Victory 2010," his name for the map on his site that will spell out questions for candidates. And the former presidential candidate Mike Huckabee, who has a show on Fox News, has steered viewers to his Web site, where they can contribute money to his political action committee in support of conservative candidates.

Pundits have used their media stages to encourage political action before, but people like Mr. Beck and Mr. Hannity are taking on outsize roles now, political experts and conservative commentators say. One reason, they say, is the weakened state of the Republican Party.
Beck's strangeness aside, the idea of reshaping the American political system from the bottom up is interesting.  But while I rather like the idea of pressuring the Republican Party to get back to its small government roots — even by challenging it with a libertarian oriented third party — there's precious little evidence that there's anything close to majority support for that as a style of governance.   Like it or not, the Republicans became a Big Government party in recent years because that's what the people have demanded.
I still see enthusiastic small government types calling for dismantling the Department of Education and other bits of leftover rhetoric from Ronald Reagan's 1980 campaign.  But I doubt that even twenty percent of Americans are in favor of such a move.
The two parties and their constituent interest groups have done a superb job of poisoning the well.  Republicans have virtually ensured that we'll never have anything short of a massive defense budget and we'll never have the sort of confiscatory tax brackets for high earners that they have in Europe and we had here as recently as John Kennedy's administration.  And Democrats have made it a virtual certainty that we'll not only not cut back on the social safety net but that it will incrementally increase and periodically boom.   The "compromise" solution is massive deficit spending.
While we occasionally get Ross Perot types calling attention to the unsustainability of that approach, the excitement quickly fades.  While all of us can find big chunks of the budget we'd pare, there's not enough overlap to get anywhere close to majority support — let alone the sixty votes necessary to get much of anything through the Senate.  And those who would face cuts to their subsidies care more and are better organized than those who want the cuts.
Dave Schuler likes to point out that things which are unsustainable will not be sustained.  But the nature of the American political system guarantees we won't do anything until an absolute crisis forces us to.