Governing Requires Compromise
There are factions of the American right that really need to understand this.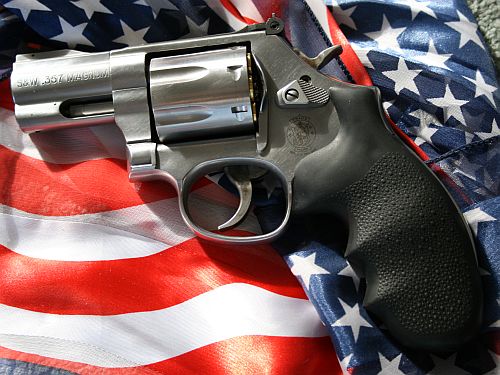 Governing requires compromise, and democratic government especially so.  Only absolute dictators get what they want all the time, and even then only in simplistic caricatures, because there are always interests and allies that have to be contained or assuaged even when one is said dictator.  And, as I like to tell my student, absolute dictator may be a great job, but its one that is hard to come by.
This basic notion has come to mind a lot of late.  The background to these thoughts is there is that faction of the Republican Party that refuses to budge on the notion of taxes.  To them, taxes can never be raised and that is that (hence the failure of Speaker Boehner's Plan B vote).  However, I was reminded of the mindset when watching President and CEO of the NRA, Wayne LaPierre on Meet the Press yesterday.  LaPierre clearly sees only one solution to gun violence:  more guns (I am not sure how many times he repeated the line about "good guys with guns" during the interview).  This is why the only policy proposal made by the NRA is to put armed guards at schools. *  In fairness, he did also make some vague claims about the need to arrest and jail more criminals (but, of course, these mass shootings are not carried out by ex-cons and known criminals, so pointing in the direction is a dodge).
On the fiscal cliff, the good news is, the rigid faction isn't an absolute dictator, and some break in the impasse with come.  Along those lines, I think that Jonathan Bernstein is correct:
the other underlying fact is that there will, eventually, be a bill or bills that passes. It's not quite 100% certain, the way it is with government shutdown or debt limit showdowns, but it's awful close to certain. The bill or bills may come before January 1 (very unlikely now), in early January, in late January, in February, even in March…but the odds are overwhelming that sooner or later something passes that will undo the bulk of the fiscal cliff tax increases, take care of the Doc Fix and the AMT fix, and do something about the sequester, among other things.

Moreover, everyone involved knows it. Well, maybe not Michele Bachmann and Louie Gohmert, but just about everyone.
On the gun questions I am less optimistic that anything meaningful will emerge, but we will see.
Regardless, it would be nice if there was recognition by major players, such as the NRA, that there can be a discussion on the subject rather than treating the Second Amendment like it says "the right to keep and bear arms is infinite and cannot be regulated in any manner."  Personally, I would like to hear a reasonable defense of some fairly micro-level issues, such as why 30-round magazines are something that ought to be generally available, and especially the marco-level fact that the US does have a clearly distinct pattern when it comes to firearm-related violence in comparison to other advanced economies.   When I hear Wayne LaPierre emphatically state that policy X or Y will not work not matter what, the comparativist part of my brain immediately goes to the fact that we have plenty of places to look to make systematic comparisons of policies in other countries.
Note, for example, this list of The Worst Mass Shootings of the Past 50 Years and one will see that in that list there is one country that overwhelmingly dominates the list (care to guess which one?).  The only country beside the US to make the list more than once is Finland, and that is will all of two entries.  Now this is proof of nothing, to be sure.  It is, however, a clear pattern that clearly suggests that there is more than a little room for discussion, especially when we know that one of the variables involved in the nature of the gun laws in the countries in question.
Other things we know:  various peer-reviewed studies have demonstrated a clear correlation between the number of guns and the number of homicides, even when controlling for other factors (see here).
And there is no doubt that there are more guns per capita in the US that in other industrial democracies.  For example, I compiled the following table** based on the Small Arms Survey of 31 democracies, and the numbers are rather striking: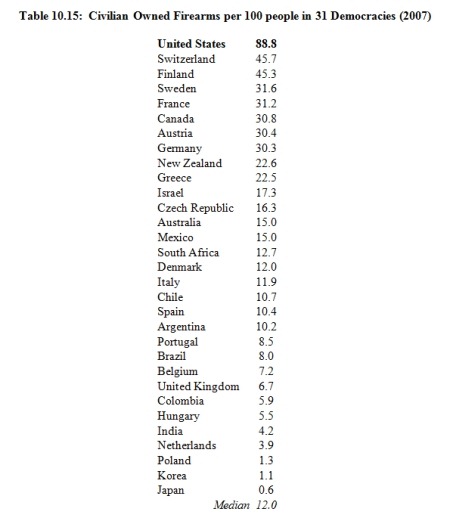 Some other numbers to ponder.  PolitiFact asked:  Facebook post says the U.S. is No. 1 in gun violence. Is it?
The answer is no, we are not #1, but rather 14th.  Those who best us in that category?
According to the U.N., the U.S. had 3.0 firearm homicides per 100,000 in population in 2009. But there were 14 other nations that had higher rates in 2009, primarily in Latin America and the Caribbean: Honduras (57.6), Jamaica (47.2), St. Kitts and Nevis (44.4), Venezuela (39.0), Guatemala (38.5), Colombia (28.1), Trinidad & Tobago (27.3), Panama (19.3), Dominican Republic (16.9), Bahamas (15.4), Belize (15.4), Mexico (7.9), Paraguay (7.3) and Nicaragua (5.9). Three other nations had higher rates in 2008: El Salvador (39.9), Brazil (18.1) and Ecuador (12.7).
Any pattern emerging there?  First, these area all developing states (although some are more developed than others).  Second, most (if not all) of these states are heavily influenced by the drug trade.
When comparing to countries of similar economic levels of development, PolitiFact found:
Using the U.N. data, European nations — even former eastern bloc countries — typically have rates well below 1 per 100,000, or far less than one-third the frequency seen in the U.S. The pattern is similar in other advanced industrialized nations, such as Canada, Taiwan, Japan, Australia and New Zealand.
Also, via the ABA, three stats:
1. The rate of death from firearms in the United States is eight times higher than that in its economic counterparts in other parts of the world.

Kellermann AL and Waeckerle JF. Preventing Firearm Injuries. Ann Emerg Med July 1998; 32:77-79.

2. The overall firearm-related death rate among U.S. children younger than 15 years of age is nearly 12 times higher than among children in 25 other industrialized countries combined.

Centers for Disease Control and Prevention. Morbidity and Mortality Weekly Report, 1997;46:101-105.

3. The United States has the highest rate of youth homicides and suicides among the 26 wealthiest nations.

Centers for Disease Control and Prevention.
Rates of homicide, suicide, and firearm-related death among children: 26 industrialized countries.
MMWR. 1997;46:101-105.

Krug EG, Dahlberg LL, Powell KE. Childhood homicide, suicide, and firearm deaths: an international comparison. World Health Stat Q. 1996;49:230-235
Anyone who wants to assert that there is no correlation between the numbers of guns in our society and the amount of gun-related violence is denying reality. Anyone who then states that there is no conversation to be had (including one about policy) on whether there is causation in this correlation is an ideologue.
I am not, by the way, anti-gun (although I am, likewise, no enthusiast).  I am not a hunter (and, honestly, don't get the appeal), but I think that people have a right to own (and use) arms for hunting.  I certainly agree that people ought to have the right to own a firearm to protect their homes, if they feels this to be necessary.   I can see interest in gun collecting and target shooting.  All well and good, I suppose.  I am not looking for the confiscation of guns.  However, there is a lot of space between confiscation and the NRA's position (even if they pretend like any attempt at regulation is one step away from said confiscation).
I do, however, think that we are well overdue for a serious discussion of gun policies including examination of assault rifles, high-capacity magazines, licensing, keeping track of sales, and the like.  The evidence clearly points to the need for such a discussion.
*I am not, per se, opposed to have armed guards at schools if there is a need (and, sadly, some school have such a need).  However, there are two major problems with this solution.  First is the cost factor, where is the money going to come from to pay for guards at every school? (I might have taken LaPierre more seriously, by the way, if he had proposed a tax on guns to pay for the guards).  Second, I doubt that a guard is any guarantee of stopping a mass shooter armed to the teeth.  Consider:  you have been a guard at a nice, quiet, and safe elementary school for years (you know, a school like Sandy Hook Elementary).  Are you going to be on high alert for years and years, just in case some nut shows up?  Or, is is possible that you will be one of the first people shot by the nut with the AR-5?
**From Taylor, Shugart, LIjphart, and Grofman, A Different Democracy: A Systematic Comparison of the American System with 30 Other Democracies  (working title, currently under editorial review)