Group Trying To Draft Elizabeth Warren To Run For President To Close Doors
The "Draft Warren" movement is basically dead.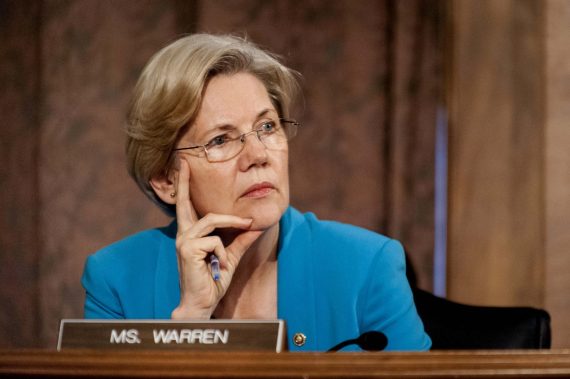 The group behind the rather quixotic effort to get Massachusetts Senator Elizabeth Warren to run for President is closing its doors:
Run Warren Run, a draft Warren organization run by Democracy for America and MoveOn.org, has spent the last six months calling on the Massachusetts senator to make a White House bid. On Monday, the group will officially throw in the towel after delivering a petition containing 365,000 signatures to Warren's office on Capitol Hill, the group announced Tuesday.

Progressive Democrats for some time saw the Massachusetts senator as a top potential challenger for presumed Democratic frontrunner Hillary Clinton. But Warren, who has emerged as a top populist voice in the Senate in recent years, repeatedly dismissed the possibility of a 2016 White House bid. Not that that dissuaded 'Run Warren Run' from trying.

"The Run Warren Run campaign has changed the conversation by showing that Americans are hungry for Elizabeth Warren's agenda — an agenda that rejects the rigged status quo in Washington and puts working and middle-class Americans over corporate interests," said Ilya Sheyman, executive director of MoveOn.org Political Action.\
The entire "draft Warren" movement has been one of the more bizarre spectacles to watch unfold over the past years. It started more than a year ago, and almost immediately Warren tried to stamp down speculation with a statement that she was not running. Nonetheless, continued to pop up at various times in 2014 even though Warren herself has previously called on Hillary Clinton to run and the people who were the primary financial backers of her 2012 campaign for Senate have said that they would not support her if she ran for President against Hillary Clinton.  Warren repeated her denial of an Presidential ambitions earlier this year in January and then again in March, and in February we learned that Mandy Grunwald, who had been Warren's top media consultant during her Senate bid, had joined the Hillary Clinton campaign. For anyone who was paying attention, the signs were all there, Elizabeth Warren was not running for President and no effort to get her to change her mind on that issue ever really had any chance of succeeding.
As I've noted before, though, the move to draft Elizabeth Warren to run for President was never really about Elizabeth Warren. Instead, Warren was serving as a proxy for progressive groups inside the Democratic Party who have sensed that Hillary Clinton may not emphasize the issues that they care about such as income inequality and Wall Street regulation. In the short time that she has been in politics, Warren has been quite vocal on those issues and that, naturally, caused many of these groups to rally around her. In the end, though, the "draft Warren" movement wasn't really so much about Warren, who quite honestly doesn't really have a resume that suggests she is either qualified or prepared to be President of the United States, as much as it was about pushing Hillary Clinton to the left, or at least forcing her to address these types of issues. That's why it will be so easy for so many of these people to get behind other Democratic candidates such as Bernie Sanders, Martin O'Malley, or, if he runs, Jim Webb. Many of them will just get behind Clinton and, of course, all of them will end up supporting Clinton in the end. Whether they've accomplished anything, though, is an open question.