Half-Mast or Half-Assed?
A powerful symbol has been robbed of its significance.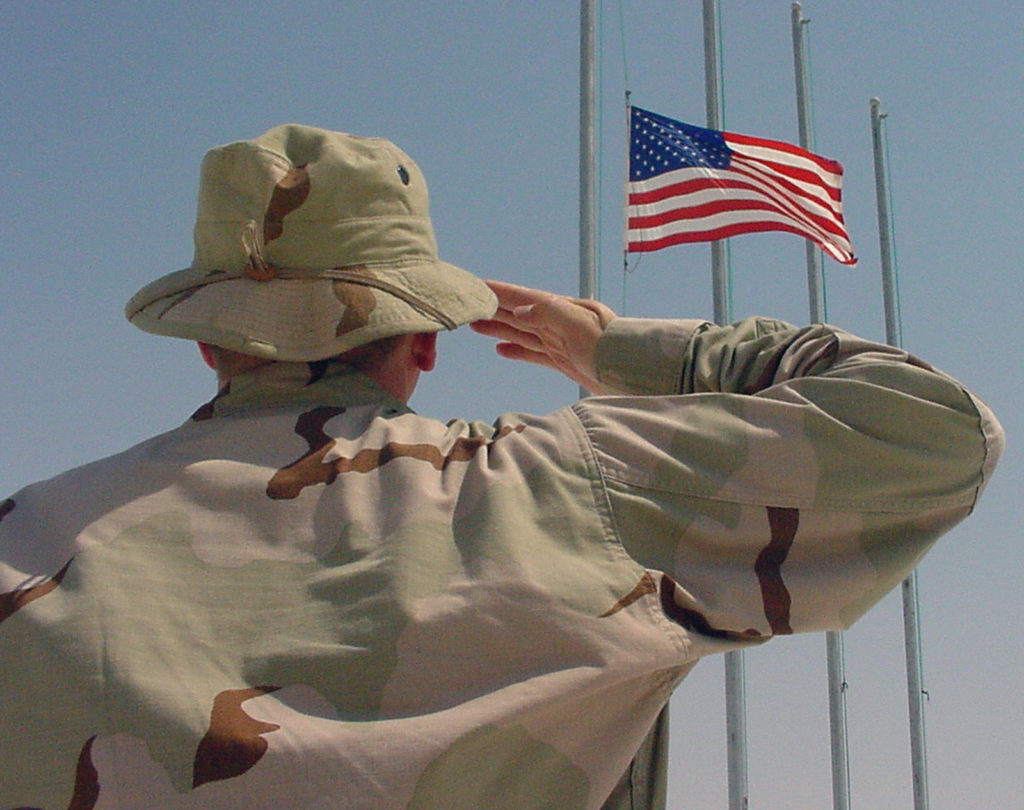 WaPo ("Biden orders flags flown at half-staff — then orders them back up, as two events collide"):
President Biden initially ordered flags on Saturday to be flown at half-staff. Then he ordered them back up at full-staff.

It's because of a quirk that comes up every half dozen years or so, when a day that honors two groups collides — with two different protocols for the American flag. For Peace Officers Memorial Day, which falls on May 15, flags are supposed to be at half-staff. But the third Saturday in May is marked to honor Armed Forces Day — and on that day, flags are supposed to be full-staff.

On Saturday, those two days were one and the same.

Biden's initial proclamation last week said that flags should be flown at half-staff. But he reissued a proclamation on Friday making clear that flags were to remain at full-staff.

The White House declined to comment on the record about the change, but suggested that it was done to remain in compliance with U.S. codes honoring Armed Forces Day.

"The flag shall be flown at half-staff on Peace Officers Memorial Day, unless that day is also Armed Forces Day," reads the U.S. code pertaining to the flag.

"This weekend is a once-in-a-decade scenario based on the flag code," said a White House official, who was not authorized to speak publicly. "As a result, flag code dictates that the flags should not be lowered today. The president stands by the message of his proclamation and his longtime commitment to working with law enforcement to build safer communities."

Still, a number of Republicans have criticized Biden, saying that his decision was done to offend police officers.

"In his opinion they aren't worthy of lowering the flags," Rep. Brian Mast (R-Fla.) wrote on Twitter. "Unacceptable!"
Leaving aside the idiocy of Republican politicians playing, well, politics with this (they'd have criticized Biden for not honoring the Armed Forces had he done the opposite) this gets at one of my recent pet peeves: we fly the flag at half-staff way too often, draining the symbolism of any meaning.
Granted, the vast majority of Americans will have no idea of how high the national ensign flies on any given day. Because I work on a military base, though, I walk by a flagpole on the way to and from my car to the office on a weekdaily basis. And it seems that the flag is at half mast more than it's at full.
Just since Biden took office on January 20, we've had the following Presidential Proclamations:
May 15, 2021 in honor of Peace Officers Day
April 20, 2021-April 27, 2021 in honor of Walter Mondale
April 16, 2021-April 20, 2021 in honor of the victims of the shooting in Indianapolis
April 6, 2021-April 7, 2021 in honor of Alcee Hastings
April 2, 2021-April 6, 2021 as a sign of respect for the service and sacrifice of the victims of the attack at the United States Capitol on Friday, April 2, 2021
March 23, 2021-March 27, 2021 in honor of the victims of the shooting in Boulder
March 18, 2021-March 22, 2021 in honor of the victims of the shooting in Atlanta
February 23, 2021-February 26, 2021 in honor of the 500,000 Americans who died of COVID
And Biden isn't unusually generous with these. His predecessor issued them at a similar rate. The above list, kept by the state of Missouri, only goes back to April 20, 2020 and it would have taken me half the morning to compile it in similar fashion.
I get commemorating the deaths of former Presidents and maybe Vice Presidents. First Ladies? Okay, I guess. Sitting Senators and Representatives? I'm honestly not sure that shouldn't be a state and local observance.
A single national Memorial Day to honor the sacrifices of those who died in the nation's wars. Sure. That's a national remembrance of a patriotic nature.
Police officers? Why them and not firefighters, EMTs, truck drivers, and others who perform dangerous, vital work?
Shooting victims? Why? Those are personal tragedies, not national ones. (A national gun culture that makes these shootings so common is a tragedy, to be sure, but national commemorations actually incentivize copycats.)
Beyond that, honoring some victims of some tragedies not only essentially forces future Presidents to continue to do so but it essentially sends the signal that those who aren't so honored aren't important. Sadly, mass shootings are pretty common in America. We lower the flag to half staff—for three days!—for some of them and not at all for others.
Similarly, Presidents are occasionally asked to go beyond what the statute requires for special deaths. How long should a John McCain or John Lewis be honored? Surely, not the bare minimum! But this inevitably creates a demand signal to extend special consideration for others, requiring Presidents to either accede or send the message that, no, sorry, your dead Senator wasn't quite up to the McCain/Lewis standard.
Lowering the flag after a nationally searing tragedy—the Capitol riots, the 9/11 attacks, the Challenger disaster—is a powerful symbol of our shared national community. But it's so common now that I literally have to Google to see why the flag is down this time on a regular basis.