Hating Aaron Sorkin
Alex Pareene's quip that "Aaron Sorkin is why people hate liberals" has gone viral.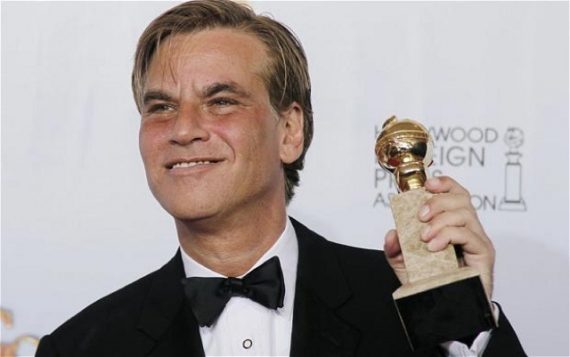 Alex Pareene's quip that "Aaron Sorkin is why people hate liberals" has been much re-tweeted and gotten agreement from Jesse Walker and others. Amusingly, as a conservative, Sorkin is the kind of liberal I most like–and not because he makes liberals look bad.
 Aaron Sorkin is why people hate liberals. He's a smug, condescending know-it-all who isn't as smart as he thinks he is. His feints toward open-mindedness are transparently phony, he mistakes his opinion for common sense, and he's preachy. Sorkin has spent years fueling the delusional self-regard of well-educated liberals. He might be more responsible than anyone else for the anti-democratic "everyone would agree with us if they weren't all so stupid" attitude of the contemporary progressive movement. And age is not improving him.

[…]

He has a limited bag of tricks. Even his sparkling banter is one-note. His characters always say exactly, precisely what they mean, at all times. There's no subtext, no irony, nothing ever left unspoken in his dialogue. His characters don't even get to be sarcastic without someone asking them if they're being sarcastic. Everyone alternates between speechifying, quipping and dumbly setting up other people's quips. It's exhausting.
Much of Pareene's critique of Sorkin's storytelling style and even his politics is fair. But I liked "A Few Good Men," "The West Wing," "Sports Night," and even "Studio 60 on the Sunset Strip." I haven't gotten around to watching "The Newsroom" yet, but it's on my DVR.
It's true that his characters talk in fact-filled monologues in a way nobody I've ever known—and I've known a lot of really smart people—talk in real life. They're nonetheless entertaining.
It's also true that Sorkin is a smug, condescending know-it-all. For some reason, I don't find that off-putting. (Okay, it might have something to do with my resembling that description myself.) Indeed, that description applied to most of my favorite Democrats over the years, from Patrick Moynihan to Joe Biden. While I usually disagree with them—particularly in the case of Biden—I appreciate thoughtful articulation of the opposing viewpoint.
More importantly, while Sorkin shares the delusion with some many pundits from across the political spectrum that everyone would agree with them on everything if only people were more reasonable, he doesn't caricature his opponents. Indeed, even his villains are often likeable.
While it should be obvious to those watching "A Few Good Men" that Jack Nicholson's Colonel Nathan Jessup was the bad guy, he came across as so earnest and charismatic that I often see Jessup's lines quoted non-ironically in support of deference to military professionals.
For that matter, as many have noted, the presidential election in the final season of "West Wing" foreshadowed the real 2008 election.* But, frankly, not only was Jimmy Smits' Matthew Santos a better Democratic candidate than the real Barack Obama but I'd have much preferred Alan Alda's Arnold Vinick to the real John McCain. Sure, both characters were unrealistic—-a political fanboy's ideal of what a gutsy politician should act like—but presumably that was Sorkin's point.* After all, movie and television cowboys, spies, astronauts, cops, and soldiers are almost always better than the reality. Fictionalized heroes are generally an idealized form of their creator—what they'd be if they always lived up to their own ideals and what they'd say if they had the luxury of scripting their lines rather than reacting in real time.
Indeed, the President Josiah Bartlett character, superbly portrayed by Martin Sheen, is the sort of Democratic president that all but the staunchest conservatives could root for—taking all the best qualities of Harry Truman, John Kennedy, and Bill Clinton with only enough of the baggage to make them interesting. As much as Sorkin's a liberal, he's the sort of Democrat that a David Broder or a David Brooks would pine for: one who stands up for his values but seldom plays partisan games and constantly makes deals that take on the best aspects of Republican policy proposals. (This, of course, was written in a world where Republicans had policy proposals.)
That very Broderism, presumably, is the thing about Sorkin that really annoys progressives like Pareene. I've frequently quoted this passage from the second season of the show, in which Rob Lowe's character (Sam Seaborn) rants against Democratic messaging on taxes.
Henry, last fall, every time your boss got on the stump and said, "It's time for the rich to pay their fair share," I hid under a couch and changed my name. I left Gage Whitney making $400,000 a year, which means I paid 27 times the national average in income tax. I paid my fair share, and the fair share of 26 other people. And I'm happy to, 'cause that's the only way it's gonna work. And it's in my best interest that everybody be able to go to schools and drive on roads. But I don't get 27 votes on Election Day. The fire department doesn't come to my house 27 times faster and the water doesn't come out of my faucet 27 times hotter. The top one percent of wage earners in this country pay for 22 percent of this country. Let's not call them names while they're doing it, is all I'm saying.
Now, again, Sorkin's dialog is stilted and absurdly idealized. Even a really brilliant wonk like Seaborn isn't walking around with the "27 times the national average" figure in his head and spouting it off in rapid succession into a seamlessly woven argument. But it's nonetheless a brilliant, middle ground spin. As I noted on a previous occasion, "While the fictional Sam is more liberal than the actual James, that's pretty close to where I am as well.  I'd demur on the 'happy to' but concede 'that's the only way it's gonna work, and it's in my best interest that everybody be able to go to schools and drive on roads.'"
But, to Pareene and other liberals, Sorkin starts out by conceding the rhetorical debate to the other side, which strikes them as a losing strategy. And, of course, to Walker and the Grover Norquist types, Sorkin's insistence that those with the ability to pay more are gonna halfta do it is socialist outrage.
____________
*UPDATE: I've been reminded that Sorkin did not write the show's final season and that, indeed, the Republican nominee that Bartlett ran against for re-election was a particularly unappealing caricature of  George W. Bush.