On Narratives and Covid Restrictions
Are we really being blocked from getting back to normal? And if so, what is the real barrier?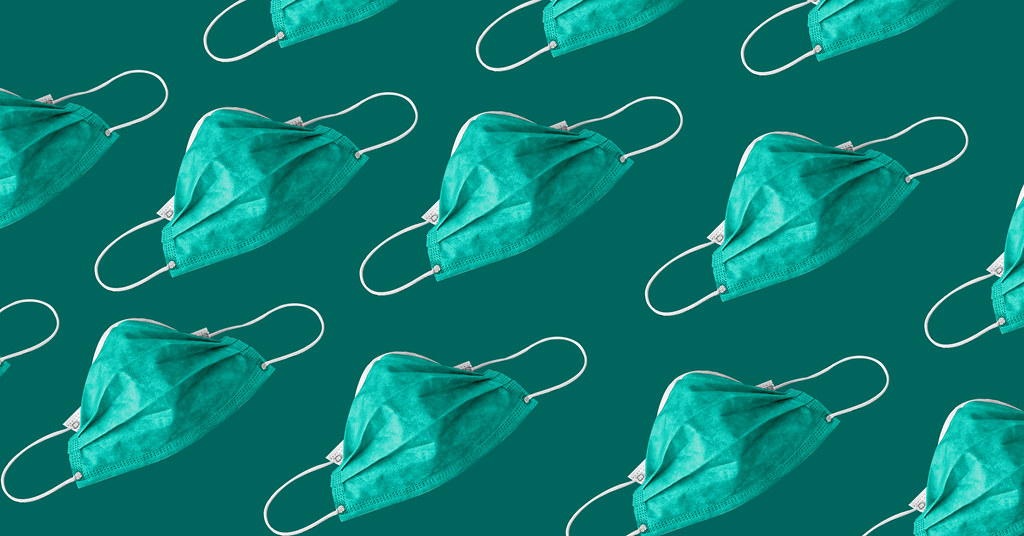 Alex Pareene has an essay at his substack that hits on an issue that I have thought about during the culture wars on restrictions and rules: We're All Trying to Find the Guy Policing Our Behavior: Who or what is preventing us from going "back to normal" exactly? The piece starts with a "day in the life" narrative of his day as a resident of NYC in January of 2022, which sounds, to the point of the subtitle, pretty darn normal. He further noted:
Elsewhere, Disney World was officially full on New Year's Eve. For $107 I could book a flight to Bermuda this weekend. The Knicks lost at home yesterday; a fan was spotted at the game watching The Office on mute. Vietnamese restaurant Que Viet, a Minneapolis mainstay famous for the giant egg rolls on a stick it sells each year at the Minnesota State Fair, is opening a St. Paul location. The number one movie in the country is Scream.

It all seems very normal. It seems a bit uncannily normal, really, happening against a backdrop of hundreds and hundreds of thousands of new Covid-19 infections across the nation, and months of Americans dying by the thousands. And yet! To hear some people, this is a country where panicky scolds refuse to allow children to go back to school, or, in some vague sense, let people have their normal lives back.
I get that we are all tired of the pandemic and want it to go wholly, totally, and irrevocably away, but I am struck that despite a lot of protestations about some enforced lack of "normal" the reality is that life is far more normal than it is abnormal. More significantly, the main reason for the abnormal that keeps getting in the way (like flight cancellations or schools temporarily going remote, if not closing briefly) is because people are still getting sick and can't (and shouldn't) come to work. While, yes, there are CDC guidelines in place that dictate how to address these issues, the reality remains that it is illness that leads to the disruptions far more than rules.
Pareene's description of his daily life is of interest because it is in New York City, where there are more restrictions (such as vaccine passports) than there are in my neck of the woods in Alabama. If life is basically normal in NYC, the pandemic practically does not exist in Alabama in terms of daily behavior (but let's not talk about our positivity rate). We have had no real restrictions in the state since the start of the summer (if I recall the timeline correctly) and while there is some scattered mask-wearing, the reality is that general behavior is not all that different than "normal." The most significant issue has been temporary shifts to online for some K-12 systems to accommodate staff shortages due to sickness.
Even at the university, I am struck that faculty now fairly easily and without a lot of disruption, have shifted briefly online if they do get sick and are well enough to conduct class remotely. This, itself, has become almost normal. (And, quite frankly, this is preferable even for non-Covid illnesses–stay home and rest if you are too sick, or work remotely if you are contagious but otherwise feel well enough to work. The US propensity to bring germs into the workplace needs to stop and now is a good time to learn that behavior).
Pareene's basic assertion of general normalcy comports with my own experience over the last year, wherein I have traveled to Dallas, TX for a funeral, South Carolina for vacation, Portland, OR for a conference, and to Georgia once for business and twice for pleasure. In all of those places, from March through this past Friday, things are pretty much "normal." And while the range of rules varied across those places, I noted that the reality was, the main rule in force was that people did what they wanted to do.
In Dallas, in March there was no statewide mandate, but there were local masking requirements, and every store or location I entered had a "masks required" sign on the door. The observed consequence for masklessness was zero.
A great example of Pareene's title question about the guy policing our behavior was on the ferry to Fort Sumter in Charleston, SC in July. On a very full ferry the Park Ranger who read us the rules explicitly noted in the indoor portion of the ferry (which was a lot of the ferry), masks were required by federal rule. The observed consequence for masklessness was, (I bet you guessed it), zero.
In Portland, OR in November, the rules were: masks everywhere, even outside. Most people complied (local culture matters), but I must confess walking around outside by myself in the rain and wearing a mask seemed a bit excessive. So, I decided to take my chances and go maskless out of doors. The consequence of my non-compliance was, well you get the drill.
It is actually extremely hard to find the supposed tyranny in any of this and the deviation from "normal" in most places is at most having to wear a mask. And since the courts keep gutting vaccine mandates (despite the long-term presence of other vaccine mandates for decades and decades), even that bit of forces compliance is not being enforced in most cases.
I have yet to find the guy policing our behavior (even when I forgot to re-mask after eating dinner at DFW and walking around for at least 15 minutes before realizing my lack of mask in violation of federal rules).
So, while a lot of people drone on about tyranny and about wanting to get back to normal, it is actually kind of hard to pinpoint the actual tyrannizing that is going on, let alone a specific tyrant (not that that has stopped the conservative infotainment complex from trying to make Fauci into such a figure).
Of course, as Pareene notes, there is some real lack of normalcy out there, but it is due to the virus. And the really amazing thing is that all of that is largely background noise:
the normalcy is unequally distributed. "Normal" is still an impossible state of affairs for an untold number of people with immunodeficiency or hospital jobs or dead parents or lost homes.
Indeed, while cases are milder (especially among the vaccinated) and treatment regimes far more effective, the death from this disease is still pretty staggering. The NYT has the 7-day rolling average of deaths from Covid at 2,152.3 as of this writing. That is not normal.
And while the average daily death rate is currently not as bad as some previous peaks, it still hardly good. Ditto hospitalizations:

A lot of people have died, and are still dying. Still, I would be remiss in not noting, vaccinations matter (staggeringly so as it pertains to deaths):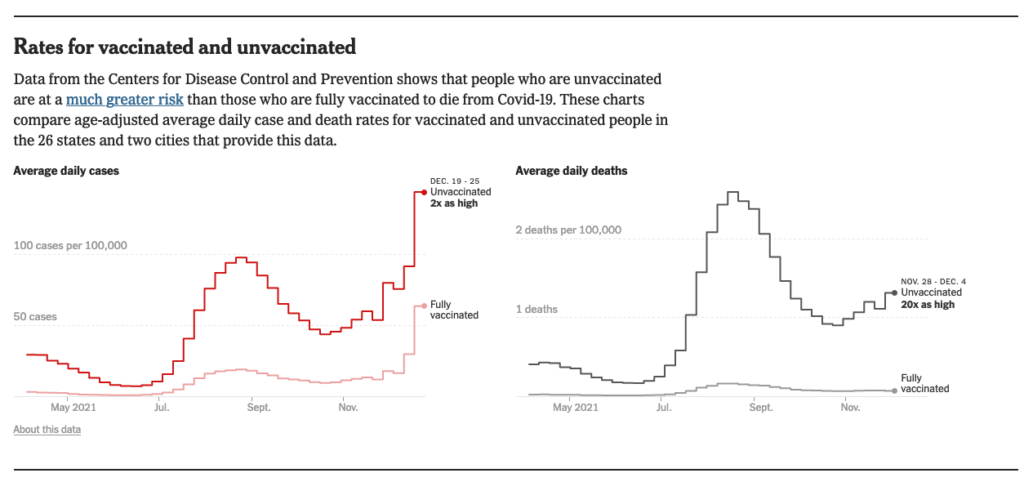 Back to Pareene's piece.
with a couple exceptions, those sorts of people, with legitimate complaints about what the unchecked spread of the virus has done to their lives, aren't really the ones you actually see complaining so goddamn much, because most of those sorts of people don't have the sorts of platforms that would lead me to come across their complaints. It is very much mainly people in households very much like mine (or ones that have it even easier!) that are the primary sources of the most well-publicized opining on how This Has Gone On Long Enough and It's Time For the Democrats to Say Enough Is Enough and Make It Stop.
But, he rightly notes (as I did in my various anecdotes above) that there really isn't a Covid Rules Police out there enforcing some bureaucrat's rules. Rather,
What most of the restrictions on our behavior (and the behavior of most other Americans) have in common is that they are not being imposed on us by power-grabbing authority figures. They are largely decisions we made, or decisions made for us by other private actors, in response to the inescapable fact that a dangerous and highly transmissible virus is spreading rapidly throughout the city, and the state, and the country, and the world.
As such, I agree with his conclusion:
This is why I find the tenor of discussion around Covid-19 restrictions genuinely bewildering. There basically aren't any. The United States is powering through the Omicron wave with its usual enforced individualism. The hard restrictions on our activities are, for the most part, not mandated or enforced by the state, acting at the behest of liberals who refuse to go back to normal because they are addicted to panic and quarantine; the limits are imposed by the virus that isn't going away. My kid's school class went remote for a while because people had Covid-19. He's back in school now even though his principal has Covid-19. As usual in the United States, the people who won the political argument are now complaining the loudest that they're dissatisfied with the results, and, apparently, it's all the fault of the losers.
The reality is that, on a mass level, the policies that have won/are winning are those preferred by the anti-regulators. This has to be remembered when we have these conversations. If we had vaccine mandates for Covid akin to what is currently in place for, say, measles, we would have fewer Covid infections. If we had fewer Covid infections, we would have fewer schools closures/shifts online (same with airline cancellations).
But, again, not only did a lot of states start this school year without vaccine mandates, they also, in many cases, forbade masking rules. Indeed, states like mine made vaccine mandates illegal and forbade asking anyone their vaccine status. That we then ended up with a lot of infections in such contexts is not a surprise now, is it?
I realize, as a vaxxed-and-boosted individual who was cautious outside of his home, but who nonetheless caught Covid, that none of these measures are 100% effective. But it is not unreasonable to assume that had there been more widespread vaccination in Alabama (and Georgia–a possible source of the infection) my chances of contracting it in the first place would have been lower. Graciously, it was a very mild case.
But, again, the notion that Democrats are Covid tyrants robbing the country of normalcy is not true. First, most people are living normal lives at the moment (whatever that may mean). Second, the degree to which normalcy is derailed is because of a real and ongoing pandemic. Third, when surveying the policies the two parties have put forward to combat the pandemic, it is the Republican ones (i.e., laissez–faireing it) that have done more to ultimately disrupt our lives than things like real vaccine mandates and passport policies would have accomplished.