Have Conservatives Surrendered In The Gay Marriage Wars?
To a large degree, the right seems to have backed down in the marriage wars.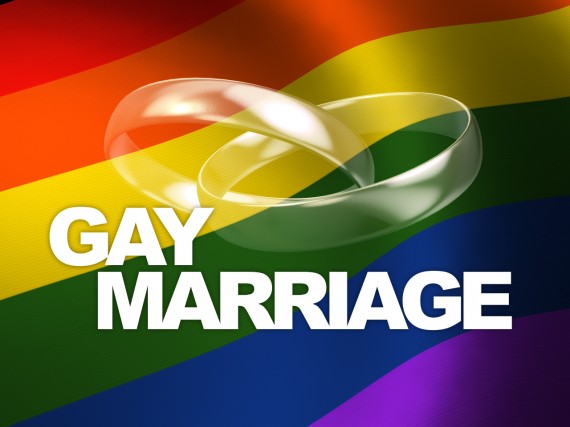 With the Supreme Court likely to finish out its term this week, its decisions in the two same-sex marriage cases it heard this term are mere days away from being released. While there's much speculation about how the Court will rule, all of which is utter worthless in the end, one thing that is certain no matter which way the Court rules is that the ruling will have a huge political impact on politics in general and the direction of the ongoing marriage equality debate in particular. In the time since the Court accepted these two cases for appeal, though, there have been significant developments in the political world on this issue. On Election Day, three states voted to legalize same-sex marriage, and a fourth saw voters reject an initiative that would have enshrined "one man-one woman" marriage in state law. Over the past several months, three more states, Rhode Island, Delaware, and Minnesota, have legalized same-sex marriage and a majority of the Senate, including three Republicans, have endorsed marriage equality. Clearly, the political tide is moving in one direction, and, as Josh Barro noted last week, conservatives don't seem to be fighting it anymore:
Those who oppose gay marriage are sick to death of talking about the issue. They know they are losing the fight over public opinion and that their complaints are not going to convince anybody. And making those complaints has become awkward, because opposing gay marriage has come to be seen as rude in polite society.

I also suspect that, deep down, many socially conservative writers are less confident than they used to be that gay marriage is wrong.

So they've abdicated any effort to argue against gay marriage or hold accountable Republicans who support it.

Of course, the fight over gay marriage in the Republican Party is far from over. State party activists are likely to cause trouble for Republicans who back gay marriage even if national writers won't.

But the national conservative media is done with engaging on the issue.
Rod Dreher seems to agree:
I think this is right, and I only realized it fully when I read this on the same day I explained to a genuinely inquisitive reader, in a thread below, that I was so brusque on the SSM issue because I have said for years, over and over, on this blog what I think and why I think it, and am sick and tired of talking about it. I don't secretly think I'm wrong, nor do I mind the opinion of "polite" society, but I am convinced that my side has lost this issue (mostly for reasons I explain here), and I'm just tired of talking about it. Nobody has anything new to say. Not me, not you, nobody. So a Republican Senator now favors gay marriage. So what? What would gay marriage proponents have us say? I mean, The New York Times can find a fresh pro-gay angle every day, on everything under the sun, but the rest of us don't roll that way.
Related somewhat to this phenomenon, of course, is the somewhat surprising announcement last week from the head of Exodus International that the organization was repudiating the "gay conversion" therapy it had become known for, apologizing to those it had harmed, and disbanding immediately. As with the increasingly common conservative silence on the issue of marriage equality, this one event seemed like a sea change in the culture war that has been going on over this issue ever since it truly became part of the public discussion in the late 1990s. Whereas the continued political victories of the proponents of same-sex marriage are a sign that activists on the right have quite obviously backed away from engaging in this fight, things like the growing silence on the right and the Exodus announcement strongly suggest that, culturally, the argument for the issue has become so embarrassing to make that the people who believe in it aren't even bothering to try to make it very strenuously anymore.
Of great interest, of course, will be how this debate is shaped in the future in the wake of the Supreme Court's rulings in the Proposition 8 and DOMA cases. While I tend to agree that it's unlikely to expect that the Court will issue rulings in either of those cases that will sweep aside every law against same-sex marriage in the nation, for reasons I've stated before, the best guess right now seems to be that even a limited ruling from the Court will be one that advances the cause of marriage equality and which will likely serve as a basis for bans of same-sex marriage elsewhere in the country. Assuming that happens, one wonders what the political impact will be. While Court rulings in the past have often served as rallying points for conservative political activism, it strikes me that any ruling from the Supreme Court that advances the marriage equality cause is likely to be yet another blow to the energy of "traditional marriage" proponents. On top of the poll numbers that are now decisively in their favor and the demographic trends that show acceptance of both homosexuality and same-sex marriage among even those younger people who consider themselves politically conservative, they will now have the nation's highest court joining the President in placing it's voice behind the cause of marriage equality. That's likely to be a body blow from which the "traditional marriage" crowd is likely to never recover.
None of this is to say that there won't be political battles over same-sex marriage in the future. Especially in the south and other places where states are deeply red, the efforts to legalize same-sex marriage are likely to quite difficult on both the political and legal fronts. Many opponents of same-sex marriage will shift their arguments away from defending "traditional marriage" to arguing that they are defending religious liberty. In several of the states that have legalized same-sex marriage this year, the laws passed have included specific protections for churches making it clear that they cannot be compelled to perform or host a wedding ceremony that violates their religious beliefs. Personally, I have no problem with such a safeguard, although I'd argue that it's already something that the First Amendment would quite clearly stand for.
What marriage equality opponents are starting to focus on now, though, are people who aren't members of the clergy but who have religious objections to same-sex marriage and don't wish to be part of it. Examples of this from around the country include wedding photographers, florists, and other people who provide services to people getting married who refuse to provide services to gay couples. In some states, this has resulted in litigation or complaints based on state anti-discrimination laws.  In many ways, this is similar to the legal fight current being waged over the government's mandate that employer-provided health insurance include coverage for contraceptives, something that many employers with religious owners have been fighting in Court, with no small degree of success I might add. In the end, this is debate over whether people who don't want to engage in commerce in specific circumstances based on religious principles should be free to do so, or whether people who hold themselves out as engaging in business with the general public should be compelled to do so. I'm skeptical of the "religious freedom" argument, but I'm also not sure why anyone would want to do business for something as personal as a wedding with someone who has an objection to the act that could end up influencing the quality of the services that they provide. In any event, expect this to be a significant area of controversy in the future as marriage equality becomes more common across the nation.
In some sense, then, it is true that the right does appear to be in retreat in the marriage wars. However, there are plenty of battles ahead that they will likely engage in.