Herman Cain Gets Secret Service Protection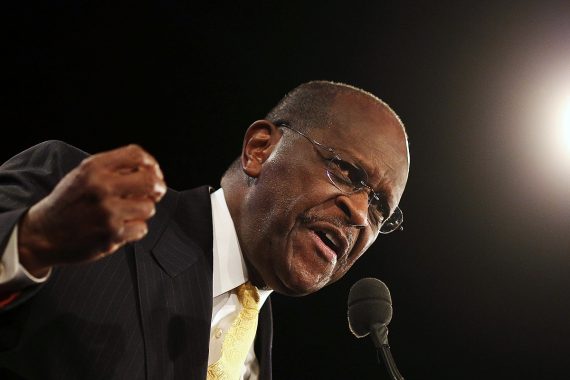 It's not typical for Presidential candidates to get Secret Service protection before becoming a party nominee, but it has happened before. Barack Obama got a Secret Service detail beginning in May 2007, and now Herman Cain is getting a detail as well:
Presidential candidate Herman Cain will receive protection from the United States Secret Service, the agency confirms to CNN.

Cain will be the first candidate in the race for the Republican presidential nomination in the 2012 election cycle to be placed under the protection of this federal law enforcement agency.

It is not yet clear why Cain is getting Secret Service protection.

Secret Service spokesman Ed Donovan confirms on the record that Homeland Security Secretary Janet Napolitano authorized Cain's protection after consultation with an advisory committee that consists of congressional leadership.

Donovan told CNN that the Cain campaign requested coverage, and the review found that it met the criteria.
The statute governing Secret Service protection does authorize this:
Major Presidential and Vice Presidential candidates and, within 120 days of the general Presidential election, the spouses of such candidates. As used in this paragraph, the term "major Presidential and Vice Presidential candidates" means those individuals identified as such by the Secretary of Homeland Security after consultation with an advisory committee consisting of the Speaker of the House of Representatives, the minority leader of the House of Representatives, the majority and minority leaders of the Senate, and one additional member selected by the other members of the committee.
One would assume that there were threats of some kind that the Secret Service and DHS felt warranted the protection. It's also worth noting that the Cain campaign has had its own problems with privately obtained security, including incidents where there have been clashes between security personnel and the press. Indeed, the Washington Post's Chris Cillizza reports this morning on Twitter that it was the "clashes between his security and reporters" that lead to the request for protection. Although, to be honest, it seems odd that the fact that the Cain campaign isn't able to hire competent security would warrant this step. In that regard, though, it's worth noting that there was an under-reported embarrassing moment  for the campaign in October when it turned out that the person they'd hired to shadow Cain himself turned out to be a former Hollywood bodyguard with a checkered past and criminal record. If there's a real need for security, though, I won't begrudge it and it would appear the relevant authorities think that there is.