High School Sexting Scandals The New Normal
Nude photos of hundreds of students in one Colorado high school are being distributed.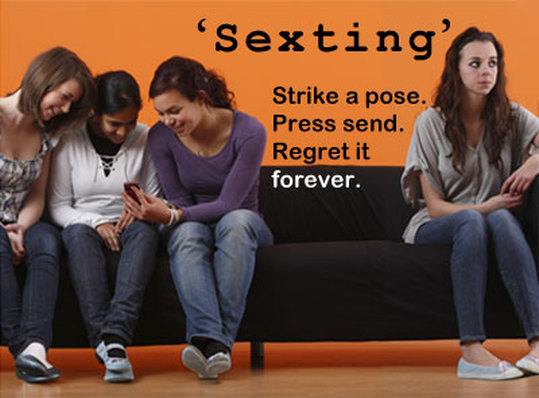 A NYT report titled "Hundreds of Nude Photos Jolt Colorado School" is trending on social media. It's likely being fueled by the over-40 set.
At least 100 students at a high school in Cañon City traded naked pictures of themselves, the authorities said Friday, part of a large sexting ring.

The revelation has left parents outraged, administrators searching for missed clues, and the police and the district attorney's office debating whether to file child pornography charges — including felony charges — against some of the participants.

George Welsh, the superintendent of the Cañon City school system, said students at Cañon City High School had been circulating 300 to 400 nude photographs, including images of "certainly over 100 different kids," on their cellphones. "This is a lot of kids involved," he said, adding that the children in the pictures were believed to be students at the high school as well as eighth graders from the middle school.

Members of the high school football team, the Cañon City Tigers, were at the center of the sexting ring, Mr. Welsh said. On Thursday night, separate community meetings were held for parents of football players and parents of other students to address the scandal, which has shocked this quiet, semirural community of 16,000. The team was forced to forfeit its final game of the season.

Because it is a felony to possess or distribute child pornography, the charges could be serious. But because most of the people at fault are themselves minors and, in some cases, took pictures of themselves and sent them to others, law enforcement officials are at a loss as to how to proceed. "Consenting adults can do this to their hearts' content," said Thom LeDoux, the district attorney, but "if the subject is under the age of 18, that's a problem."

He added that he was not interested in arresting hundreds of children and would "use discretion" if he decided to file charges.

Mr. Welsh said a significant percentage of the student body at Cañon City High School had participated, with boys and girls involved in seemingly equal numbers. The photo-sharing, some of which took place in school, was done largely on cellphone applications called "vault apps" that look innocent enough — some look like calculators — but are really secret troves of photographs accessible after entering a password.
As the father to two little girls, I dread a future in which this sort of behavior will stop shocking the community. Today's high schoolers have no recollection of a time before smartphones and ubiquitous cameras with high resolution video that can be instantly uploaded to any number of social media sites. The combination of this technological shift and a willingness to be photographed in compromising situations that I can't fathom makes scandals of this sort not so scandalous.
Indeed, even sitting on the precipice of 50, my first instinct on reading that the football team was being forced to forfeit their final game over this incident is that the punishment didn't fit the crime. There's no obvious connection to football or, indeed, to academics here.
Further, the notion that teenagers distributing photos of other teenagers who willingly posed for photos or videos constitutes "child pornography" is bizarre. Boyfriends being charged with crimes for possessing nude photos of their girlfriends strikes me as absurd at best and outrageous at worst.
Now, the distribution of photographs that were intended for the private enjoyment of then-boyfriends and girlfriends for malicious purpose is another thing, but that's true regardless of the age of those involved. The phenomenon of revenge porn is disturbing and obviously one that should be cracked down upon by our legal system. But I'm afraid that much of the scandal described in the NYT story is merely "teenagers being teenagers" in the digital age.