Illinois Teens Charged As Child Pornographers In 'Sexting' Case
Another case of teenagers 'sexting,' another dumb overreaction by law enforcement.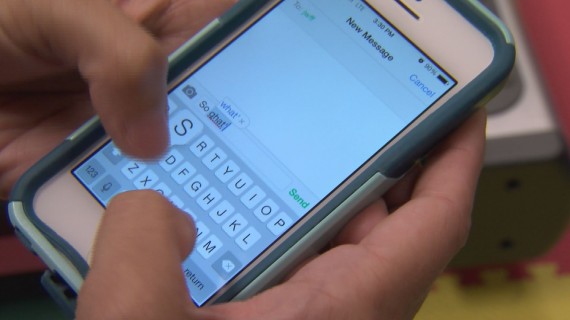 A group of teenagers in Illinois are facing charges of producing and distributing child pornography after filming themselves having sex:
CHICAGO (CBS) — Four suburban teenagers have been arrested on felony charges, for an explicit video they posted on Twitter.

All four students attend Joliet Central High School, and are between the ages of 14 and 16. A 15-year-old girl and three of her classmates recorded consensual sex acts one week ago, and posted the video on Twitter.

The girl's mother found out about the video, and reported the Twitter post to police, who seized the original recording.

The four teens were arrested Friday, and charged as juveniles with child pornography

Joliet Police Chief Brian Benton said posting the video online made already risky behavior criminal.

"It's a criminal offense, first of all, to post that type of material online, especially for underage," Benton said.

Police want the charges against the four students to serve as a cautionary tale to other youths engaged in high-risk behavior.

"The child pornography offense that was charged is in place for a reason, because we don't want to accept that type of behavior as a society," Benton said. "It's making a strong statement, and I think it's important to do so, to send a message to others that kids shouldn't be involved in this type of behavior, and hopefully this will serve as a deterrent."
Although the use of social media is somewhat different from previous cases, this is not an unfamiliar tale. Ever since cell phones and smartphones obtained the ability to take pictures, and later video, and share them with others, the people who use those devices have used them to share explicit photos and videos. The fact that smartphones are now as common a teenager accessory as the Sony Walkman was some 30 years ago, combined with teenage sexual precociousness and naivete that goes back long before the development of high technology, meant that this would inevitably include teenagers sending explicit photos to each other. 'Sexting,' as it has come to be called, has come to be the latest version of panic about what kids are doing today and the response by parents, school authorities, and law enforcement has consisted largely of panic, overreaction, and the kind of charges that could effectively ruin a teenager's adult life before it even begins.
Last year in Virginia, for example, a teenage boy residing in the Washington, D.C. suburb was charged with production and distribution of child pornography due to a picture that he sent to his girlfriend which was discovered by her parents. For whatever reason, the girl involved in this particular incident wasn't charged even though she had sent a similarly explicit photo. In any case, while the charges were pending prosecutors in Prince William County made national news when they sought to obtain a court order to allow them to given the defendant an injection an take pictures of his genitals for "evidence" in the upcoming trial. After a media firestorm, the request was dropped and the case against the defendant was eventually resolved in a manner that would not result in serious charges on his record following into adulthood. His story, though, was just the latest example of the ham-fisted way that these cases have been handled. A quick Google search revealed reports of similar incidents in Fairfax County, Virginia, Michigan, and Florida. As long ago as five years ago, there was discussion of changing the way the law handles theses cases, and some states have changed their laws, but many have not and we end up with cases like the one in Illinois.
As Elizabeth Nolan Brown notes, the laws against child pornography exist to prevent the sexual exploitation by adult. They care with them harsh sentences and the prospect of being branded as a sex offender of life because of the belief that it is necessary to do this in order to protect children from those who would but them in danger. That's not what happened in this case in Illinois, or in any of the other teen "sexting" cases that make the news every now and then. It is admittedly stupid for teens to take photos and videos like this and share them, even with one person, and it should be the responsibility of parents and school authorities to education children about the consequences of combining technology with normal teenage sexual curiosity. Absent a situation where someone was actually abused, or where photos or video were taken without consent, though, this just doesn't seem to be something that can or should be handled by law enforcement.