Hillary Clinton Has Her Own Questions To Answer About Iraq, Libya, And Syria
Hillary Clinton has admitted she made a mistake in supporting the Iraq War in 2002, but there are plenty of other questions she needs to answer when it comes to foreign interventions.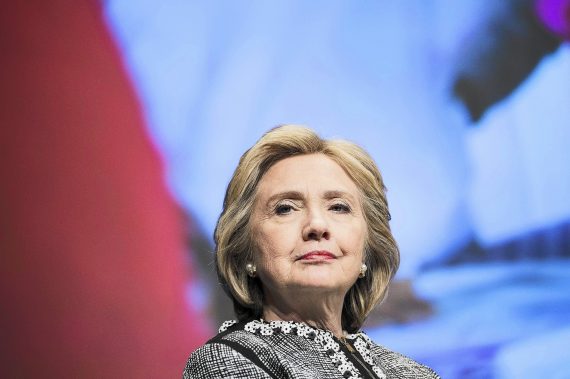 Unlike Jeb Bush and Marco Rubio, Hillary Clinton didn't have any real problem answering what has come to be known as the Iraq War Question when she finally spoke to reporters after a month yesterday:
After days of Republican presidential candidates wrestling with questions on the Iraq war, Hillary Clinton weighed in Tuesday, telling reporters that her vote in favor of the war in 2002 was a "mistake."

"I made it very clear that I made a mistake, plain and simple. And I have written about it in my book, I have talked about it in the past," Clinton told reporters at an event in Cedar Falls, Iowa, adding that "what we now see is a very different and very dangerous situation."

During her 2008 campaign, Clinton defended her vote as a way to give President George W. Bush authority to deal with Iraq, which she said he then abused. She frequently followed up this statement by saying that if she had known what Bush would do with the authority she would not have voted the way she had, but declined to call the vote a "mistake."

Then-Sen. Barack Obama hammered her over the vote during the campaign, citing his opposition to the war while he was serving in Illinois' state senate. Many experts believe the Iraq war issue was a major reason she ultimately lost in the primaries to Obama.

But since losing that election she wrote in her 2014 book "Hard Choices" that she "got it wrong."

In her comments Tuesday she made clear that she viewed her past vote as a mistake, with no qualifications.

She then pivoted to talking about Iraq's current political situation. In the last year much of western Iraq has been overtaken by ISIL, a terrorist group whose successes many analysts attribute to the decade of instability following Saddam Hussein's ouster.

"The United States is doing what it can but ultimately this has to be a struggle that the Iraqi government and the Iraqi people are determined to win for themselves," said Clinton. "And we can provide support, but they're going to have to do it."
On the whole, this is a far better answer to the question than either Bush or Rubio gave, and far better than the way that Clinton handled the issue four years ago when Barack Obama was able to use it to create a wedge between her and the Democratic Party's base voters and then ultimately win the election. As John Cassidy notes in The New Yorker, though, there are still several more questions that Clinton will need to answer not only about Iraq, but also about another American intervention she supported:
Clinton, for her part, still has work to do to explain what she learned from the Iraq disaster. Clearly, it didn't turn her against the concept of overseas military intervention. In 2011, as Secretary of State, she helped orchestrate air attacks on Libya that aided in bringing down Muammar Qaddafi, unleashing a civil war that is still raging. In 2013, after she left office, she supported U.S. military action against the Syrian regime, a course that President Obama eventually backed away from. In "Hard Choices," however, she struck a cautious note. "As much as I have wanted to, I could never change my vote on Iraq," she wrote. "But I could try to help us learn the right lessons from that war … I was determined to do exactly that when facing future hard choices, with more experience, wisdom, skepticism, and humility."

As the 2016 campaign unfolds, Clinton might want to say more about how her views have changed, and how, as President, she would reconcile her urge to exercise American power—both to protect U.S. interests and to do some good in the world—with the harsh realities of experience. Such a discussion would help shift attention away from her 2002 vote and allow her to draw a contrast with the Republicans' empty rhetoric. More importantly, it would focus the campaign debate on the question that, ever since March, 2003, has been hovering over practically everything: Whither America after Iraq?
Given how things have proceeded in Libya since the downfall of the Gaddafi regime, these are legitimate questions that Clinton, as well as anyone who supported American intervention in that civil war, ought to answer. In Clinton's case, though, we have some interesting material to work from. She supported the Iraq War, even though she now says she was mistaken in doing so. She supported the intervention in Libya, which has had utterly disastrous consequences for that country and many of its neighbors and now appears to be turning the nation into the latest target of ISIS's ambitions. And, at least according to the story she told in Hard Choices, she was one of the members of the Obama Administration who argued in favor of arming the Syrian rebels. These would be the same Syrian rebels that are fighting along side ISIS and, according to numerous reports, have frequently traded the non-lethal aid that they have received from Western nations to ISIS and other jihadist members of the rebellion.
So, this leaves us with several questions. Clinton obviously believes she was wrong to support the Iraq War a dozen years ago, although one wonders whether her position on that issue at this point is motivated by her realization that she was in fact wrong, or her realization that admitting she was wrong is the politically beneficial position to take. At the same time, though, she supported American intervention in a situation in Libya that, if anything was orders of magnitude more volatile than pre-war Iraq and was Secretary of State during a time when the United States did virtually nothing to try to manage Libya's transition from four decades of dictatorship to something resembling a civil society. Then, she supported the idea of providing lethal aid to rebels in Syria we barely knew and had no reason to trust, a position that at the time was supported by few people beyond John McCain and Lindsey Graham.
Taken together, all of this raises some real questions about Clinton's foreign policy views that she really needs to answer at some point. Admitting that she was wrong about Iraq is a good first step, I suppose, but again I have to wonder how much of her admission here is based more on political considerations than a change of opinion about the proper use of force. Given the positions she's taken on other foreign policy issues, though, Clinton needs to tell Americans a whole lot more about what she believes the proper use of American force might actually be, and how she would respond to a future international crisis. Why, for example, does she apparently believe that the intervention in Iraq was a bad idea, but that interventions in Libya and Syria are acceptable? What does she believe are the criteria that would be necessary in order to justify American intervention abroad? Does it involve something more than a clear and obvious threat to the homeland or our vital national interests and, if so, what else would justify intervention abroad? Given the chaos that followed American intervention in nations such as Iraq and Syria, does she still believe that American intervention is universally good? And so on. So far at least, she has failed to do that and the manner in which she continues to carefully control the ability of reporters to ask her questions makes it unlikely that she'll be forced to do so in the near future. Or at least she should be.