Jeb Bush: Sure, I'd Invade Iraq Just Like My Brother Did
Like most Republicans, Jeb Bush either fails or refuses to recognize what an utter, unjustifiable disaster his brother's decision to invade Iraq actually was.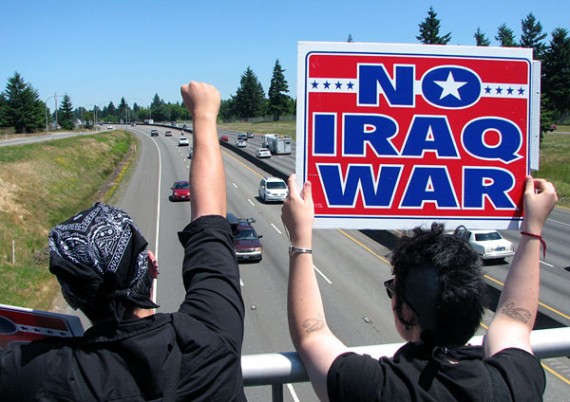 Jeb Bush tells Fox News Channel's Megyn Kelly that he would have invaded Iraq just like his brother did had he been President at the time:
Republican presidential hopeful Jeb Bush has repeatedly beaten off attacks that his presidency would be no different from that of his brother or father with a simple assertion: "I'm my own man."

But on one issue, authorizing a ground invasion of Iraq, Jeb falls in lockstep with George W.

In an interview with Fox News' Megyn Kelly set to air Monday night, the former Florida governor says he would have authorized the invasion in 2003 — "and so would have Hillary Clinton, just to remind everybody. And so would almost everybody that was confronted with the intelligence they got."

Bush added that "in retrospect" the intelligence used to justify the invasion "was faulty" and added that "in retrospect" it was a mistake for his brother's administration to not focus on Iraq's security after toppling Saddam Hussein.

But he defended his brother's decision-making, saying: "guess who thinks that those mistakes took place as well? George W. Bush," and downplaying any insinuation that his take on American policy in Iraq was any different than the 43rd president's.

"Just for the news flash to the world: If they're trying to find places where there's big space between me and my brother, this might not be one of those," the Florida Republican added.

(…)

A majority of Americans now consider the 2003 invasion of Iraq a mistake, according to recent surveys. A June 2014 NBC/WSJ poll found that 71 percent of Americans now believe the war in Iraq "wasn't worth it," with Republicans almost evenly split on the issue.
On some level, of course, this doesn't really come as very much of a surprise given the fact that Governor Bush has made several efforts in recent months to downplay the idea that there is very much, if any daylight between himself and his older brother when it comes to foreign policy. Just last week, for example, it was reported that Bush had told a group of potential donors in New York that he considered his brother to be his top adviser on Middle East matters, although a campaign spokesperson later said that the Governor was referring to Israel specifically and not necessarily the entire Middle East. Additionally, as I have noted before, while Bush has not put forward a detailed foreign policy agenda yet, his statements on those issues over recent years made it clear that there would be very little difference between the foreign policy of a President Jeb Bush and the policies of his brother. Given all of that, it's not entirely surprising that Bush would defend even the most controversial foreign policy decision of his brother's time in office. However, the fact that he does so seemingly reflexively and with little apparent recognition of the mistakes that led us down the path to that war raises real questions about his judgment.
First of all, as Judd Legum notes, the conventional conservative wisdom that the intelligence at the time all pointed toward the idea that Saddam had an active WMD program simply isn't true:
The Iraq War, however, was not dictated by intelligence. Rather the administration cherry-picked, manipulated and ignored intelligence to support their predetermined outcome.

This is the view of the CIA official who oversaw Middle East intelligence during that time, Paul Pillar. In 2006, Pillar published an article in Foreign Affairs, writing:

In the wake of the Iraq war, it has become clear that official intelligence analysis was not relied on in making even the most significant national security decisions, that intelligence was misused publicly to justify decisions already made… and that the intelligence community's own work was politicized. As the national intelligence officer responsible for the Middle East from 2000 to 2005, I witnessed all of these disturbing developments.

Pillar concluded that "Official intelligence on Iraqi weapons programs was flawed, but even with its flaws, it was not what led to the war."

A bipartisan, if contentious, report of the Senate Intelligence Committee concluded that the George W. Bush administration "repeatedly presented intelligence as fact when in reality it was unsubstantiated, contradicted, or even non-existent." The report documented numerous statements made by the Bush administration to justify the war that were not supported by intelligence.
In other words, the intelligence at the time was not nearly as conclusive as the revisionist historians would like to believe, and it should have been quite apparent even at the time that the case for war was not nearly as conclusive as the Administration made it out to be. Jon Stewart did a very good job of hitting on some of those doubts that existed at the time, and on the ay in which the Administration used selective leaks to justify its case for war in his interview last month with former New York Times reporter Judith Miller. Miller, like other reporters, took what the Administration was saying as face value and reported it as such, while only a small handful of people bothered to do the hard work of trying to look behind what the White House was saying to determine just how flimsy the house of cards actually was. The same was true of members of Congress, most of whom simply took the Administration at its word and handed President Bush a blank check for war in a resolution that was arguably as fatally flawed as the Gulf of Tonkin Resolution that marked the formal start of the Vietnam War. That should have been obvious at the time, and it is certainly quite obvious now. The fact that Governor Bush either can't admit that fact or chooses to ignore it should concern anyone considering giving him the ability to make the same foreign policy decisions his brother did.
Daniel Larison points what a statement like this tells us about Bush's overall judgment:
Bush's answer is useful in confirming that he doesn't have the first clue that the Iraq war was a colossal blunder and a horrifying, destructive waste. He clings to the notion that the invasion was justified by pre-war intelligence. That tells us that he thinks the WMD-based case for war was actually compelling instead of being the nonsense that opponents of the war knew it to be at the time. More important, Bush predictably misses the point that the Iraq war was illegal and unnecessary. Even if administration claims had been right, there was no threat to the U.S. or anyone other country that warranted an invasion. The main problem with the war was not that the U.S. and its allies failed to prepare for the aftermath of regime change (though they did), but that they launched a "preventive" war on shoddy evidence for the explicit purpose of toppling another government by force.
As I've noted before, of course, Bush is hardly the only Republican who feels this way. If the other declared and prospective candidates for President were asked the same question, I suspect that all of them would give pretty much the same answer that he did, with the exception of Rand Paul. Beyond the candidates, the utter necessity of the Iraq War still remains very much an article of faith among the activist base of the party, again with the exception of those people tending support Senator Paul. To a large degree, the rise of ISIS has led most of them to double down on their support for the war, and for the assertion that Obama was at fault for not leaving a residual force behind after American forces withdrew in 2011. The fact that ISIS's roots in Iraq can be directly tied to the war, and that there's little support for the argument that the White House was at fault for the breakdown in negotiations over a residual force does not really seem to impact their worldview at all.
One could argue that asking Bush or any other candidate whether they would act the same way President Bush did in 2002 and 2003 may seem as though it's a pointless, hypothetical, question, but as I've argued before, it's one that tells us a lot about a candidate's worldview and their judgment. Based on this response, Governor Bush isn't coming across as very impressive.