Jeb Bush Has His Own Iraq Quagmire
Iraq seems to becoming a political headache for yet another member of the Bush family.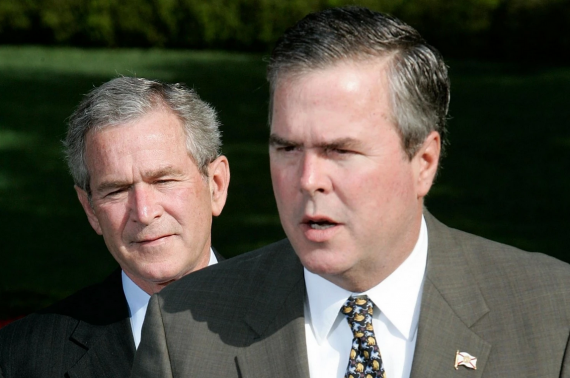 In the days since he told Fox News Channel Megyn Kelly that he would have invaded Iraq just like his brother did,  Jeb Bush has taken nothing but heat from the media and, surprisingly, from many of his fellow conservatives. Conservative talk show host Laura Ingraham, for example, found his answer unbelievable. New Jersey Governor Chris Christie, who is arguably closer to Bush ideologically than any of the other current or prospective candidates, took Bush to task for his response in an interview yesterday with CNN, as did Senator Rand Paul. Even Ted Cruz said that he disagreed with Bush's response. Given the general tone of the foreign policy discussion in the Republican Party, these reactions are somewhat surprising with the possible exception of Senator Paul. The more the story grew, the worse it seemed to become for Bush:
Jeb Bush, the Republican presidential hopeful, was struggling on Wednesday to get a handle on the toxic legacy of the 2003 Iraq war ordered by his brother, fumbling a series of questions on whether he would have authorised the invasion.

Mr Bush, the former Florida governor who is expected to formally announcea run for president in the summer, was facing derision from some sections of his party after apparently refusing to acknowledge that the war was a mistake.

Asked on Fox News if he would have backed the war – knowing what is known now about the non-existence of weapons of mass destruction – Mr Bush appeared to reply in the affirmative.

"I would have, and so would have Hillary Clinton, just to remind everybody," Mr Bush said. "And so would have almost everybody that was confronted with the intelligence they got."

The remark caused anger on the Right – which is increasingly isolationist and concerned about the enormous debts racked up by President George W Bush in prosecuting the war – causing the younger Mr Bush to try and clarify his remarks.

He managed only to deepen the consternation, however, in a radio interview with Sean Hannity, the conservative talk show/talk-show host.

Mr Bush claimed that he had misheard the question and that he'd have greenlighted the invasion based on the intelligence available at the time, adding "clearly there were mistakes as it related to faulty intelligence in the lead-up to the war and the lack of focus on security."

But pressed again over whether he would have made a different decision knowing what he knows now, Mr Bush dodged the question. "Yeah, I don't know what that decision would have been – that's a hypothetical," he said.

Whether Mr Bush, 62, was speaking out of family loyalty or personal principle – 90 per cent of his foreign policy advisory team is drawn from the administrations of his brother and father, President George H W Bush – remains unclear.
First of all, Bush's explanation that he "misheard" Kelly's question seems dubious at best. He's not a stupid man, he's done many interviews before, and, Kelly's question is exceedingly clear, as this transcript of the exchange shows:
Kelly: "On the subject of Iraq, very controversial, knowing what we know now, would you have authorized the invasion?" (The interview was conducted last week but aired in full on Monday.)

Bush: "I would have and so would have Hillary Clinton, just to remind everybody, and so would almost everybody that was confronted with the intelligence they got,"

Kelly: "You don't think it was a mistake?"

Bush "In retrospect, the intelligence that everybody saw, that the world saw, not just the United States, was faulty. And in retrospect, once we, once we invaded and took out Saddam Hussein, we didn't focus on security first,"
Rather than "mishearing" Kelly's question I would suggest that Bush's response, along with his subsequent efforts to walk that statement back, is a reflection of both the fact that he is reluctant to openly criticize his brother's legacy, which as I said the other day is understandable, and his recognition of the fact that he is already viewed skeptically by the Republican base and must therefore be careful not to stray too far from GOP orthodoxy on foreign policy, which seems destined to become a central issue in the fight for the nomination. In that regard, it's important to note that notwithstanding the criticism that Bush has received from many fellow Republicans, much of which is likely opportunistic on the part of the people running against him for the Republican nomination, the Bush Doctrine is still essentially foreign policy status quo in the Republican Party. To the extent that Republicans even talk about the current state of Iraq and the war against ISIS, they argue that President Obama is solely responsible for the current state of the nation because he failed to keep troops in Iraq after 2011. The Bush Administration gets almost no blame whatsoever from these people, and when you actually look at the policies they advocate regarding the fight against ISIS, Iran, and Ukraine, you recognize that there really isn't very much difference
As for Bush, he faced a question on the campaign trail today that shows what he really thinks about the Iraq War and its aftermath. The moment came in an exchange with a nineteen year old college student who identified himself as a Democrat and challenged Bush's contention that the Obama Administration is solely responsible for the rise of ISIS:
Ziedrich: The threat of ISIS was created by the Iraqi Coalition Authority which ousted the entire government of Iraq. It was when 30,000 individuals who were part of the Iraqi military, they were forced out, they had no employment, they had no income. Yet they were left with access to all of the same arms and weapons. Your brother created ISIS.

Bush: Is that a question?

Ziedrich: You don't need to be pedantic to me, sir.

Bush: Pedantic? Wow.

Ziedrich: You could just answer my question.

Bush: So what is the question?

Ziedrich: My question is why are you saying that ISIS was created by us not having a presence in the Middle East when it's pointless wars, when we sent young men to die for the idea of American exceptionalism? It's this idea – like, why are you spouting nationalistic rhetoric to get us involved in more wars?

Bush: We respectfully disagree… Al Qaeda had been taken out, there was a fraudulent system that could have been brought up to create, to eliminate the sectarian violence and we had an agreement that the president could have signed, it would have kept 10,000 troops, which is less than what we have in Korea. It could have created the stability that would have allow for Iraq to progress. The net result was, the opposite occurred because immediately that void was filled. And so, look, you can rewrite history all you want but the simple fact is that we're in a much more unstable place because America pulled back.
What Bush says here, of course, isn't very different from what you'll hear from other Republican candidates. The difference is that, given his last name, there's obviously more scrutiny by the media and by voters when he talks about Iraq in general and the Iraq War in particular. As I've said before, it would perhaps be asking too much to expect him to completely repudiate his brother's legacy, but at the very least one would have hope to see the former Governor respond to these rather obvious questions in a way that showed that he had some degree of sound judgment when it comes to foreign policy issues. I suppose that's asking too much, though. After all, as I've noted before Bush's foreign policy rhetoric even before the Iraq issue was raised demonstrated that he would approach these issues in ways very similar to how his brother did. Add to that the fact that he has surrounded himself with several top advisers from his brother's administration, including Paul Wolfowitz, one of the chief architects of President Bush's Iraq War policy in the months after the September 11th attacks.
During the same town hall, Bush said that asking him about what he would have done in Iraq ""does a disservice" to military service members killed in action," a comment which Daniel Larison calls disgraceful:
If anyone is doing a disservice to Americans that died in the unnecessary war in Iraq, it is the politicians that refuse to acknowledge the folly of the war. Nothing could be more self-serving and disrespectful to those killed and injured in the Iraq war than to hide behind them in order to duck a basic and easy question about foreign policy that any candidate for the presidency should be expected to answer candidly. Bush supposedly wants to be president, but he doesn't know how to handle the simplest questions that are put to him on one of the most important foreign policy issues of the very recent past.
Bush's comment isn't all that dissimilar from something that we heard from many on the right during the Iraq War itself, namely that criticizing the war was somehow akin to being disloyal to the men and woman who were sent there to fight it, in many cases because they happened to be members of National Guard or Reserve units that got swept into the conflict by the Pentagon, It's absurd, and it's little more than an effort to shut down debate and criticism and to silence critics. The fact that Bush is engaging in these kinds of tactics should tell you everything that needs to be known about where his judgment lies when it comes to foreign policy issues. More interesting, though, is that it appears as though Iraq could become a political quagmire for Governor Bush just like it became a quagmire for his brother.