Marco Rubio Fumbles The Iraq War Question
Marco Rubio is the latest Republican Presidential candidate to have a problem giving a coherent answer to a few simple questions about the Iraq War.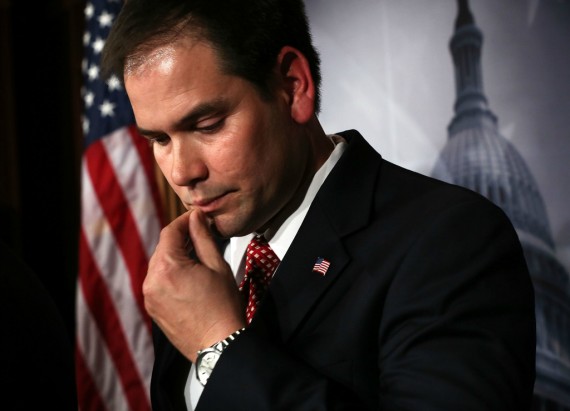 Florida Senator Marco Rubio is the latest Republican candidate for President who seems to be struggling to give a coherent answer to questions about the Iraq War:
Senator Marco Rubio of Florida struggled on Sunday to give clear answers about whether it was a mistake for the United States to go to war against Iraq in 2003, becoming the latest Republican presidential candidate to trip on the wisdom of the military invasion.

Under a barrage of questions from Chris Wallace of Fox News, Mr. Rubio repeatedly said "it was not a mistake" for President George W. Bush to order the invasion based on the intelligence he had at the time. But Mr. Rubio grew defensive as Mr. Wallace pressed him to say flatly whether he now believed the war was a mistake. Mr. Rubio chose instead to criticize the questions themselves, saying that in "the real world" presidents have to make decisions based on evidence presented to them at the time.

"It's not a mistake — I still say it was not a mistake because the president was presented with intelligence that said Iraq had weapons of mass destruction, it was governed by a man who had committed atrocities in the past with weapons of mass destruction," Mr. Rubio said on "Fox News Sunday."

A moment later, as Mr. Wallace tried to pin him down on his view, Mr. Rubio began to reply, "Based on what we know now, I think everyone agrees — — " but Mr. Wallace cut him off before he finished the thought.

"So was it a mistake now?" Mr. Wallace asked.

"I don't understand the question you're asking," Mr. Rubio said.

At one point Mr. Rubio, in discussing the importance of hindsight on the Iraq war, raised a recent boxing fight to make a point. "Based on what we know, a lot of things — based on what we know now, I wouldn't have thought Manny Pacquiao was going to beat, uh, in that fight a couple weeks ago — — " Mr. Rubio said before Mr. Wallace interrupted.

The back-and-forth resulted in a three-minute video clip that Republican opponents could use against Mr. Rubio in the future, given that he came across as a politician used to debating fine points and nuances in the United States Senate — a problem that then-Senator John Kerry faced in his presidential run in 2004 — rather than as a seasoned leader used to giving clear statements. Mr. Rubio's readiness for the presidency has been questioned among some Republican voters, given than he is a 43-year-old first-term senator, and moments like the boxing reference seemed discordant on a subject like the Iraq war.
Here's the video:
This isn't the first statement that Rubio has made about the Iraq War that was, to put it charitably, questionable at best. Last week, while his fellow Floridian Jeb Bush was withering under media attention that began when he was first asked the question by Fox News Channel's Megyn Kelly, Rubio said that he believed the decision to invade was the correct one to make at the time given the intelligence available at the time. He then went on to say that, given what we know know, it's clear that the decision was incorrect and that even Former President Bush himself agreed on that point. That last point actually turned out to be incorrect, because, as Daniel Strauss noted, George W. Bush has said on several occasions that he continues to believe that the decision to invade Iraq in 2003 was correct notwithstanding thse fact that the intelligence was wrong, and that he would not have made that decision differently even if he'd known the intelligence was wrong.  On some level, it's not even clear why Rubio felt the need to add in that line about Bush to his own comments, except perhaps to make it clear to the foreign policy hawks in the GOP that he is quite obviously courting that he didn't mean his remarks to be a repudiation of the foreign policy legacy of the Bush Administration. Whatever the reason, it just served to make Rubio's already incoherent response even more incoherent.
As I've noted before, how potential candidates respond to this question is important not so much because it tells us what they think about a foreign policy decision that was made twelve years ago that continues to have repercussions today, but what it says about how they might approach foreign policy decisions generally. While largely incoherent, Rubio's response to the "Iraq War Question" as it's now being called does tell us that he continues to believe that the initial decision to invade Iraq in 2003 was correct. This is something that every Republican candidate that has spoken out about the issue agrees with him with the exception of Senator Rand Paul,who has suggested in the past that removing Saddam Hussein from power was a mistake and said today that the issues raised by the question are important for future potential scenarios.
It's easy for Republicans like Rubio and Bush to say that they wouldn't support invading Iraq based on what we know today. Twelve years of hindsight regarding not only the mistaken nature of the intelligence that the Bush Administration used to justify the war but also the consequences of war itself are so so overwhelming, in fact, that one would have to question the sanity of someone who said the opposite. The real question is whether they show any willingness to revisit the question of whether the decision that the Bush Administration, supported by a bipartisan Congress, made in 2003 was correct given the information available then. The fact that, so far, only Senator Paul seems to be willing to say something like that speaks volumes.