Hillary Clinton Surprises Nobody, Announces She's Running For President
So, she's in.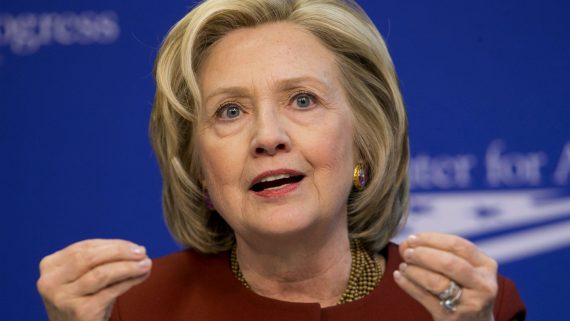 To the surprise of nobody, and indeed as had been leaked for the past several days, Hillary Clinton formally entered the race for President today via a video released by her campaign and an email from a longtime aide to her supporters:
 Ending two years of speculation and coy denials,Hillary Rodham Clinton announced on Sunday that she would seek the presidency for a second time, immediately establishing herself as the likely 2016 Democratic nominee.

"I'm running for president," she said with a smile near the end of a two-minute videoreleased just after 3 p.m.

"Everyday Americans need a champion. And I want to be that champion," Mrs. Clinton said. "So I'm hitting the road to earn your vote — because it's your time. And I hope you'll join me on this journey."

The announcement came minutes after emails from John D. Podesta, Mrs. Clinton's campaign chairman, alerting donors and longtime Clinton associates to her candidacy.

Mr. Podesta said that Mrs. Clinton would meet soon with voters in Iowa and host a formal kickoff event some time next month.

The announcement effectively began what could be one of the least contested races, without an incumbent, for the Democratic presidential nomination in recent history — a stark contrast to the 2008 primaries, when Mrs. Clinton, the early front-runner, ended up in a long and expensive battle won by Barack Obama. It could also be the first time a woman captures a major party's nomination.

Regardless of the outcome, Mrs. Clinton's 2016 campaign will open a new chapter in the extraordinary life of a public figure who has captivated and polarized the country since her husband, former President Bill Clinton, declared his intention to run for president in 1991. Mrs. Clinton was the co-star of the Clinton administration, the only first lady ever elected to the United States Senate and a globe-trotting diplomat who surprised her party by serving dutifully under the president who defeated her.

She will embark on her latest — and perhaps last — bid for the White House with nearly universal name recognition and a strong base of support, particularly among women. But in a campaign that will inevitably be about the future, Mrs. Clinton, 67, enters as a quintessential baby boomer, associated with the 1990s and with the drama of the Bill Clinton years.

This campaign will begin on a small scale and build up to an effort likely to cost more than any presidential bid waged before, with Mrs. Clinton's supporters and and outside "super PACs" looking to raise as much as $2.5 billion in a blitz of donations from Democrats who overwhelmingly support her candidacy. Much of that enthusiasm is tied to the chance to make history by electing a woman president. But some, too, owes to the lack of compelling alternatives in a party trying desperately to hold on to the White House when Republicans control the House and the Senate.
Here's the video:
The video that launches this campaign is markedly different from the one that opened her 2008 run for the Presidency. In that video, Clinton was sitting on a coach and talking to the camera and, as her candidacy in that cycle did from the beginning, projected an assumption of inevitability that proved to be its downfall when presented with a challenger such as Barak Obama. Another difference is that the 2007 video was actually just the announcement of a Presidential Exploratory Committee, whereas this time Clinton is skipping that step like candidates such as Ted Cruz and Rand Paul have done and diving right into the campaign itself. This time around, her campaign launch seems to bear more resemblance to the campaign that she ran in 2000 when she ran for Senate in New York and spent the better part of a month visiting every area of the state on what that campaign called a "listening tour." At least initially, it seems as though the campaign will follow a similar strategy this time around in that, for at least the next month or so, we aren't likely to see Clinton at any huge campaign rallies like the ones that she and President Obama held while battling for the Democratic nomination in 2008. Instead, she'll be engaging in smaller events in the early primary states, especially in Iowa, where Clinton's vulnerabilities in 2008 were first laid bare after she came in third behind President Obama and John Edwards. The larger events will follow, of course, but for the time being it appears that the campaign will be looking for something smaller scale and, of course, the media attention that goes along with it. At the same time, of course, they'll be going full bore on fundraising just as they did in 2008, and some analysts are estimating that she could raise as much as $2.5 billion by the time the election ends in November 2016..
As Clinton enters the race, there are plenty of questions hanging over her that will become the focus of much of the coverage over the coming months. It remains to be seen, for example, if Clinton and the people advising her have learned the lessons of the 2008 campaign and will adjust their behavior accordingly. While much of the outcome of the Democratic nomination fight that year is, of course, attributable to the unique circumstances of Barack Obama's candidacy and the issues facing the country at the time, it's also undeniable that Clinton and her advisers made several key error in responding to the rise of the Obama phenomenon that made the campaign's position far worse. While it seems incredibly unlikely that she will face an opponent anywhere near as strong as Barack Obama was six years ago, how she conducts her run for the Democratic nomination will go a long way toward defining her for the General Election. In addition to these logistical and tactical issues, of course, Clinton entering the race makes it inevitable that all of the old baggage about the Clinton years will be aired yet again, mostly by the Republicans competing for the right to run against her. The same will be true about controversies over her time as Secretary of State such as the Benghazi attack and her use of a private email server for official communications. If the past is any indication, Clinton's critics will likely end up shooting themselves in the foot with their rhetoric on these issues, but Clinton will also have to deal with a public that may be skeptical about returning to the politics of the Clinton era. Finally, Clinton will at some point have to explain how her tenure as Secretary of State has prepared her to be President, and to explain what exactly it was that she accomplished while she held that office. Given the chaotic state of the world in the two years since she left office, that could be a hard sell to make.
The odds seem to be in favor of Clinton winning in November 2016, but a lot can happen between now and then, and her campaign would be well advised to not assume inevitability yet again.