Hitting Russia Where It Hurts
Sanctions are already taking a toll. But the West could do more if it had the will.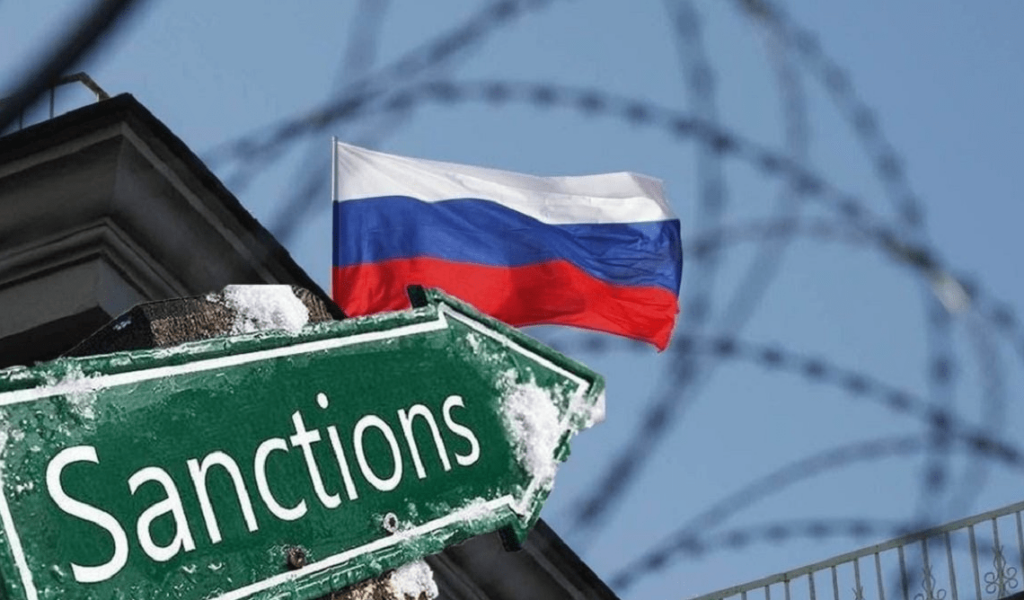 The escalated sanctions imposed by the United States and European Union on Putin and his cronies have already exacted a significant toll. Business Insider ("Russia's richest 22 billionaires have lost $39 billion in one day after the invasion of Ukraine"):
Russia's 22 richest individuals saw their net worths plunge by a collective $39 billion in less than 24 hours after their country invaded Ukraine, according to the Bloomberg Billionaires Index.

The wealth wipeout came after Moscow's benchmark MOEX Russia Index crashed and closed 33% lower on Thursday.

The Russian billionaires lost more money on Thursday than they had lost year-to-date up until Wednesday, according to Bloomberg.

The biggest loser was Vagit Alekperov, chairman of Moscow-based oil company Lukoil, who saw his wealth fall by one-third in one day as the company's share price plummeted 32% on Thursday. Alekperov now has a net worth of $13 billion, down from $19.2 billion, according to Bloomberg.

Vladimir Potanin, Russia's richest known man (no one knows for certain just how rich Russian President Vladimir Putin is), lost $3 billion after the share price of Norilsk Nickel, where he is the president, crashed 26%.

It could get worse for Russia's richest individuals as Western sanctions intensify. The US on Tuesday announced sanctions including measures against Russian oligarchs and their family members. On Thursday, President Joe Biden doubled down with another round of sanctions.

On Tuesday, the UK also announced sanctions on five Russian banks and three individuals. Among the individuals sanctioned was oligarch Gennady Timchenko, who has close ties with Putin, according to Reuters. Timchenko is the 11th-richest person in Russia with a net worth of $12.1 billion, according to Bloomberg.
New York Times columnist and Nobel laureate Paul Krugman argues that the impact will be modest in the short term:
True, Russia will eventually pay a heavy price. There won't be any more pipeline deals; there will be hardly any foreign direct investment. After all, who will want to make long-term commitments to a country whose autocratic leadership has shown such reckless contempt for the rule of law? But these consequences of Putin's aggression will take years to become visible.

And there seems to be only limited room for trade sanctions. For that, we can and should blame Europe, which does far more trade with Russia than America does.

The Europeans, unfortunately, have fecklessly allowed themselves to become highly dependent on imports of Russian natural gas. This means that if they were to attempt a full-scale cutoff of Russian exports they would impose soaring prices and shortages on themselves. Given sufficient provocation, they could still do it: Modern advanced economies can be incredibly resilient in times of need.

But even the invasion of Ukraine probably won't be enough to persuade Europe to make those sorts of sacrifices. It's telling, and not in a good way, that Italy wants luxury goods — a favorite purchase of the Russian elite — excluded from any sanctions package.

Financial sanctions, reducing Russia's ability to raise and move money overseas, are more easily doable — indeed, on Thursday President Biden announced plans to crack down on Russian banks. But the effects will be limited unless Russia is excluded from SWIFT, the Belgium-based system for payments between banks. And a SWIFT exclusion might in practice mean a stop to Russian gas supplies, which brings us back to the problem of Europe's self-inflicted vulnerability.
More on SWIFT shortly. But Krugman argues there's a middle path: "Laundered Money Could Be Putin's Achilles' Heel."
Yet the world's advanced democracies have another powerful financial weapon against the Putin regime, if they're willing to use it: They can go after the vast overseas wealth of the oligarchs who surround Putin and help him stay in power.

Everyone has heard about giant oligarch-owned yachts, sports franchises and incredibly expensive homes in multiple countries; there's so much highly visible Russian money in Britain that some people talk about "Londongrad." Well, these aren't just isolated stories.

Filip Novokment, Thomas Piketty and Gabriel Zucman have pointed out that Russia has run huge trade surpluses every year since the early 1990s, which should have led to a large accumulation of overseas assets. Yet official statistics show Russia with only moderately more assets than liabilities abroad. How is that possible? The obvious explanation is that wealthy Russians have been skimming off large sums and parking them abroad.

The sums involved are mind-boggling. Novokment et al estimate that in 2015 the hidden foreign wealth of rich Russians amounted to around 85 percent of Russia's G.D.P. To give you some perspective, this is as if a U.S. president's cronies had managed to hide $20 trillion in overseas accounts. Another paper co-written by Zucman found that in Russia, "the vast majority of wealth at the top is held offshore." As far as I can tell, the overseas exposure of Russia's elite has no precedent in history — and it creates a huge vulnerability that the West can exploit.

But can democratic governments go after these assets? Yes. As I read it, the legal basis is already there, for example in the Countering America's Enemies Through Sanctions Act, and so is the technical ability. Indeed, Britain froze the assets of three prominent Putin cronies earlier this week, and it could give many others the same treatment.

So we have the means to put enormous financial pressure on the Putin regime (as opposed to the Russian economy). But do we have the will? That's the trillion-ruble question.
On its face, this seems like a no-brainer. Alas:
There are two uncomfortable facts here. First, a number of influential people, both in business and in politics, are deeply financially enmeshed with Russian kleptocrats. This is especially true in Britain. Second, it will be hard to go after laundered Russian money without making life harder for all money launderers, wherever they come from — and while Russian plutocrats may be the world champions in that sport, they're hardly unique: Ultrawealthy people all over the world have money hidden in offshore accounts.

What this means is that taking effective action against Putin's greatest vulnerability will require facing up to and overcoming the West's own corruption.
As to SWIFT, it's widely considered the "nuclear option" and most of our European allies are reluctant to make that move.
A report from Fortune ("Here's what you need to know about SWIFT and its use as a 'nuclear option' against Russia") provides some background:
The SWIFT financial service is a Belgium-based co-operative, founded in 1973, and overseen by multiple government banking systems including the U.S. Federal Reserve System, the European Central Bank, and the National Bank of Belgium.

The SWIFT system acts as a foundation for international banking, helping connect together over 11,000 banks, financial firms, and companies in over 200 countries. The technology helps facilitate trillions of dollars worth of transactions each day, and helps financial institutions obtain and record messages (think of them like digital fingerprints or receipts) detailing those transactions.

If Russia were removed from SWIFT, the country would be severely hampered in its ability to participate in global trade or raise overseas financing. Russian banks would still be able to conduct cross-border transaction, but would have to rely on outdated tech like fax and email, which would make the process slower and more costly.

SWIFT is so intertwined with the global economy that some financial analysts have described isolating Russia from the network as a "nuclear option" causing devastating financial fallout in the country.
Reuters ("U.S., EU unlikely to cut Russia off SWIFT for now -Biden") explains the politics:
The United States and the European Union have opted not to cut Russia off from the SWIFT global interbank payments system as part of their sanctions against Moscow for invading Ukraine, but could revisit that issue, U.S. President Joe Biden said on Thursday.

Asked why that step was not taken, Biden told reporters the sanctions imposed against Russian banks exceeded the impact of cutting Russia off from SWIFT, and other countries had failed to agree on taking the additional step at this point.

"It is always an option," Biden said. "But right now, that's not the position that the rest of Europe wishes to take."

Several EU sources had told Reuters before the sanctions were announced that the EU was unlikely to agree to the move, despite calls from various quarters to do so.

German Chancellor Olaf Scholz said Germany – a key trading partner of Russia – opposed cutting off Russia's access to the payment system at this point, but also suggested such a step could still follow at a later stage.

"It is very important that we agree those measures that have been prepared – and keep everything else for a situation where it may be necessary to go beyond that," Scholz told reporters, responding to a question on SWIFT, as he arrived to an emergency summit set to discuss Russia's invasion of Ukraine.

The foreign ministers of the Baltic states, once ruled from Moscow but now members of NATO and the EU, called on Thursday to stop Russia's access to SWIFT.

Other EU member states are reluctant to make such a move because, while it would hit Russian banks hard, it would make it tough for European creditors to get their money back and Russia has in any case been building up an alternative payment system.

"Urgency and consensus is utmost priority at the moment," said an EU diplomat, adding that at this stage it meant no move on SWIFT, because doing so would have such wide-ranging consequences, also in Europe.
Krugman rightly condemns this as "feckless" but it's easy for those who would face little impact from cutting Russia off to condemn the reluctance of others to take a massive economic hit.