West Accelerates Pressure on Russia
NATO has stepped up in a pleasantly surprising way to resist the Ukraine invasion.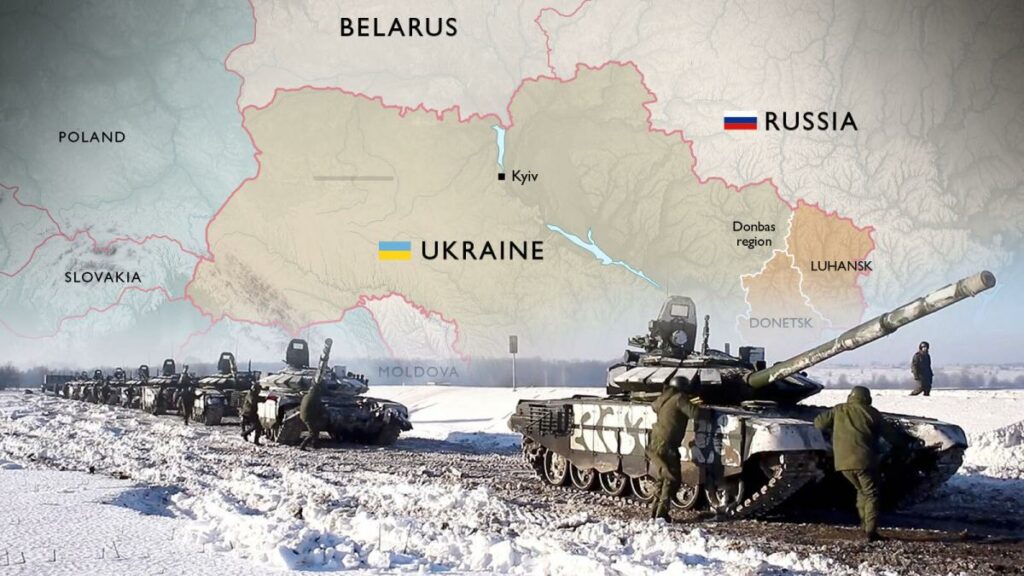 The News:
NBC ("U.S., allies agree to limit Russia's access to SWIFT banking system"):
The United States and its allies announced Saturday an agreement to take aim at Russia through SWIFT, a service that facilitates global transactions among thousands of financial institutions.

"We commit to ensuring that selected Russian banks are removed from the SWIFT messaging system. This will ensure that these banks are disconnected from the international financial system and harm their ability to operate globally," the leaders of the European Commission, France, Germany, Italy, the United Kingdom, Canada, and the United States, said in a joint statement.

In a written statement, SWIFT said it was aware of the joint statement on the new measures.

"We are engaging with European authorities to understand the details of the entities that will be subject to the new measures and we are preparing to comply upon legal instruction," the statement said.

President Joe Biden on Thursday, when announcing new U.S. sanctions against Russia, noted differences among European nations on punishing Russia through SWIFT. Doing so is "always an option," Biden said. "But right now, that's not the position that the rest of Europe wishes to take."

A European diplomat said one reason for the administration's previous reluctance to push publicly for targeting Russia's access to SWIFT has largely centered on concerns that doing so would expose and call attention to divisions among the allies about taking the step. The person said the Biden administration has been trying to sell the notion that the U.S. and European allies are in total lock-step and has not wanted to get ahead of where the Europeans are at on SWIFT.

Germany and Italy had been reluctant to include SWIFT as part of sanctions against Russia. Europe's economy, which is far more closely tied to Russia's than the U.S. economy, could suffer if Russia was restricted or prohibited from using SWIFT, including if banks are blocked from access.

But the mood on this in Europe has been shifting as Russia's aggression has escalated.
BBC ("Ukraine: France seizes Russian ship over sanctions"):
France has intercepted and impounded a Russian-flagged cargo ship suspected of breaching sanctions imposed because of the invasion of Ukraine.

The ship, the Baltic Leader, was heading from the north-western French city of Rouen to St Petersburg in Russia with a cargo of new cars.

It is being held at the Channel port of Boulogne.

Russian state media say the vessel is owned by a subsidiary of a bank targeted in recent EU and US sanctions.

A regional French official said such a measure was rare, but called it a sign of firmness.

The US Treasury Department has issued blocking sanctions against the vessel, saying it is owned by a subsidiary of Promsvyazbank, one of the Russian financial institutions hit by sanctions.
Reuters ("Turkey, overseeing passage to Black Sea, calls Russian invasion 'war'"):
Turkey called Russia's invasion of Ukraine a "war" on Sunday in a rhetorical shift that could pave the way for the NATO member nation to enact an international pact limiting Russian naval passage to the Black Sea.

Under the 1936 Montreux Convention, Turkey has control over the Dardanelles and Bosphorus straits that connect the Mediterranean and Black seas and can limit the passage of warships during wartime or if threatened.

Balancing its Western commitments and close ties to Moscow, Ankara has said the Russian attack is unacceptable but until Sunday had not described the situation as a war.
Axios ("Germany to send thousands of weapons to Ukraine in major reversal"):
Germany will send 1,000 anti-tank weapons and 500 Stinger missiles to Ukraine, marking a complete reversal in Berlin's restrictive arms export policy, German Chancellor Olaf Scholz announced Saturday.

Why it matters: Germany has for months come under intense criticism for its response to Russia's aggression toward Ukraine. The government said its "historical responsibilities" prevented it from shipping arms to conflict zones, and had previously blocked other NATO allies from transferring German-origin weapons to Ukraine.

What they're saying: "The Russian attack marks a turning point. It is our duty to do our best to help Ukraine defend against the invading army of Putin. That's why we're supplying 1,000 anti-tank weapons and 500 stinger missiles to our friends in the Ukraine," Scholz tweeted.
NYT ("Putin's War Ushers In Crisis for Russia"):
President Vladimir V. Putin has ushered in a crisis for his country — in its economy and identity.

The Kremlin is hiding the reality of the country's attack on Ukraine from its own people, even cracking down on news outlets that call it a "war."

But the economic carnage and societal turmoil wrought by Mr. Putin's invasion is becoming increasingly difficult to obscure.

Airlines canceled once-ubiquitous flights to Europe. The Central Bank scrambled to deliver ruble bills as the demand for cash spiked 58-fold. Economists warned of more inflation, greater capital flight and slower growth; and the S&P credit rating agency downgraded Russia to "junk" status.

The emphasis on hiding the war's true extent was a sign that the Kremlin fears that Russians would disapprove of a violent, full-scale invasion of Ukraine, a country where many millions of Russians have relatives and friends.

Even so, more public figures with ties to the state spoke out against the war, including a lawmaker in Russia's rubber-stamp Parliament. Business owners tried to assess the consequences of an economic crisis that appeared already to be beginning, even before sanctions were fully in place.

[…]

Russians have been stunned at how quickly the economic impact of the war was being felt. The ruble hit its lowest level ever against the dollar, which traded at about 84 rubles on Saturday compared to 74 a few weeks ago. That sent prices for imports surging, while sanctions on Russia's largest banks wreaked havoc in the financial markets and new export restrictions promised to scramble supply chains.
Some Opinions:
Zoya Sheftalovich, POLITICO ("Putin's miscalculation"):
Watching Vladimir Putin's war on Ukraine play out, it seems the Russian president has vastly underestimated and misunderstood Ukrainians and their president.

Putin, a one-time KGB operative who in 2004 said "there is no such thing as a former KGB man," has made clear that he lives in a world of the past. The world that existed before the end of the Cold War, a world in which the territories of the former Soviet Union, potentially even the countries of the former Warsaw Pact, are run out of Moscow. A world he is trying to rebuild today.

But the USSR is not Russia, and when you live in the past, you lose touch with the present.

Putin has lost touch with ordinary Russians, despite exercising immense control over what they watch, listen to and read. But to an even greater degree, Putin has lost touch with what Ukrainians think.

It's the classic mistake of every tyrant: Surround yourself only with sycophants, suck-ups and yes-men, and you never get a reality check in your echo chamber. Eliminate dissenting politicians, and you assume that means you've eliminated dissent.

[…]

He seems to have expected to be welcomed in by Russian-speaking Ukrainians as nostalgic for the Soviet heydays as he is. It seems Putin expected Ukrainians to lay down their arms, and for their pro-Western and NATO President Volodymyr Zelenskiy to flee, making space for one of Moscow's allies. The Kremlin could roll its tanks back to Russia, taking a sizeable chunk of Ukraine with them, and Putin could declare his bogus "peacekeeping" mission over after a few days. He would take some limited casualties, some painful but not devastating sanctions, and then it would be back to business as usual.

[…]

But Putin underestimated Ukraine. The country's troops have resisted hard and have largely held their cities against a Russian attempt at blitzkrieg. Kyiv claims that its experienced, motivated soldiers have killed thousands of Russians, downed enemy planes and destroyed hundreds of armored vehicles and tanks.
Tom Friedman, NYT ("We Have Never Been Here Before"):
The seven most dangerous words in journalism are: "The world will never be the same." In over four decades of reporting, I have rarely dared use that phrase. But I'm going there now in the wake of Vladimir Putin's invasion of Ukraine.

Our world is not going to be the same again because this war has no historical parallel. It is a raw, 18th-century-style land grab by a superpower — but in a 21st-century globalized world. This is the first war that will be covered on TikTok by super-empowered individuals armed only with smartphones, so acts of brutality will be documented and broadcast worldwide without any editors or filters. On the first day of the war, we saw invading Russian tank units unexpectedly being exposed by Google maps, because Google wanted to alert drivers that the Russian armor was causing traffic jams.

[…]

"It's been less than 24 hours since Russia invaded Ukraine, yet we already have more information about what's going on there than we would have in a week during the Iraq war," wrote Daniel Johnson, who served as an infantry officer and journalist with the U.S. Army in Iraq, in Slate on Thursday afternoon. "What is coming out of Ukraine is simply impossible to produce on such a scale without citizens and soldiers throughout the country having easy access to cellphones, the internet and, by extension, social media apps. A large-scale modern war will be livestreamed, minute by minute, battle by battle, death by death, to the world. What is occurring is already horrific, based on the information released just on the first day."

[…]

[E]veryone in Russia will be able to watch. As this war unfolds on TikTok, Facebook, YouTube and Twitter, Putin cannot closet his Russian population — let alone the rest of the world — from the horrific images that will come out of this war as it enters its urban phase. On just the first day of the war, more than 1,300 protesters across Russia, many of them chanting "No to war," were detained, The Times reported, quoting a rights group. That's no small number in a country where Putin brooks little dissent.

And who knows how those images will affect Poland, particularly as it gets overrun by Ukrainian refugees. I particularly mention Poland because it is Russia's key land bridge to Germany and the rest of Western Europe. As strategist Edward Luttwak pointed out on Twitter, if Poland just halts truck and rail traffic from Russia to Germany, "as it should," it would create immediate havoc for Russia's economy, because the alternative routes are complicated and need to go through a now very dangerous Ukraine.

Anyone up for an anti-Putin trucker strike to prevent Russian goods going to and through Western Europe by way of Poland? Watch that space. Some super-empowered Polish citizens with a few roadblocks, pickups and smartphones could choke Russia's whole economy in this wired world.
Samuel A. Greene and Graeme B. Robertson, WaPo ("Putin's rule depends on creating foreign enemies — and domestic 'traitors'"):
To most outside observers (and many Russian experts, too) Vladimir Putin's actions this past week look shockingly reckless — from his speech denying Ukraine's right to exist to the recognition of two breakaway regions of eastern Ukraine to an all-out invasion on multiple fronts. So irrational does his behavior seem to some that they have suggested that pandemic-induced isolation has unhinged him, heightening his paranoia and aggrievement.

[…]

That the benefits in Russia's cost-benefit calculations are evident only to its president presents a problem both for understanding the current situation and predicting Putin's next move. To solve this puzzle, it's helpful to take the Ukraine crisis out of the realm of foreign policy and put it into the world in which Putin spends most of his time: that of Russian domestic politics. Viewed in that light, the war represents a continuation of Putin's efforts to govern by presenting Russia as threatened by external forces bent on its destruction, and himself as the only leader who can successfully oppose them.

[…]

Putin's gamble is that a combination of military success, a powerful propaganda machine and widespread repression will keep domestic discontent under control and, crucially, keep the elite on his side. It is possible that the gamble will succeed, that the fusion of domestic dictatorship and imperial ambition may prove effective. Nevertheless, there are good reasons to be skeptical.

Surprisingly large protests ("solo pickets," as the Moscow Times puts it, are the only lawful form of protest in Russia) have appeared on the streets of Russian cities. These are likely to be easily suppressed — the Russian nongovernmental organization OVD-Info reported that more than 2,200 people were arrested on Thursday and Friday — but unease is mounting. The Committee of Soldiers' Mothers, a grass-roots group that emerged to oppose Russia's destructive war in Chechnya in the 1990s, has publicized harrowing pictures of the poor conditions in which soldiers are being housed and fed along the border with Ukraine and launched a video campaign against the war. Any combat deaths on the Russian side are likely to feed this nascent movement.

Discontent is likely to be fueled, too, by Western sanctions that will have both targeted and widespread effects. We simply do not know what price Russian elites are willing to pay for a war that few of them may actively support. While moving against the president from the inside is extremely dangerous, impatience with the costs to the elite of Putin's rule, and the sense that something should be done about it, may grow rapidly behind the scenes.

If that happens, a war Putin started to solidify his position at home could prove to be his undoing.
My Two Cents:
Things are going far worse, far faster for Putin than I had hoped at the outset of the invasion. Ukrainians have been steelier in opposition and the fast flow of information highlighted in several reports and columns above have made Putin's task harder.
But I'm most surprised by the resolve of NATO countries, some of whose commitment to the cause has been questionable for decades, going back at least as far as Willy Brandt's Ostpolitik. While the steadfastness of the Anglosphere was predictable, Germany and France, in particular, have been far bolder and shouldered much more burden here than we could reasonably have expected. And, while Turkey's blocking the Dardanelles and Bosphorus strait is likely too much to ask, the fact that it is even on the table is stunning.
While Ukraine would surely prefer that the West do even more—essentially treating them as though they were a NATO ally—we are placing an inordinate amount of pressure on Putin. And, in addition to the massive economic sanctions, were are quickly arming and resupplying Ukraine. If this holds, Putin's miscalculation will have been catastrophic.