Honor Fallen SEALs by Questioning Their Mission
Honoring the fallen by ensuring that the didn't die in vain is a recipe for getting more good men killed.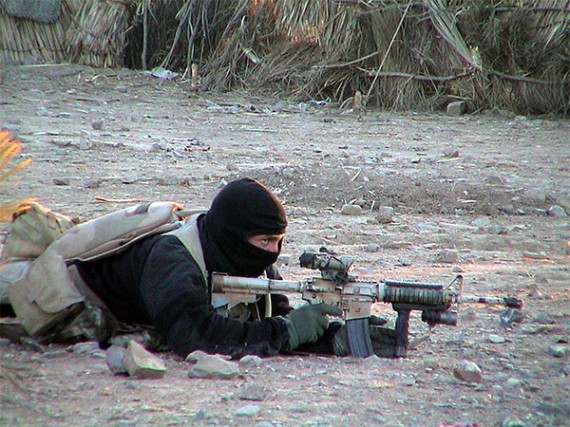 Joshua Foust tweets that his PBS piece "Lessons from this weekend's Afghan helicopter crash" has been called "enemy propaganda" by some critics. That charge fundamentally misunderstands patriotism. He's not divulging troop locations or battle plans; he's questioning to what end our best warriors are being sacrificed.
But what were top-tier special operators doing in Wardak province, a restive area not really known for its central place in the insurgency? The latest reporting indicates that these elite soldiers were on a rescue mission to assist some U.S. Army Rangers who were pinned down by insurgent fire. In short, one elite group of troops had rushed to rescue another elite group of soldiers who'd been pinned down.
There has been quite a bit of discussion in military circles in recent years that our special operators are becoming "door kickers" rather than doing their primary training and covert action missions. As talented as Rangers are, Special Forces and SEAL troopers are a far more precious asset in terms of train-up time.
That said, I've been arguing for years that one of our greatest mistakes in both Iraq and Afghanistan was an overuse of drones and other "safe" tools and too little use of commandos. While I'm a huge fan of the Offset Strategy, which in the terminology of my old grad school buddy Wayne Maynard (a retired Green Beret and Ranger officer) trades "blood for gold" by investing in enormously expensive tools. But, while that's great in a conventional battle like that envisioned between NATO and Warsaw Pact forces, it can be detrimental in a counterinsurgency or stabilization operation. As we saw in Kosovo and again in Iraq, Afghanistan, and Pakistan, engaging enemy targets from the relative safety of the sky means more civilian casualties. Aside from moral considerations, that can undermine the mission. If SEALs have to put play Ranger to more effectively achieve our strategic objectives, I can live with that.
That caveat aside, Josh's larger point here isn't so much that the SEALs who died over the weekend were doing non-SEAL work but that they were being risked for an ancillary fight in Wardak province, which doesn't much matter in the grand scheme of the fight. His even larger point:
The real scandal in Afghanistan isn't that Americans are getting killed. The real scandal is that we don't know why we're there. President Obama's goal of disrupting, dismantling and defeating Al Qaeda has been largely accomplished. The Afghan government has a sufficiently large enough military to prevent a total Taliban takeover, and with a political reconciliation there is every likelihood that Al Qaeda will be denied access to Afghanistan.

Tragic as the loss of those soldiers is, without a clear strategy articulated by our leadership, it's difficult to say what grander purpose they served. Rescuing other troops is a noble mission, and those that died in service to this mission all deserve our profound thanks. But if the war they're fighting has no purpose and no definable end state, we should be questioning why they have to perform such heroic acts in the first place.

We should — we must — mourn the dead. But after we mourn, we should also ask why they're being asked to sacrifice so much for a war that's being propelled solely by inertia. The war is as incomprehensible post-crash as it was pre-crash. Despite our grief at this loss, our questions about why we're there remain the same.
It's an age-old cliche that we should honor the fallen by ensuring that the didn't die in vain. To the extent that this motivates their comrades, it's a great part of the warrior code. But if the fight is unwinnable–or has been as close to won as we're likely to get for years–it's also a recipe for getting more good men killed.