Hoosier State Showdown
The results from today's Indiana Primary will go a long way toward setting the course for the end of both party's nomination fights.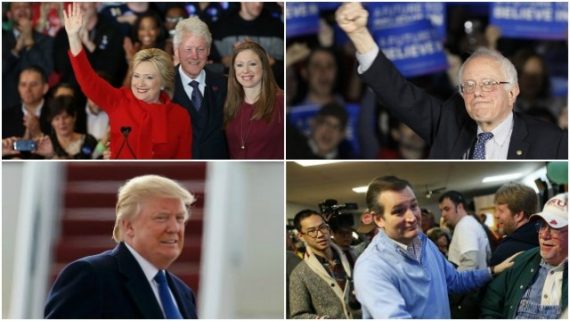 As Indiana voters head to the polls, all four of the major players left in the 2016 race for President are preparing for a night that could be decisive in determining the outcome of the respective party nomination battles. On the Republican side, the choice has essentially come down to a resigned choice to line up behind Donald Trump, or to stick with Ted Cruz and a strategy aimed at a contested convention that seems to be becoming more and more tenuous as the days go on. On the Democratic side, the race has come down to one between a seemingly inevitable Hillary Clinton and Vermont Senator Bernie Sanders, who continues to insist that he will stay in the race regardless of the outcome of today's contest in the Hoosier State. The reality is that, in both contest, voters seem poised to deliver a message to the underdogs that is fairly clear if they choose to listen.
On the Republican side, Donald Trump remains solidly in the lead in the race and, depending on the scope of his victory, to pick up the lions share of the delegates up for grabs on the GOP side. According to the RealClearPolitics average, Donald Trump has a 10.8 point lead over Cruz thanks, with the two most recent polls, from NBC News and Gravis, showing him leading by 15 and 17 points respectively. It's worth remembering that Trump has had a tendency to outperform his polling when he does win a state, so this suggests that he could be headed for a big statewide victory, If that happens, then Trump could stand to do very well in the delegate haul. Merely by winning the state, Trump would pick up 30 of the 57 delegates automatically. The remaining 27 will be allocated based on performance in each of the state's nine Congressional Districts. Depending on how the race goes at that level, Trump could walk away with enough delegates to put him well over 1,000 in the delegate count, and potentially within 200 delegates of the majority he needs to win the nomination. Cruz and Ohio Governor John Kasich, meanwhile, could end up being shutout of the delegate count completely or, perhaps, just a handful of delegates that will do little to help in the effort to stop Trump from winning the nomination. All of this has raised fears among the "Stop Trump" movement that Indiana could effectively be their last stand, and warnings from many of the groups funding that movement that they could pull their fundraising if Cruz is unable to pull off a win in Indiana, something which seems unlikely at this point. If that happens, then the "Stop Trump" movement will be effectively dead.
On the Democratic side, Hillary Clinton already has a clear path toward winning the Democratic Presidential nomination that she failed to win in 2008, but she still finds herself dealing with an opponent who stubbornly refuses to get out of the race. Regardless of who wins tonight, it's likely that Vermont Senator Bernie Sanders could end the night mathematically eliminated from being able to win enough delegates to win the nomination, but that doesn't seem apparent from the way he's acting, Most recently, Sanders has been pushing the rather absurd idea that he could somehow persuade the Superdelegates to support him over Clinton even though she would have won the most delegates and received the most popular votes of any of the candidates for President in either political party. It's an absurd idea that has little basis in reality, but as long as Sanders clings to this notion, he's likely to stay in the race. With respect to today's race, RealClearPolitics shows Clinton with a 6.8 point lead over Sanders and most recent polling showing the gap between Clinton and Sanders somewhere in the mid single digits. This suggests that there's a good possibility of a close final outcome, and possibly even a narrow Sanders win. That win, however, is likely to be less important than the delegate allocation which, unfortunately for Sanders, will not be sufficient enough for him to make a serious dent in the delegate count.
So, here's my forecast for tonight:
Republicans — Trump wins comfortably enough to pick up at least 45 of the 57 delegates at stake, putting him within less than 200 delegates of winning the nomination outright. If Trump does this well, and especially if he does much better (such as sweeping most or all of the 57 delegates at stake) I would expect we'll start to see the pressure increase on Ted Cruz and John Kasich to get out of the race increase, although I doubt that either candidate will do so.
Democrats — I'll go ahead and predict a narrow Clinton victory that adds to her delegate total. As with the GOP, this will increase pressure on Sanders to at least hold up in his attacks on Clinton and will likely lead many of the Superdelegates who remain on the sidelines to rally behind Clinton in an effort to bring the race to a close as soon as possible.
Polls close at 6pm Eastern in most of the state, but since there are counties in the Northwest and Southwest parts of the state on Central Time, we likely won't start getting substantial results until after  7pm Eastern.