House Passes PATRIOT Act Re-Authorization, Battle Moves To Senate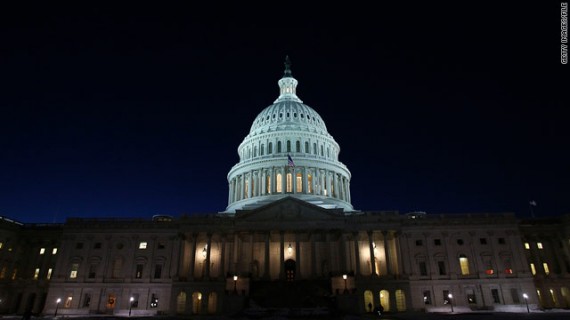 After last week's surprise where  it  failed to get the 2/3 majority required to pass under a suspension of the rules, the House easily and not surprisingly passed re-authorization of the PATRIOT Act by a simple majority:
WASHINGTON — The House on Monday voted to reauthorize and extend through Dec. 8 three ways in which Congress expanded the Federal Bureau of Investigation's counterterrorism powers after the terrorist attacks of Sept. 11, 2001.

Last week, an effort to extend these provisions of the so-called Patriot Act and a related intelligence law failed to pass after falling just short of the two-thirds' majority needed under a special rule. On Monday, however, the bill was able to pass with only a simple majority — and it did so, 275 to 144.

The provisions allow investigators to get "roving wiretap" court orders allowing them to follow terrorism suspects who switch phone numbers or providers; to get orders allowing them to seize "any tangible things" relevant to a security investigation, like a business's customer records; and to get national-security wiretap orders against non-citizen suspects who are not connected to any foreign power.

Without new legislation, the provisions would expire on Feb. 28. House Republicans pressed the short-term extension so the Judiciary Committee, which is now under Republican control, could hold hearings on them.

During the debate on Monday, most Republicans argued in favor of the bill, while many Democrats criticized it. Still, the debate did not break down entirely along partisan lines.

Sixty-five Democrats voted for it, including Representative C. A. Dutch Ruppersberger of Maryland, the ranking Democrat on the Intelligence Committee, who argued that he thought it would be better to go even further and extend the provisions through 2013 — as the Obama administration wants to do.

And 27 Republicans voted against it, including Representative Dana Rohrabacher, Republican of California, who said the American people had "a legitimate fear of out-of-control prosecutors and out-of-control spy networks."

Because there is little time left before the provisions expire, it is likely that the Senate will approve the House's bill — putting off a larger debate over the provisions until later in the year.
Perhaps. Rand Paul has announced that he will oppose re-authorization in the Senate, but its unclear how many Democrats would be willing to join him this time around. This may be a fight that will have to wait until December.