House Republicans Making Yet Another Push To Repeal And Replace Obamacare
House Republicans are making yet another push to repeal and replace the Affordable Care Act, but they once again may not have the votes.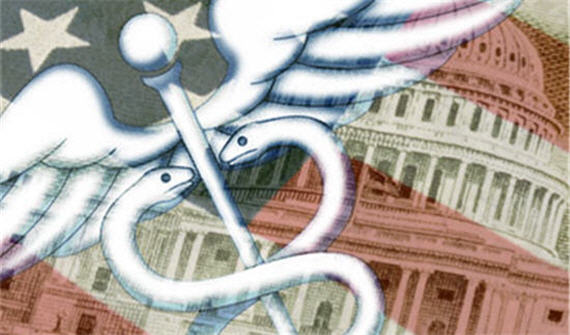 House Republicans are making yet another push to pass their bill to repeal and replace the Affordable Care Act, but they are once again facing opposition from within their own caucus that threatens to derail the effort for the third time in a month:
Republican efforts to overhaul the nation's health-care system collided Tuesday with fierce resistance about how it would affect people with preexisting medical conditions, casting the proposal's future into deeper uncertainty as GOP leaders scrambled to try to salvage it.

On Capitol Hill, influential Rep. Fred Upton (R-Mich.) came out against the plan, dealing a major blow to proponents trying to secure enough votes to pass it in the House. Across the country, late-night host Jimmy Kimmel's emotional story about his newborn son's heart condition reverberated on television and the Internet. And former president Barack Obama, who signed the bill Republicans are trying to dismantle, took to Twitter to defend it.

All three voiced concerns about losing a core protection in the Affordable Care Act for people with preexisting conditions, as is possible under the latest GOP plan. Such growing worries threatened to derail the revamped attempt to revise key parts of the ACA — or at least send Republicans back to the drawing board.

"I do think each minute that has passed, each hour and each day, the 'no' members are becoming more locked in 'no,' and we may be losing members," said Rep. Chris Collins (R-N.Y.), who favors going back to the original version of the American Health Care Act that was scrapped by GOP leaders earlier this year.

Republicans left their weekly conference meeting Tuesday with no health-care vote on the schedule. The House is slated to recess Thursday until May 16.

In an interview with WHTC radio in Holland, Mich., Upton, a former chairman and current member of the House Energy and Commerce Committee, said he opposes the House GOP plan because it "torpedoes" safeguards for people with preexisting conditions.

"I told the leadership I cannot support the bill with this provision in it," Upton said. "I don't know how it all will play out, but I know there are a good number of us that have raised real red flags."

A Washington Post analysis shows 21 House Republicans either opposed to or leaning against the bill, and 22 more either undecided or unclear in their positions. If no Democrats support the bill, the Republicans can lose no more than 22 GOP votes to pass it in the House.

Upton's comments came a day after Rep. Billy Long (R-Mo.), a longtime opponent of the ACA, voiced similar concerns as he came out against the latest plan. On Tuesday, Long said the preexisting-condition provision was the sole reason for his opposition.

"They take that out, put the vote on the floor that they pulled, and I'm with them," Long said, referring to the first version of the bill, which House GOP leaders withdrew in March after it was clear that it lacked the support to pass the chamber.

After the failure, Republicans renegotiated and opted to add an amendment to the bill that would enable insurers to deny coverage or charge more to people with preexisting conditions if their states opted out of provisions in the ACA barring such decisions. The states would have to set up "high-risk pools" to absorb some of the costs of caring for those people.

The idea was to find a middle ground that would attract conservative Republicans who want to do away with as many ACA regulations as possible and centrist Republicans who worry about stripping vulnerable populations of the coverage they receive under the ACA.

That balance has been very hard to reach. And external pressure has made it no easier.

President Trump, who has shown an eagerness to swiftly pass a health-care bill, continued pressing congressional Republicans to act. On Tuesday, Vice President Pence traveled to Capitol Hill again to coax legislators to support the bill. Trump called lawmakers from the White House.

"How's health care coming, folks? How's it doing? All right. We're moving along? All right. I think it's time now, right? Right?" he said after name-checking some lawmakers in attendance as he presented the U.S. Air Force Academy football team with the Commander-in-Chief's Trophy at the White House.

Trump has also added confusion to the debate, saying in an interview that aired Sunday on CBS's "Face the Nation" that the health-care plan would "beautifully" protect those with preexisting conditions.

House Speaker Paul D. Ryan (R-Wis.) appeared keen to avoid signs of discord Tuesday, telling reporters that Trump has been "nothing but helpful" on health care. He and his top lieutenants also tried to defend the GOP plan against criticism that it would harm Americans with preexisting conditions.

"Our bill protects people with preexisting conditions, and it actually provides multiple layers of protection for people with preexisting conditions in ways that Obamacare doesn't do," House Majority Whip Steve Scalise (R-La.) told reporters.

Scalise's defense was that current law offers such protections and any states opting out "actually have to lay out how they are going to protect people with preexisting conditions."

Rep. Paul A. Gosar (R-Ariz.), a member of the far-right House Freedom Caucus who did not support the first GOP proposal but does back the new one, said he was hearing that a new amendment would add money for the high-risk pools — though he didn't know how they would be paid for. Collins said he heard something similar, but he was pessimistic that the differences could be ironed out.
All of this comes at the same time that a new poll shows that a majority of Americans oppose the changes that the Republican bill would make to the Affordable Care Act's provisions regarding guaranteed coverage for pre-existing conditions. In the poll, 50% of the respondents either somewhat or strongly oppose the Republicans oppose the plan's proposal that would allow states to opt-out of the pre-existing conditions mandate in exchange for setting up a pool of funds for those who would be impacted by the change while only 38% support it. On the broader question of whether the PPACA as a whole should be repealed and replaced, the public is a bit more ambivalent with 42% saying that the approve of the change while 37% disapprove and 20% of respondents saying that they either "Don't Know" or have no opinion. In another question, 58% of respondents say that Congress should wait until the new bill is scored by the Congressional Budget Office while only 16% said that Congress should go ahead with a vote prior to getting a CBO score. This last bit is significant because it's clear that the CBO will not be able to score the bill before the House is scheduled to recess on Thursday until May 16th, a period during which many members of Congress will be back in their districts and hearing directly from voters at town halls and other venues, many of which have proven to be quite raucous. This is one reason why leadership appears to be pushing for a vote prior to a recess, because it's likely that many of the Members of Congress sitting on the fence right now would be likely to vote "No" after more than a week of face-to-face meetings with constituents opposed to the GOP effort to do away with things such as the pre-existing condition coverage mandate.
As things stand right now, the opponents of this latest effort to repeal and replace Obamacare look as though they'll win again. Different media outlets have slightly different numbers, but there seem to be at least 20 to 21 Republicans already opposed to the bill with another group of somewhere between 20 and 25 members still either on the fence or whose position has not been made public. Since no Democrats are going to vote in favor of the bill, this means that all it would take is 22 Republicans to oppose the bill for it to fail. Looking at the numbers, it seems likely that failure is the most outcome for several reasons. First of all, as the polling indicates, Americans are opposed to one of the central provisions of the new bill and that number is only likely to increase as the details of the proposal to become better known to the public. As I said, this is why the leadership is pushing for a vote prior to the recess that starts tomorrow, because the likelihood is that members who are on the fence will be pushed into the "No" camp once they are exposed to constituents who are strongly opposed to the bill. Second, the fact that there is no CBO score and that the text of the revised bill hasn't even been made available to the public also leaves legislators who may be on the fence reason to be concerned about backlash if they vote for a bill like this sight unseen, which is essentially what leadership is asking them to do. Finally, as I've noted before there is quite simply no chance that this current bill will pass the Senate. That has been made clear from comments not only from Senate Democrats but also several Republicans who object to everything from the way it treats pre-existing conditions to the impact it will have on states that signed on for the PPACA's expanded Medicaid coverage. Given this, it's unclear why wavering House Republicans would put their political futures on the line for a bill that has absolutely no chance of becoming law.
There's likely to be much drama over the next 24 to 36 hours on Capitol Hill, so stay tuned. My guess, however, is that this effort to repeal and replace Obamacare will fail just as badly as previous efforts have.