House Republicans Pass Unconstitutional, Doomed, Pandering Abortion Bill
As expected, the Republican-controlled House passed a bill that would ban most abortions after twenty weeks. It also happens to be completely unconstitutional and has no chance of actually becoming law.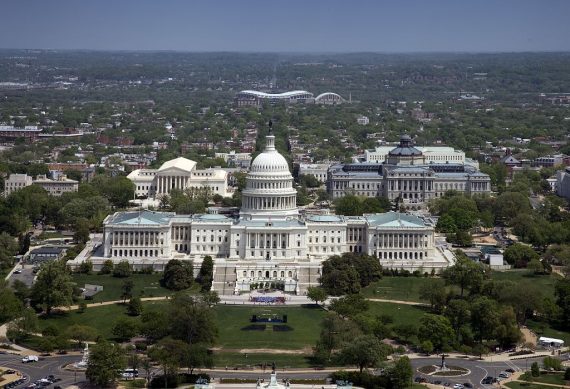 As expected, yesterday the House of Representatives voted largely on party lines to approve a bill banning abortion nationwide after the 20th week of pregnancy notwithstanding the fact that there are serious doubts about the constitutionality of such a law:
The House on Wednesday passed a ban on abortions after 20 weeks of gestation, reviving a measure that had been abandoned earlier this year over concerns that it could hurt the Republican Party's standing among female voters.

The bill, which Majority Leader John A. Boehner (R-Ohio) in a floor speech called "the most pro-life legislation to ever come before this body," passed with the support of some GOP congresswomen who previously objected to the ban's restrictions on rape victims. The congresswomen threw their support behind the measure after that wording was tweaked.

The bill seeks to ban any abortions beyond the midpoint of pregnancy — before a fetus is typically deemed viable, but after antiabortion activists say the fetus can feel pain. It faces an uphill course in the Senate, and President Obama has said he would veto it. But House passage of the measure had been a priority for antiabortion groups hoping to push the needle on public opinion and inject the issue into the 2016 presidential race.

"This legislation to protect the most innocent among us is an opportunity for clarity heading into the 2016 elections," said Marjorie Dannenfelser, president of the antiabortion Susan B. Anthony List. "Protecting pain-capable babies and mothers at risk during a late-term abortion is a winning issue and one that has unified the entire Republican presidential field."

But it received swift condemnation from Democrats, including Hillary Rodham Clinton. "The bill puts women's health and rights at risk, undermines the role doctors play in health care decisions, burdens survivors of sexual assault, and is not based on sound science," Maya Harris, senior policy adviser for Clinton's campaign, said in a statement.

The legislation provides exceptions for victims of rape and incest, but the original version required rape victims to have reported the crime — a standard that critics viewed as too stringent because many never go to the police.

The version that passed on Wednesday removed the reporting requirement. But it added a 48-hour waiting period for rape victims during which they must undergo counseling. Abortion rights groups said that requirement makes the bill more burdensome than the original version.

Congress should defeat this dangerous and misguided bill and focus on moving forward, not backward," Cecile Richards, president of Planned Parenthood Federation of America, told reporters earlier in the day in a teleconference.

Still, the change apparently satisfied some of the antiabortion lawmakers who balked at the original version, including Rep. Jackie Walorski (R-Ind.), who had removed her name as a co-sponsor of the bill in January. This bill "protects life, empowers women and will save lives," Walorski said before casting a yes vote.
The final vote on the bill was 242-184, which is roughly the same as the partisan breakdown of the House, although there were four Republicans who voted no, four Democrats who voted yes, one Republican who voted "present," and five Members of Congress who did not vote for one reason or another.
The biggest problem with this bill, of course, is the fact that there is simply no authority under the Constitution for Congress to ban abortion nationwide, something that The Volokh Conspiracy's Jonathan Adler also argues in his post on the proposed legislation earlier this week. Given that this comes from the party that, for the past six years has complained about how the President and the Democrats in Congress have acted in contravention of the Constitution, it is at least ironic to see something like this passing so easily, and some would call it hypocritical. What it actually shows, of course, that in a competition between its supposed reverence to the Constitution and the desire to pander to the pro-life conservatives in the party's base, Republicans will toss the Constitution out the window as easily as they claim Democrats do.
There's no chance whatsoever that this bill will become law, of course. It's unlikely to survive an expected Democratic filibuster in the Senate, and even if it did President Obama would most assuredly veto the bill, which would kill it  immediately since there obviously isn't enough support even in the House to override such a veto. Republicans in Congress are obviously aware of this, but they believe that they can derive some kind of political advantage by pushing legislation such as this. In part, that advantage comes by taking an action that the pro-life base has been seeking Congressional action on for quite some time now. Additionally, though, they seem to believe that by forcing Democrats to take a vote on this legislation they will somehow gain some kind of advantage with voters heading into 2016. Whether that's true, however, is exceedingly unclear. There is some polling that suggests that most Americans oppose late-term abortions in most cases, but it's not clear from that polling that this translates into support for bans on abortion after twenty weeks, or that it's the kind of issue that would cause them to vote Republican when they otherwise wouldn't do so. More likely, the people that would support something like this are already inclined to vote for Republican candidates. What Republicans seem to be forgetting is that when they do take public stands on this issue, it tends to backfire them at election time with several crucial demographic groups. Perhaps that won't happen this time, but if history is any guide the GOP may come to regret taking a stand like this.