How America Stopped Thinking Strategically
Today's foreign-policy disputes rarely consider the way America's response to one crisis might affect another.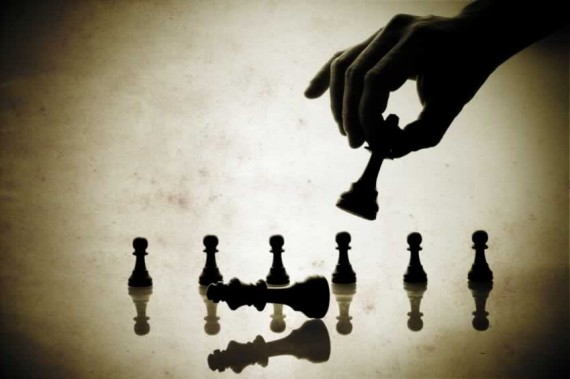 Peter Beinart brilliantly encapsulates the tensions in US foreign policy that those of us in the field have been wrestling with since the end of the Cold War. As the story goes, the collapse of the Soviet Union ended the raison d'être of America's decades-long grand strategy of containment and guiding principle has emerged to take its place.
Today's foreign-policy disputes rarely consider the way America's response to one crisis might affect another. Adopt a tough stance on China's air-defense zone, for instance, and Beijing is less likely to join the West in condemning Russia's aggression in Ukraine. Severely punish Russia for that aggression, and Moscow is less likely to help America enforce sanctions against Iran. Take an ultra-hard line on Iran's nuclear program, and Tehran is less likely to help broker an end to Syria's civil war that the U.S. can live with. Instead of discussing each threat in isolation, America's politicians and pundits should be debating which ones matter most. They should be prioritizing.
But Beinart traces the origins of this problem not to the end of the Cold War but to its beginning.
To understand how Americans stopped doing that, you need to go back to the middle of the 20th century. Over the course of the 1940s, as America lurched from isolationism to world war, foreign-policy strategists such as George Kennan and Walter Lippmann roughly outlined America's core interests around the world. First, the United States must continue to prevent an enemy power from establishing a beachhead in the Americas, a principle set forth in the venerable Monroe Doctrine. Second, no enemy power should be allowed to dominate Europe, thus threatening what Lippmann called the "Atlantic highway" connecting the United States to Britain and France. Third, no enemy power should shut the United States out of East Asia; that's what had precipitated war with Japan. Fourth, no adversary should block America's access to Middle Eastern oil. But beyond these areas, U.S. interests were limited. "I am more and more convinced," Lippmann wrote in 1943, "that it is just as important to define the limit beyond which we will not intervene as it is to convince our people that we cannot find security in an isolationist party."
Emphasis mine. Beinart notes, correctly, that just because we continually followed a policy we called Containment does not mean that we consistently followed the same policy. Indeed, we ignored Kennan's advice to our peril. Just as "Terrorism!" and "Democracy!" spark cries from serious people for American intervention in places of limited American interests in the post-Cold War world, cries of "Communism!" did so during the Cold War.
In the wake of World War II, as American politicians grew increasingly fearful of the Soviet Union, Kennan warned that it was foolish to talk about foreign threats without defining national interests. If America didn't first determine which chunks of the globe were worth defending, any place Moscow threatened would become important to the United States. The U.S. would effectively outsource its foreign-policy decision making. "Our opposition to Communist expansion is not an absolute factor," argued Kennan in 1947. Rather, containment "must be taken in relation to American security and American objectives."

Over the decades, Lippmann and Kennan saw their worst fears realized, as U.S. presidents increasingly equated containment with stopping Communism anywhere on Earth. In January 1950, Secretary of State Dean Acheson did not include South Korea in America's "defense perimeter," only to see his boss, President Harry Truman, rush troops there once Pyongyang attacked. Dwight Eisenhower didn't consider South Vietnam important enough to defend militarily; Lyndon Johnson did. By the 1970s, some American hawks were warning about the consequences of Communist control of Somalia and Angola.
What came after the Cold War, then, was a continuation of, not a sharp break from, a pattern. But the removal of the fear of sparking World War III and launching global Armageddon did change the calculus.
Promoting democracy and defending human rights were considered expressions of American values. Any country that opposed the expansion of American power was deemed a threat. But without the language of interests, as Kennan had warned, championing American values and opposing foreign threats were limitless endeavors.

Foreign-policy strategy requires harmonizing means and ends, yet during the first two decades of the post-Cold War era, American foreign-policy commentators stopped trying to "define the limit" to America's overseas ends. The results of this shift are especially troublesome today, as America struggles with reduced means. After years of post-9/11 increases, America's defense budget is decreasing. There's also less money for foreign aid. Challengers like China, Russia, and Iran are fighting the enlargement of American power and American-style government. Obama, by withdrawing U.S. troops from Afghanistan and Iraq and resisting military action in Syria and Iran, has tried to better align America's overseas obligations with its domestic resources. But he's encountered relentless criticism from hawks who want America to push forward, as hard as possible, on every frontier.
Without using the word, Beinart advises a return to Realism:
[R]eporters should begin their coverage of each foreign crisis with this question: Why should Americans care? In today's environment, that sounds churlish. But it didn't always. Lippmann famously called U.S. foreign policy the "Shield of the Republic." Part of his point was that the best yardstick for evaluating U.S. policies overseas was their effect on citizens at home. By asking why Americans should care that Russia controls Crimea or that Iran has a nuclear program, journalists would force a discussion of American interests. They'd make politicians and pundits explain exactly how events in a given country might make Americans less safe, less prosperous, or less free. In some cases, after all, when America enlarges its sphere of influence, its citizens lose more—in money, freedom, or blood—than they gain. Focusing on ordinary Americans would bring attention to this possibility.

At times, the politicians or pundits might admit that Americans have no tangible interests in a given country, just a moral obligation to prevent killing, poverty, or oppression. That'd be fine. At least they'd be making their case honestly.
My major professor in graduate school, Don Snow, used a similar device with the conflicts of the (now long ago) day. "Take out a clean sheet of paper," he'd say, "and write down all of the ways [democracy in Haiti, a cessation of violence in Bosnia and Herzegovina, Kurdish self-determination] would improve your life." The exercise was rhetorical, of course, as the paper would remain clean.
As it turns out, ignorant though they might be about the facts of international affairs or even basic geography, the American people are generally quite wise on making these choices. Naturally, they support kinetic military action in response to direct military attacks against us or our close allies. The instinct to fight in those circumstances is universal and it's bolstered here by the knowledge that we're almost certain to prevail militarily. Additionally, Americans almost universally support intervention to perform humanitarian assistance, disaster relief, and other non-kinetic missions to help people in other countries. They see these as the right thing to do given our place in the world and worth the relatively low cost to perform. Intervention in other people's civil wars? Our default position is No. It takes some powerful convincing to move off that default.
Oddly, however, American presidents and other political leaders seem to have a harder time with this than the general public.