How To Worry
A list of international contingencies to worry about in the coming year. Handy as a stocking stuffer!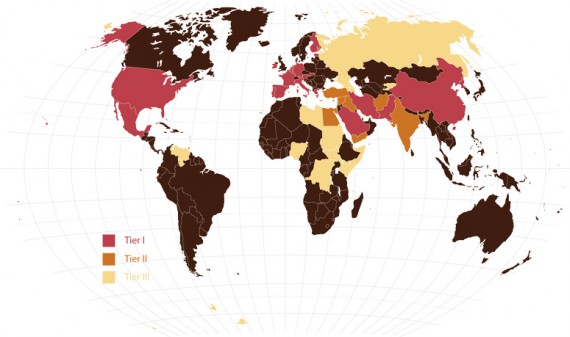 If you're looking for things to worry about in the coming year (and I'm sure most of you are), the Council on Foreign Relations has come up with a handy Preventive Priorities Survey for 2012 which helps you determine what to worry about and how much you should be worried. The contingencies are categorized by severity into tiers, Tier I being contingencies that are likely to trigger U. S. military involvement, Tier II being contingencies that affect countries of strategic importance to the U. S. but are less likely to trigger U. S. military action, and Tier III being contingencies that may have serious humanitarian consequences but do not have strategic importance. Here are the Tier I contingencies:
a mass casualty attack on the U.S. homeland or on a treaty ally
a severe North Korean crisis (e.g., armed provocations, internal political instability, advances in nuclear weapons/ICBM capability)
a major military incident with China involving U.S. or allied forces
an Iranian nuclear crisis (e.g., surprise advances in nuclear weapons/delivery capability, Israeli response)
a highly disruptive cyberattack on U.S. critical infrastructure (e.g., telecommunications, electrical power, gas and oil, water supply, banking and finance, transportation, and emergency services)
a significant increase in drug trafficking violence in Mexico that spills over into the United States
severe internal instability in Pakistan, triggered by a civil-military crisis or terror attacks
political instability in Saudi Arabia that endangers global oil supplies
a U.S.-Pakistan military confrontation, triggered by a terror attack or U.S. counterterror operations
intensification of the European sovereign debt crisis that leads to the collapse of the euro, triggering a double-dip U.S. recession and further limiting budgetary resources
The first-listed Tier II contingency is political instability in Egypt.
Tier III contingencies include conflict between the Sudans, political instability in Nigeria, and a host of others.
Have a nice day!