Huntsman 2016?
The GOP's most promising alternative to Mitt Romney in 2012 may run again in 2016, but it doesn't seem like he'd go very far.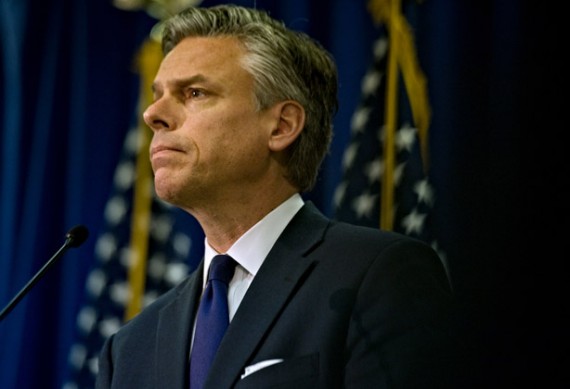 David Catanese reports that the former Utah Governor, Ambassador, and 2012 Presidential candidate is keeping his options open:
Jon Huntsman's 2012 presidential campaign was plagued by internecine feuding between advisers, debilitating disorganization and a late start by a mostly green candidate. But most damaging to the former Utah governor and U.S. ambassador to China was the perception that he was out of step with his party's base—too moderate, mushy, and effete for the moment.
"Timing is important," Huntsman replied when I asked him recently the most significant lesson he took from the failed run he abandoned 15 months ago.\

But as the Republican mainstream gravitates towards his worldview on issues like gay marriage, immigration, and even the war in Afghanistan, the 53-year-old Huntsman appears to be gauging whether he was a candidate ahead of his time—and if there's space in the GOP for a Huntsman 2.0.

He's begun dipping his toe back into the political pond—traversing the country at a brisk pace and delivering meaty op-eds and speeches that pointedly address the woes of his party.

"They want to see a vibrant two-party system," he says of the universities and business groups that have extended speaking invitations to him. "And I think they're curious at how we might regain that diverse debate that the two-party system allows in this country."

But when asked if the reception he's receiving indicates there's an appetite for another White House run, it's clear he's not even sure of the answer.

"I don't know.  It's way premature," he said.
Huntsman still comes in for a lot of criticism from many on the hard right these days, but I think it's fair to say that he left the 2012 race in a far better position within the GOP than he was in when he started his campaign. Indeed, there were many on the right who seemed to realize on the eve of the New Hampshire Primary that he very well may have been the alternative to Mitt Romney that they were looking for all along, without all the baggage of candidates like Cain, Gingrich, and Santorum. It was too late at that point, of course. Huntsman campaign was operating on a shoestring as it was and he really didn't have any kind of campaign network outside of New Hampshire that he could have used to capitalize on a surprise in New Hampshire. Since then, Huntsman has managed to keep himself in the news cycle every now and then and appears as a commentator on political and foreign policy issues on a pretty regular basis. Whether that's the stepping stone to another Presidential run, I don't know.
At the same time, it's going to be hard for Huntsman to overcome what really was a badly run 2012 campaign that made the fatal mistake of starting out with a strategy that was seemingly designed to alienate the GOP's conservative base. It was an inexplicable strategy, really, because Huntsman was as much of a conservative as anyone in the race that year, and arguably far more of one than Mitt Romney just based on their respective records as Governor. For some reason, though, the people running his campaign decided to start off with a strategy and a method that was openly antagonistic toward the GOP base, and Huntsman approved that strategy apparently. Why they went that route, when there were others available to them given the fact that there were many in the GOP looking for a viable alternative to Mitt Romney is something I will never quite understand. However, notwithstanding the goodwill that he had built up at the end up the campaign, it seems to me that there is enough bad blood between him and the base that it would be next to impossible for him to mount a viable campaign in 2016.
I'd like to believe that I'm wrong. Huntsman was one of the few candidates in the 2012 GOP field that I actually liked (the other being Gary Johnson). I'd love to see him run again, but I doubt he'd go much further than he did last time. And that's unfortunate.