Huntsman Goes on the Attack
Jon Huntsman is sharpening his message, pointing to his accomplishments while denigrating those of Mitt Romney and Tim Pawlenty.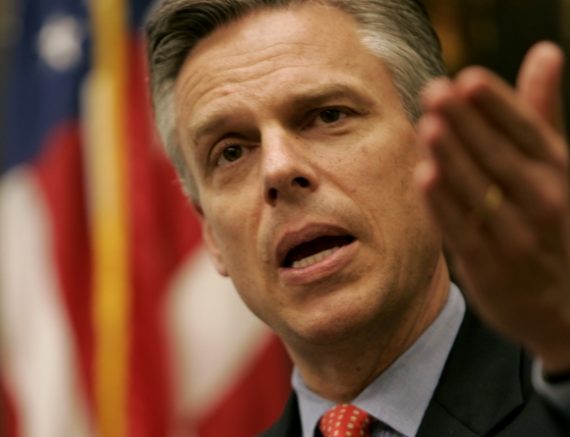 Jon Huntsman is sharpening his message, pointing to his accomplishments while denigrating those of Mitt Romney and Tim Pawlenty.
CNN ("Huntsman goes on offense against Romney"):
Former Utah Gov. Jon Huntsman signaled Monday that he intends to sharpen his campaign message against former Massachusetts Gov. Mitt Romney, the front-runner in the Republican presidential race and the candidate Huntsman's team views as his chief rival in the nomination fight.
Campaigning at a barbecue restaurant in South Carolina, Huntsman criticized Romney directly, though not by name. It's a tactic he has largely shied away from until now.

Huntsman, debuting a new line, questioned Romney's record on job creation while serving in Massachusetts and contrasted it with his own resume. "When you look at the absolute increases in job creation, Utah led the way in the United States in terms of job creation," he said. "That, compared and contrasted with certain other states like Massachusetts, which I will just pull out randomly, not first, but 47th."

Moments earlier, he said: "Some are running from their record. I am running on my record. Take a look at what we have done."

The decision to single out Massachusetts, of course, was hardly random. Romney and Huntsman are chasing after overlapping voter and donor bases – particularly in New Hampshire, the crucial leadoff primary state where both campaigns are planting a flag. Huntsman, still lagging in the polls, must begin to raise questions about Romney's record if he hopes to overtake the front-runner.

On Monday, he said his record on health care and tax cuts stands out compared to other former governors in the race like Romney and former Minnesota Gov. Tim Pawlenty. "I am here to tell you, as you evaluate and look at the candidates, simply analyze where it is they have been and what they have done and what kind of achievements they have to show from their time as a chief executive, and whether it is has applicability nationwide," Huntsman urged the South Carolina crowd of about 200 voters, including several local GOP leaders and activists.
Contrast is the name of the game, especially when you're mired in last place in the polls. While I like what I've seen of Huntsman so far, he's statistically tied with my dog Molly in national polling. So, he has to give prospective voters and donors a reason to back him and not one of the nine candidates currently polling ahead of him.
Huntsman's doing it the right way, pointing out his accomplishments and contrasting them with those of his opponents rather than going truly negative. But the bottom line is that the eventual nominee is going to have to endure several months of this, which will heat up as the primary season begins in earnest, while President Obama is able to stay above the fray. It's one reason why incumbent presidents tend to get re-elected.