I am not Seeing Capitulation
Wherein I engage in a little intra-blog debate.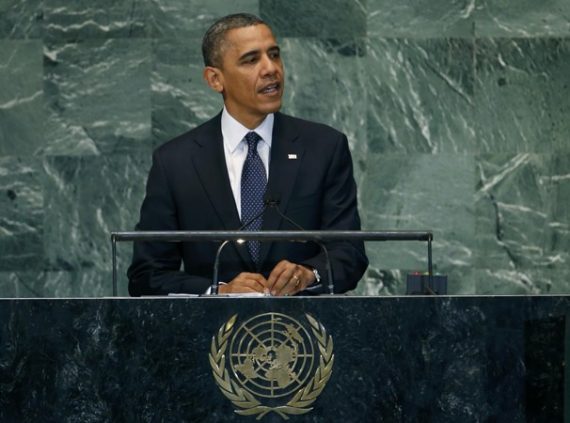 I started to weigh in in the comments section of Doug Mataconis' post about the president's speech to the UN in which he addressed The Innocence of Muslims (among other issues), but several specific thoughts occurred, so I thought I would go full post on the subject (and because the issue goes beyond Doug's post, as I have seen these issues discussion elsewhere as well).
As I noted in the comment threads of another of Doug's posts on this subject over the weekend, I am not getting the outrage over attempts at public diplomacy on this issue.  I don't want to go straw man here, but it seems to me that the position of Doug and others is that they would have prefered that the president simply
My basic objections are rooted in word choices and the starkness of claims.  Over the weekend, I wondered about the words "timidity" and "kowtowing" and I wonder today about "capitulation" (the title of the post was "President Obama Capitulates On Freedom Of Speech Before The United Nations").  I was vexed over the weekend as to where the US had "kowtowed" to anyone and I further confused as to what the "capitulation" was today.
To note that some speech is offensive is not a capitulation.  I find calling African-Americans the n-word offensive, but that does mean I am opposed to free speech. Indeed, I could easily make a long list of things that I find offensive.  I find Ku Klux Klan marches in downtown Montgomery to be offensive and will happily say so (indeed, I just did) but saying so is not a capitulation.
I think that we have to remember the basic context of the current situation:  there have been a series of ongoing riots in response to this film in a number of volatile countries.  In one of those case the riots led to the death of an American ambassador and several American citizens.  This is, therefore, no small trifling matter and one for which, it seems to me, some attempts at trying to calm the situation (or, at least,  make appeals to persons not rioting, but who are still offended—not to mention provide some potential rhetorical help to governments in the region).
A couple of things that struck me from Doug's post.  In responding to a line from Obama's speech ("In every culture, those who love freedom for themselves must ask how much they are willing to tolerate freedom for others") Doug stated:
No, Mr. President. This is not a choice. Freedom is not a choice, it is the right of all human beings, and the fact that the manner in which I or someone else exercises their freedom might offend someone is, in the end, entirely irrelevant.
I would note that we make choices of this type all the time.  One cannot say the f-word on a broadcast television drama.  Nor can one show naked genitalia there (nor can one traipse about town disrobed and claim freedom of expression). This is because it would offend some people if we did so. Likewise, the police would be called if I was standing in my front yard with a bullhorn reciting a racist rant.  There are a host of restrictions on speech, some codified (linked primarily to broadcast media) and some based on norms of conduct, and many of them are linked to whether or not offense would be created because of the speech.   My point being that even when we have clear rights like speech there are always limitations of some kind placed on them, if anything because we have to live together.  None of us can say whatever we want, whenever we want, to whomever we want (and to note this is not a capitulation, nor is it a denigration of the First Amendment).
Granted, I certainly agree with Doug on the following:
Their offense does not give them the right to riot, to destroy property, to issue bounties for the death of the person who created something that offended them.
But the president isn't saying that it does, so again, where's the capitulation?
Also, I am just not seeing the following, and those claiming this is the case don't make their case very well:
no American President should be standing up before the world and effectively apologizing for the fact that we have a legal and Constitutional structure that allows people to freely express their opinions even when those opinions offend people.
I ask directly:  where is the apology for the Constitution/the First Amendment?
Also, I have heard variations of the following, and I find them to be a false equivalency:
The United States didn't condemn Salman Rushdie for The Satanic Verses when the Muslim world rose up in condemnation of that book, indeed the American government condemned the fatwa that was issued against him by Ayatollah Khomeni.
First, there is a wee bit of difference between the contexts (see the above).  Second, there appears to be some general consensus, even amongst non-Muslims, that The Innocence of Muslims actually is offensive.  As such, I am not seeing the comparison to The Satanic Verses (i.e., why is it problematic to acknowledge that X number of people find thing Y offensive, especially when X is a big number?).  Third, the makers of the film were trying to offend, Rushdie was not, so again I am not seeing the validity of the comparison.  Fourth, the US condemned the bad actors in both cases:  the Ayatollah and the rioters—so what's the problem?
As I noted the other day, I am a bit ambivalent on the administration's responses and I am open to suggestions of other courses of action.  However, I do know a couple of things:  1)  there is probably only a limited amount that could be done in any event and, 2) the US government has not capitulated (at least, I remain unconvinced that it has).
So, to sum up:  why is it so wrong to acknowledge that a lot of people are offended by this film?  I see neither capitulation nor apology in the following passage from the speech (indeed, I see a defense of the constitution):
I know there are some who ask why don't we just ban such a video. The answer is enshrined in our laws. Our Constitution protects the right to practice free speech.

Here in the United States, countless publications provoke offense. Like me, the majority of Americans are Christian, and yet we do not ban blasphemy against our most sacred beliefs. As president of our country, and commander in chief of our military, I accept that people are going to call me awful things every day, and I will always defend their right to do so.

Americans have fought and died around the globe to protect the right of all people to express their views — even views that we profoundly disagree with. We do so not because we support hateful speech, but because our founders understood that without such protections, the capacity of each individual to express their own views and practice their own faith may be threatened.

We do so because in a diverse society, efforts to restrict speech can quickly become a tool to silence critics and oppress minorities. We do so because, given the power of faith in our lives, and the passion that religious differences can inflame, the strongest weapon against hateful speech is not repression, it is more speech — the voices of tolerance that rally against bigotry and blasphemy, and lift up the values of understanding and mutual respect.
Indeed, I read the speech as a celebration of American constitutional values and an admonition to the region that they need to learn the same values.  For example:
The impulse towards intolerance and violence may initially be focused on the West, but over time it cannot be contained. The same impulses towards extremism are used to justify war between Sunni and Shia, between tribes and clans. That leads not to strength and prosperity, but to chaos.
In less than two years, we have seen largely peaceful protests bring more change to Muslim-majority countries than a decade of violence. And extremists understand this, because they have nothing to offer to improve the lives of people, violence is their only way to stay relevant. They don't build. They only destroy.

It is time to leave the call of violence and the politics of division behind. On so many issues, we face a choice between the promise of the future or the prisons of the past, and we cannot afford to get it wrong. We must seize this moment, and America stands ready to work with all who are willing to embrace a better future.

The future must not belong to those who target Coptic Christians in Egypt. It must be claimed by those in Tahrir Square who chanted, "Muslims, Christians, we are one." The future must not belong to those who bully women. It must be shaped by girls who go to school and those who stand for a world where our daughters can live their dreams just like our sons.
I am not just not seeing the capitulations and apologies.
Note:  I am not trying to start a fight with Doug, but rather a conversation.  It is the power of the blog (and free speech!) in operation.