Obama's Timidity In The Face Of Extremism
The Obama Administration's response to the protests in the Muslim world has been entirely wrongheaded.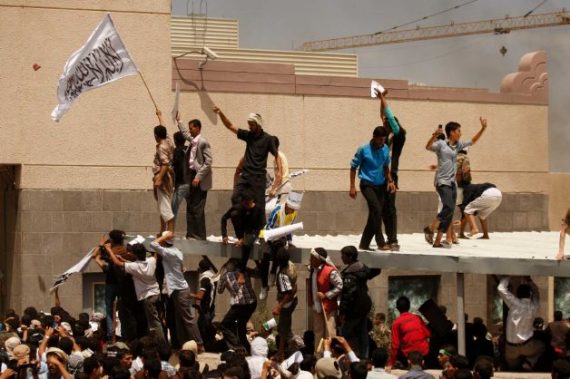 In the days before yesterday's protests in Pakistan over an anti-Muslim "film" made by an obscure person in California and, to date, only seen by the public in the form of a fourteen minute trailer on YouTube, the Obama Administration purchased some airtime on Pakistani television:
The Obama administration is airing ads on Pakistani television condemning the anti-Islamic film "The Innocence of Muslims," a State Department spokeswoman confirmed Thursday.

"As you know, after the video came out, there was concern in lots of bodies politic, including Pakistan, as to whether this represented the views of the U.S. Government.  So in order to ensure we reached the largest number of Pakistanis – some 90 million, as I understand it in this case with these spots – it was the judgment that this was the best way to do it," State Department spokeswoman Victoria Nuland told reporters.

The ads show clips of President Obama and Secretary of State Hillary Clinton condemning the film in English (but dubbed in Urdu) in remarks they made last week, emphasizing that it was not produced or authorized by the United States government.

"In the case of Pakistan, it is common and traditional to have to buy airtime on Pakistani TV for public service announcements.  So in that environment, it was their recommendation that we buy some airtime to make sure that the Pakistani people would heard the President's messages and the Secretary's messages, so we did purchase some time, is my understanding, on Pakistani TV stations, all of the stations," Nuland said.

She pointed to other instances of the U.S. government airing ads in foreign markets — including after the 2005 earthquake in Pakistan.
Here's the ad itself:
As it turned out, the video apparently didn't have much of an effect at all given that the protests went forward yesterday and became quite violent:
ISLAMABAD, Pakistan — Pakistan's officially declared "Day of Love for the Prophet Muhammad" devolved into deadly violence in major cities Friday as tens of thousands of Pakistanis angrily demonstrated against an Islam-mocking YouTube video, although calm generally prevailed in other predominantly Muslim countries.

At least 20 people died and more than 150 were injured in the protests in Pakistan, authorities said — the highest one-day death toll since protests began over the video on Sept. 11. The demonstrations havespread to about 20 nations.

The government's announced effort to tamp down anger by providing a national holiday for peaceful protest clearly backfired, offering instead what seemed like an official sanction to violence.

Critics called the holiday a pandering attempt to please hard-line Islamist parties, whose influence has been on the rise here in recent years.

(…)

The rioters in all four cities targeted U.S. diplomatic facilities but failed to reach them, thwarted by Pakistani police and paramilitary forces who had set up barbed-wire barricades and steel shipping containers to deter demonstrators.

On Friday evening, as the death toll continued to climb, Prime Minister Raja Pervez Ashraf renewed his calls for peace.

"Destroying property and resorting to violence negate the spirit of Islam and teachings of the prophet," Ashraf said in a statement.
Honestly, I'm not quite sure what possessed the Pakistani Government to declare a national holiday so people could protests to begin with, but that's a Pakistani concern and it's been clear for a long time that we cannot really trust that nation. Indeed, just today a Pakistani government minister has offered a bounty to be paid to anyone who would kill the people who made the film that is the cause of all this controversy. What I am concerned with, however, is the extent to which the Obama Administration has gone out of its way to pander to the violent extremists in the Middle East who consider it perfectly acceptable to engage in violent protests, even to the point of storming a building and setting it fire to an American Embassy as happened in Tunis, Tunisia, all because of some movie that they never saw and that most people never would have heard of but for these past two weeks of protests.
As I noted in my initial post on this matter, the movie is actually a pretext that was quite obviously used by extremist clerics and others to whip crowds up into a fervor that would have the desired result. That doesn't make the actions of the people any less unacceptable, though. What rational person responds to a movie by burning down buildings and calling for people to be murdered? Of course, since we're talking about religion here rationality isn't exactly part of the equation to begin with, but it strikes me that this makes the extremist reaction worse, not somehow excusable. If you're worshiping a god that considers it acceptable to call for murder because of a work of "art," a term I'm using very loosely, then you've got some serious problems.
More importantly, because these attitudes are based in religion, and taking into account the fact that public opinion of the United States in nations like Pakistan is fairly bad already, one has to wonder why the State Department would think that trying to pander to this kind of extremism was either helpful for a good idea. Did they really think that an ad like this would actually change anyone's mind, or that trying to point out that the film has no connection to the United States government would matter to the protesters? We said the same types of things when Terry Jones threatened to, and then ultimately did, burn a Koran and it did nothing to stop protests in Afghanistan and elsewhere. Trying to reason with irrational religious passion is pointless, and possibly dangerous.
Cato's Mallou Innocent makes an excellent point:
[I]nstead emphasizes America's tolerance for religious freedom without reference to other fundamental rights. I recognize that Obama and Clinton not only want to stop the anti-American protests, but also challenge the misconception that private and public speech in America are essentially one and the same. But when demonstrators in Peshawar are burning movie theaters and setting fire to posters of female movie stars, our leaders convey the impression that they are kowtowing to radicals. (It should be noted that the savagery perpetrated by radicals in the Muslim world disgusts many moderate Muslims.)

It is bad enough that Pakistan's Ministry of Foreign Affairs has asked its American counterpart to have the anti-Islamic film removed from YouTube. It would be worse if Washington fulfilled that expectation by obliging. As writer Salman Rushdie has said of the protests more generally, free speech is at risk because "religious extremists of all stripes" attack people who criticize beliefs.

Americans live under a different set of laws and customs and should never be scared into bending to extremists. And, however offensive the film mocking Mohammed was, there is no excuse for the violent behavior on display.
As does Alana Goodman:
Those who engaged in violent riots this week and last did so for one reason: because they chose to. And why did they choose to? Maybe because there's no real cost, and a whole lot of benefit. When top U.S. officials respond to wild tantrums across the Muslim world by pleading with crackpots like Terry Jones and blocking anti-Islam YouTube videos, it creates a moral hazard on two levels. First, it rewards these violent uprisings by handing a victory to the Islamist leaders who egged them on. Second, it hands anti-Muslim fringe figures an unhealthy amount of notoriety and power.

There's nothing wrong with the Obama administration denouncing the anti-Islam film, in the context of condemning the riots. But that's not what this is. This is a taxpayer-sponsored ad that repudiates a YouTube clip by a private citizen, while accepting the false premise that it was responsible for the violence. The intention is to ease the riots for the moment, but the long- (and short)-term consequence could end up being the opposite.
As long as people believe that it is acceptable to riot because of a movie, no amount of reasoning is going to persuade them otherwise. More importantly, though, apologizing to them for something that we, as a nation, have not done concedes the fact that they have something to be rightfully offended over and effectively sanctions the anger that causes them to rise up and act irrationally. We don't have to endorse the film, obviously, but it is protected by our First Amendment and our long history of freedom of expression. It was wrong for the President to throw all that away in an attempt to appease people who cannot be appeased.