Admiral Mullen: Pakistan Backed Terrorist Group That Attacked U.S. Embassy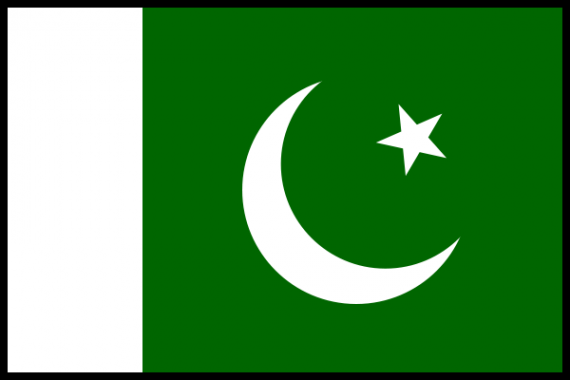 The relationship between the United States and Pakistan seems destined to head into bad waters after yesterday's accusation by outgoing Joint Chiefs Chairman Admiral Mike Mullen that the terrorist group that attacked the U.S. Embassy in Kabul was backed by elements of Pakistan's intelligence service:
WASHINGTON — The nation's top military official said Thursday that Pakistan's spy agency played a direct role in supporting the insurgents who carried out the deadly attack on the American Embassy in Kabul last week. It was the most serious charge that the United States has leveled against Pakistan in the decade that America has been at war in Afghanistan.

In comments that were the first to directly link the spy agency, the Directorate for Inter-Services Intelligence, with an assault on the United States, Adm. Mike Mullen, the chairman of the Joint Chiefs of Staff, went further than any other American official in blaming the ISI for undermining the American effort in Afghanistan. His remarks were certain to further fray America's shaky relationship with Pakistan, a nominal ally.

The United States has long said that Pakistan's intelligence agency supports the Haqqani network, based in Pakistan's tribal areas, as a way to extend Pakistani influence in Afghanistan. But Admiral Mullen made clear that he believed that the support extended to increasingly high-profile attacks in Afghanistan aimed directly at the United States.

These included a truck bombing at a NATO outpost south of Kabul on Sept. 10, which killed at least five people and wounded 77 coalition soldiers — one of the worst tolls for foreign troops in a single attack in the war — as well as the embassy assault that killed 16 Afghan police officers and civilians.

"With ISI support, Haqqani operatives planned and conducted that truck bomb attack, as well as the assault on our embassy," Admiral Mullen said in a hearing of the Senate Armed Services Committee. "We also have credible evidence that they were behind the June 28th attack against the Intercontinental Hotel in Kabul and a host of other smaller but effective operations." In short, he said, "the Haqqani network acts as a veritable arm of Pakistan's Inter-Services Intelligence agency." His remarks were part of a deliberate effort by American officials to ratchet up pressure on Pakistan and perhaps pave the way for more American drone strikes or even cross-border raids into Pakistan to root out insurgents from their havens. American military officials refused to discuss what steps they were prepared to take, although Admiral Mullen's statement made clear that taking on the Haqqanis had become an urgent priority.

On Thursday, Rehman Malik, Pakistan's interior minister, rejected accusations by the United States of ISI involvement in the attacks in Afghanistan. "If you say that it is ISI involved in that attack, I categorically deny it," he said in an interview with Reuters. "We have no such policy to attack or aid attack through Pakistani forces or through any Pakistani assistance." He also said his government would "not allow" an American operation aimed at the Haqqani network in North Waziristan, a remote part of Pakistan's lawless tribal region.

Mr. Malik seemed to indicate that American officials had threatened on Tuesday in meetings in Washington with the head of the ISI, Lt. Gen. Ahmed Shuja Pasha, that American troops were prepared to cross the border from Afghanistan to attack Haqqani militants. An American official would say only that David H. Petraeus, the new director of the Central Intelligence Agency, told General Pasha that the C.I.A. would continue its campaign of drone strikes against the Haqqanis in Pakistan and pursue them in Afghanistan.

"The Pakistan nation will not allow the boots on our ground, never," Mr. Malik said in an interview with Reuters. "Our government is already cooperating with the U.S. — but they also must respect our sovereignty."
Get that part? Essentially, what they're saying is that another American operation like the one that took out Osama bin Laden in May will be a serious problem for Pakistani-American relations. What, exactly, their response would be is unclear. The worst of all possible worlds, of course, would be a Pakistani military response to an American raid that results in American or Pakistani deaths, or both. At that point, one would think that the relationship between the two countries would be more seriously damaged than it has ever been. Certainly, the domestic political response in both countries would be inflammatory to say the least, and what's left of the American strategy in Afghanistan would be in serious trouble.
Malik's comments were echoed by two of Pakistan's highest ranking officials:
Pakistan lashed out at the U.S. for accusing the country's most powerful intelligence agency of supporting extremist attacks against American targets in Afghanistan — the most serious allegations against Islamabad since the beginning of the Afghan war.

Pakistani Foreign Minister Hina Rabbani Khar dismissed the claims as mere allegations. She warned the U.S. that it risked losing Pakistan as an ally and could not afford to alienate the Pakistani government or its people.

"If they are choosing to do so, it will be at their own cost," Khar told Geo TV on Thursday from New York City, where she is attending a U.N. General Assembly meeting. "Anything which is said about an ally, about a partner publicly to recriminate it, to humiliate it is not acceptable."

Pakistani Prime Minister Yousuf Raza Gilani responded to the U.S. criticism by saying Washington was in a tough spot.

"They can't live with us. They can't live without us," Gilani told reporters Friday in the southern city of Karachi. "So, I would say to them that if they can't live without us, they should increase contacts with us to remove misunderstandings."
As long as we're involved in Afghanistan, of course, Gilani has a point. Without Pakistan as an ally, maintaining a war in in Afghanistan would be next to impossible. At the same time, though, it's fairly clear that the Pakistanis aren't fully on board when it comes to fighting the Islamic militants that populate the northern part of the country. Not only do they continue to back groups like the Haqqani Network, but they also provide support to groups whose primary focus is the dispute with India over Kashmir. As long as that's the case, it's hard to see how they can be completely trusted.