In Defense Of Chris Christie And Rahm Emanuel
Chris Christie and Rahm Emanuel are being criticized for the brusque manner they handled questions about their children's education.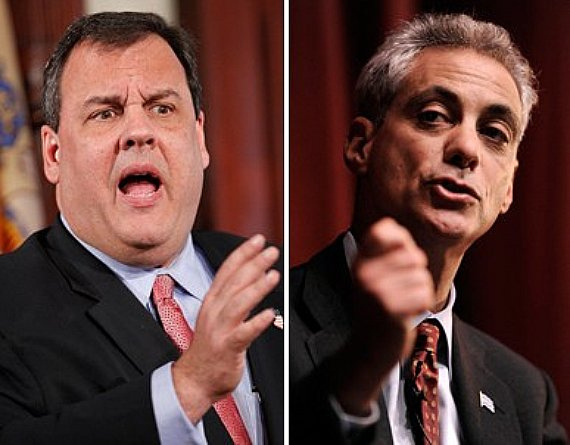 Last month, New Jersey Governor Chris Christie made headlines when he gave this characteristically brusque response to a question from a constituent that challenged his decision to send his children to a Catholic School rather than to public school:
This week, Chicago's new Mayor, Rahm Emanuel faced the same question over reports that his children would be attending a well-regarding private school in Chicago rather than public school:
Both responses are about what you'd expect for politicians known for being blunt, but it brings up another question — should we care that a politician sends their child(ren) to a private school rather than utilizing the public schools wherever they happen to live?
In The New York Times this week, Matt Bai makes the argument that it's a perfectly legitimate question, or at least that politicians like Christie and Emanuel shouldn't get quite so upset:
For any politician to answer this question as if he were Harrison Ford in one of those hostage movies — "This is my family, you monster!"— is kind of ridiculous. Of course it's a legitimate question for the public to consider.

For politicians who are proposing reforms for public education, and in some cases painful sacrifices, voters have a right to consider whether they are invested in those reforms and sharing in those sacrifices. If you're going to profess to know what's best for parents who rely on public schools, it makes perfect sense for us to consider whether you stand among those parents or not.

(…)

For politicians like Mr. Christie and Mr. Emanuel, there's a reasonable answer when questioned about their family choices. There's nothing hypocritical about saying some version of: "Look, I've said that the public schools are too often failing, and I'm fortunate to have options for my children. My intention is to make sure that all parents get the schools they deserve or the same kind of options that I have." (Mr. Christie, a Republican, would probably be more open to the last part than Mr. Emanuel, a Democrat, would be.)

But for these guys to respond to the question as if some reporter has just been sifting through their trash or snapping pictures at their kids' soccer games is just unseemly. When it comes to education, maybe they should leave the outrage to the people who've actually earned it — that is, all those parents who can't afford to get their children out of crumbling schools and can only wait for help.
Bai's point is perhaps well taken as a stylistically criticism, and surely Christie and Emanuel handled this question differently from the way that Barack Obama has, although in the case of the Obama children there are obvious security issues that make the idea of attending public school possibly impractical and at the very least difficult. Nonetheless, I think Bai is wrong to say that Christie and Emanuel were wrong to react the way that they did. I don't think it's an act in either man's case, this is who they are in public and in private. Moreover, politicians have usually been very protective of their children to begin with and Emanuel in particular was right to react somewhat angrily to a reporters suggestion that his children were now in a public position. Why do voters need to know anything at all about the children of the Mayor of Chicago, or the Governor of New Jersey, or any politician for that matter? I can't think of one myself.
To his credit, Bai does agree that the fact that a politician chooses to send their children to private school does not mean that they shouldn't be involved in the debate over the future of public education:
I also don't think it's fair to say that a politician who sends his children to private school can't possibly have standing in the debate over public education. Politicians make all kinds of consequential, and often controversial, decisions about programs they have no personal experience with. And there's certainly nothing inconsistent about arguing that public schools need to be improved  — as both Mr. Christie and Mr. Emanuel do — and choosing, as a parent, not to send your children to them.
This strikes me as particularly correct in Christie's case given that he's made clear that the reason he and his wife choose to send his children to parochial school is because they wanted them to get the religious instruction that they wouldn't get in public school. Why he should be criticized for that, or what Emanuel should be criticized for wanting to give his children the best education he can afford, is beyond me. Frankly, if I were in their position and the same questions had been asked of me, I probably would've reacted the same way.