In The Wake Of Midterm Losses, Some On The Left Say Democrats Should Write Off The South
Some on the left are suggesting Democrats should write off the South for the foreseeable future, but that would be as foolish as Republicans assuming that their dominance in the region will last as long as Democratic dominance did in the century after the Civil War.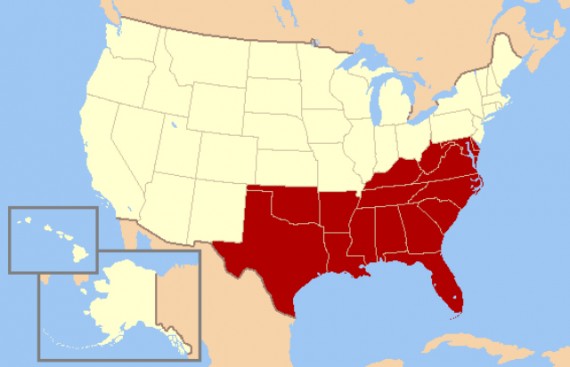 Mary Landrieu's decisive loss in the Louisiana Senate Runoff on Saturday, which came as no real surprise to anybody, marked something of a sea change for Democrats in what was, until just a generation ago, their party's ultimate power base. Landrieu's seat, for example, had been held by a succession of Democrats for 132 years before her loss, and her departure at the end of the 113th Congress will mean that there will not be a single Democratic Senator in the Deep South and only one one Democratic Senator south of Virginia. Outside of the Senate level, Democrats aren't doing much better in their old stronghold, with state legislatures and Governor's Mansions in nearly all of these states either completely or mostly in the hands of Republicans and seemingly unlikely to shift back any time in the near future. As, The Wall Street Journal put it, come January the South will be something akin to a "Democrat free zone," controlling 101 of the 138 seats in the House of Representatives coming out of the region, and every Governor's Mansion from Maryland down to Florida, with the exception of Virginia, which Democrats only narrowly won in 2013, and Kentucky, which will be up in 2015.1 By contrast, as John Cassidy points out, when John F. Kennedy took office Democrats controlled all 22 Senate seats and 99 of the region's 105 seats in the House. Even before Landrieu's loss was official, pundits such as Nate Cohn and Ben Jacobs were noting what some have come to call the end of the Southern Democrat, blaming the loss of what used to be the Democratic Party's power base both in Congress and in Presidential election on a combination of population shifts, cultural shifts, and, at the Congressional level, Gerrymandering that made it hard for Democrats to compete for House seats in states where they used to be able to win easily.
All of this has led to something of a debate among pundits on the left about how Democrats should respond to the loss of what is not only its historic power base but also the fastest growing region of the country. Michael Tomasky is among those saying that Democrats need to give up on the South, at least for now, as he stated in a Daily Beast column on Monday:
With Landrieu's departure, the Democrats will have no more senators from the Deep South, and I say good. Forget about it. Forget about the whole fetid place. Write it off. Let the GOP have it and run it and turn it into Free-Market Jesus Paradise. The Democrats don't need it anyway.

Actually, that's not quite true. They need Florida, arguably, at least in Electoral College terms. Although they don't even really quite need it—what happened in 2012 was representative: Barack Obama didn't need Florida, but its 29 electoral votes provided a nice layer of icing on the cake, bumping him up to a gaudy 332 EVs, and besides, it's nice to be able to say you won such a big state. But Florida is kind of an outlier, because culturally, only the northern half of Florida is Dixie. Ditto Virginia, but in reverse; culturally, northern Virginia is Yankee land (but with gun shops).

So Democrats still need to care about those two states, at least in presidential terms. And maybe you can throw in North Carolina under the right circumstances. And at some point in the near future, you'll be able to talk about Georgia as a state a Democrat can capture. And eventually, Texas, too.

But that's presidential politics. At the congressional level, and from there on down, the Democrats should just forget about the place. They should make no effort, except under extraordinary circumstances, to field competitive candidates. The national committees shouldn't spend a red cent down there. This means every Senate seat will be Republican, and 80 percent of the House seats will be, too. The Democrats will retain their hold on the majority-black districts, and they'll occasionally be competitive in a small number of other districts in cities and college towns. But they're not going win Southern seats (I include here with some sadness my native West Virginia, which was not a Southern state when I was growing up but culturally is one now). And they shouldn't try.
Tomasky reiterated that point in a column that went up yesterday in which he addresses the fourth element of Republican control of politics in the South, namely the parties near-total majority control of state legislatures in these states:
I'm willing to pretend for a couple of paragraphs that it might be possible. Were it possible, the effort would require many, many millions of dollars over many years. It's a 30-year project, easy. Now, if some rich Southern liberals want to finance and coordinate such an effort, great. Good luck to them. But if you're telling me that the national Democratic Party should invest its finite resources into so long-shot a project as flipping the Louisiana state legislature so that it can pick up at best two House seats, I say that's not corn silk in that pipe of yours.

And this brings us to the dilution of brand issue. Even if Democrats were to attempt to win back these kinds of seats, what sorts of candidates would they be putting up for office? On virtually every important issue, they will run against their national party. They'll attack Obamacare. They'll oppose or at best contort on same-sex marriage. They'll "talk tough" on immigrants and oppose "amnesty." They'll be against gun background checks. They'll strain to reassure the Southern white voter at every turn that they aren't Pelosi Democrats or Obama Democrats or what have you.

It's healthy for the Democratic Party to have a liberal wing and a moderate wing. Even Jesse Jackson used to say it takes two wings to fly. So I'm all for that, believe me. But I'm not for a party in which three-quarters of its elected leaders are for A, B, and C, and one quarter are implacably opposed to A, B, and C. That is a recipe for not standing for anything at all—and for not getting anything done because the votes can't be rounded up.
Instead of trying to win back the South, at least for the time being, Tomasky argues in favor of using Democratic majorities in other parts of the country to concentrate on winning control of Congress and the White House and then using that power to "help" the people of the South supposedly being victimized by the Republicans in charge at the State Legislative, Gubernatorial, Congressional, and Senate levels. One problem with this strategy, of course, is that political abandonment of the South means, potentially, the abandonment of some 190 Electoral Votes, or at least the 148 that doesn't include the two southern states that President Obama has managed to win in the last two Presidential election. Much as Republicans have been foolish to abandon the Northeast and West Coast, that would be a foolish strategy that could end up making winning national elections harder for Democrats in the future than recent experience would indicate. That's not to say that Democrats should invest money in trying to win elections in the South that they clearly aren't going to win any time in the near future, but it does suggest that Tomasky's somewhat smug manner of writing off an entire region of the country is being suggested more as a fit of pique than a rational political strategy that has been thought through to the its logical end.
In many senses, Tomasky's two columns seem to reflect not so much an analysis of the political consequences of what has happened in the South over the past two generations and what the Democratic Party can and should do about it as it does a fit of anger against the American South itself and a repetition of many of the same dismissive arguments we have seen from people on the left when addressing the fact that the region has become far more conservative than it used to be. In other forums, you can see the attitude reflected in far starker and more insulting terms as writers dismiss the American South with terms such as "Jesusland" and make the assertion that there is little difference between the South of 2014 and the South as it existed during the Jim Crow era an assertion that is quite simply false even if one recognizes the faults that still exist in the South, along with other parts of the United States. To listen to some people on the left, the South is full of little more than ignorant, Confederate flag waving, country music listening, gun toting, beer swilling rednecks. Some of this, of course, reflects the fact that there are certainly significant cultural differences between the South and other parts of the country, differences that interestingly seem to continue to persist notwithstanding the influx of transplants from elsewhere in the United States, but much of it seems to be part of the hyperpartisanship that has become a part of American politics. Because the South has become so heavily Republican, Democrats and others on the left feel the need to demean and insult the entire region much as people on the right feel inclined to do the same with regard to heavily Democratic areas in the Northeast, or indeed pretty much the entire state of California. In addition to be kind of silly in and of itself, it's something that doesn't strike me as politically smart because, if there is ever going to be a Democratic comeback in the South, or a Republican resurgence in California, it's going to be much harder if there's a record of people on either side of the political spectrum having spent years demeaning the very voters you are likely going to need to woo back in the future. In other words, the fact that people disagree with you politically shouldn't be seen as a reason to demean and insult them, but to find a way to persuade them to change their minds.
That brings us to a final note involving an argument that John Cassidy, Harry Enten, and Jonathan Bernstein all make in their responses to the arguments that Tomasky and others have made about the Democratic future in the South. Democrats dominated politics in the South for more than a century, but it is unlikely that Republicans will see their near-total control in the region last nearly that long. Already, in states such as Virginia, Florida, North Carolina, and Florida, there are signs that areas that have been heavily Republican for decades now are, at the very least shifting purple. To a large degree, this is is due to population shifts as people from the Midwest and Northeast move South and bring at least some of their political beliefs with them. The areas where these populations tend to end up, such as Northern Virginia and the Metropolitan Atlanta area, are fast becoming the political centers of their respective states, and making those states far friendlier to Democrats than they might otherwise be. These facts should stand as warning to Democrats and Republicans alike. For Democrats, the message is that giving up on the South entirely as Tomasky suggests, or dismissing the entire region in the manner that some who live in the Northeast and on the West Coast seem inclined to, would be to give up on political opportunities that could develop far sooner than they might otherwise expect. For Republicans, it stands as a warning not to rest on their laurels. They have admittedly scored some impressive political victories throughout the South, but those victories could slip away if the party ignores the fact that the South is changing just as much as the rest of America is changing. If the GOP doesn't change along with it, the party will find itself let out in the cold no matter how warm the temperature might be in Dixie.
1 There are also Democratic Governors and one Democratic Senator each in Missouri and West Virginia to the extent that one considers those two states to be part of "the South," which is a topic for another blog post not entirely relevant to this discussion.