Anthony Kennedy's Right to Retire
A thoughtful liberal argues the Justice has "altered and destroyed his legacy" by allowing Donald Trump to appoint his successor.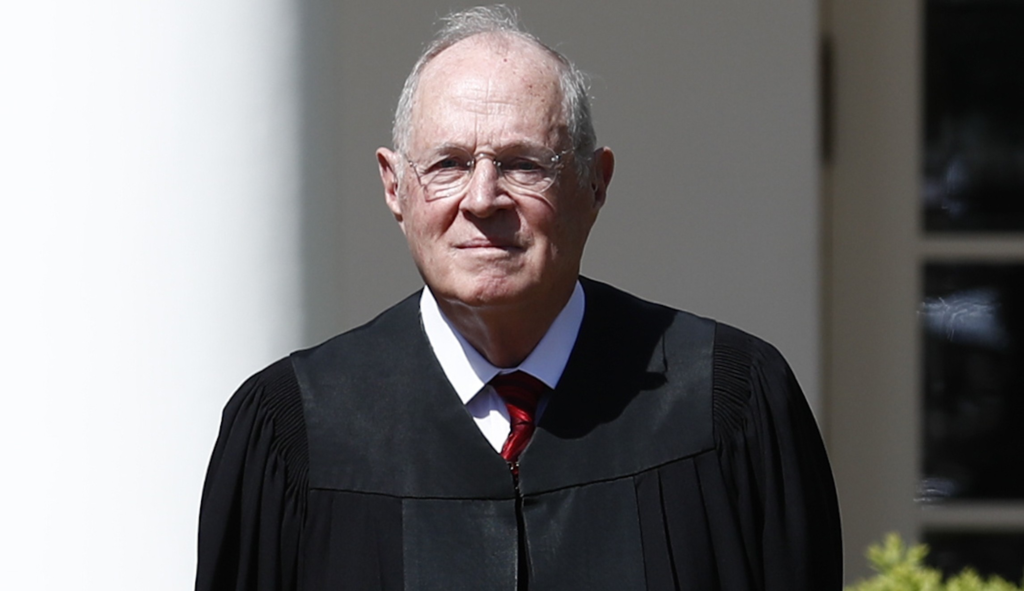 When I saw the Daily Beast headline "Anthony Kennedy, You Are a Total Disgrace to America" pop up on my news feed, I was expecting a rant from the lunatic fringe. So I was surprised to see Michael Tomasky's byline. He's well to my left politically but a reasonable, thoughtful commentator. His opening argument:
It's been a few days now, but the shock of Anthony Kennedy's retirement announcement hasn't abated a bit. This is partly because of the ghastly coming ramifications, more on which later. But it's also because I honestly didn't think Kennedy would allow Donald Trump to name his successor.

I thought he had more respect for the United States of America than to allow this corrupt gangster who's almost certainly never read a Supreme Court opinion in his life to name his successor. Yes, Kennedy is conservative, so to that extent it makes sense that he'd want a Republican president to make the call, and maybe it's just that simple. But whatever his motivation, Kennedy has altered and destroyed his legacy.
That's self-refuting. Kennedy is 81 years old; he turns 82 in less than three weeks. Frankly, he should have retired a decade ago, letting George W. Bush appoint his successor. But it's really bizarre to expect him to wait until January 20, 2021—by which time he'd be 84—so that Trump's successor—likely a Democrat—can replace him. And that's assuming Trump doesn't win re-election which, as I've noted many times over the years, is the default position in American politics. In which case, he'd have to wait to January 20, 2024 at the ripe old age of 88. As it is, he's older than Antonin Scalia, who died in the saddle trying to wait out Barack Obama.
While he thinks Kennedy was mostly just awful—he is, after all, a Republican—Tomasky thinks it's the octogenarian Justice's duty to preserve the handful of left-leaning precedents for which he was the deciding vote.
And yet, he helped advance human and civil rights in this country by voting to legalize same-sex marriage. Obergefell v. Hodges was a landmark case that was going to live in history alongside Brown v. Board of Education—a triumphant moment when we as a nation rose above past prejudices, prejudices that will look ridiculous and embarrassing a hundred years from now.

[…]

[N]ow, assuming Trump and the Republicans get their justice, it's only a matter of time before Obergefell is overturned. Look at this map. Most of the countries of the Western Hemisphere have federal laws legalizing same-sex marriage. Canada, Mexico, Argentina, Brazil, Colombia. Someday, the United States will no longer be among them.

Kennedy was also a swing vote, of course, on abortion rights, siding with the liberals and keeping Roe v. Wade law of the land. On Sunday, Maine GOP Senator Susan Collins said seemingly pretty definitively that she'd oppose a nominee who'd overturn Roe.

But all that probably means is that the nominee will lie about it at his or her hearing. Every conservative since Antonin Scalia has sat up there and dispensed obviously insincere tripe about respect for precedent, a history Paul Waldman recounted recently in The Washington Post.

So Collins, reassured by the nominee that s/he will keep an open mind and respects precedent, will cave as she always does.

So this is what Kennedy has done. He has knowingly destroyed that part of his legacy—which was, in fact, his entire legacy, because these were the only interesting and brave things he ever did. And now these precedents will be overturned. Now, Kennedy's legacy is the destruction of Kennedy's legacy.
Now, Tomasky and I disagree on the nature of these precedents in that, while I'm basically in agreement where we are as a matter of policy on abortion and gay rights, I think imposing them by judicial fiat was improper. But, given his politics and view of the Court's role, I'm sympathetic with Tomasky's passion for these precedents.
It's not obvious to me that Kennedy sees his legacy primarily in terms of abortion rights and gay marriage. There are all manner of narrow decisions he joined that would be imperiled if he were replaced by a Democratic Justice that could well mean as much or more to him than Casey or Obergefell. Indeed, it's quite possible that he doesn't see his legacy in terms of specific policy outcomes at all but rather in terms of his judicial temperament. Jack Goldsmith, a professor at Harvard Law School who clerked for Supreme Court Justice Anthony M. Kennedy from 1990 to 1991, notes,
In his 31 terms on the court, Kennedy led or tied for the most 5-to-4 cases in the majority a remarkable 20 times, including every term but one since swing justice Sandra Day O'Connor retired in 2006. His vote was extraordinarily consequential.

There are many reasons Kennedy was the man in the middle. He struggled with all sides of a case and brooded more than most justices about the right answer. And though he possessed a latent libertarianism, he lacked rigid ideological commitments that would have placed him consistently on one side of the court.

Kennedy will be most remembered for his famous progressive opinions — establishing a constitutional right to same-sex marriage and other gay rights, refusing to overturn the abortion right declared in Roe, extending the constitutional right of habeas corpus to wartime detainees held at Guantanamo Bay despite congressional and presidential resistance, limiting prayer in school and striking down the death penalty for juvenile criminals.

Despite these notable opinions on the left, Kennedy usually voted with the right side of the court — for example, to invalidate Obamacare, revitalize the Second Amendment right to bear arms, disable public-sector unions and uphold business prerogatives. He also wrote influential conservative rulings. He penned the progressives' bête noire, Citizens United, which interpreted the First Amendment to ban government restrictions on corporate and associational political expenditures. He was a defender of federalism who wrote opinions limiting Congress's power to enforce the 14th Amendment against states and its power to abrogate state immunity from lawsuits. He also wrote many opinions that narrowed criminal defendants' rights and an important opinion upholding restrictions on abortion.

While Kennedy lacked an overarching jurisprudential commitment, some combination of three principles informed most of his landmark rulings.

The first and most distinctive principle was "dignity" — the quality of proper worth and esteem. Kennedy's articulation of a constitutional "dignity as free persons" was an ineffable meld of privacy, liberty and equality that guided his landmark decisions on gay rights and will long reverberate in U.S. constitutional law. For Kennedy, dignity was not limited to individuals. The Constitution also preserves for states "the dignity and essential attributes inhering" in sovereignty, as he wrote in a famous opinion on states' rights.

The second and related principle was a capacious notion of liberty from government interference. This principle informed his progressive social opinions but also led him to be suspicious of burdensome regulations and to read the First Amendment broadly. It also inclined him to push freedom downward, so to speak, with a thumb on the scale for states over the federal government and for individuals over both.

The third principle was a robust conception of judicial power. Kennedy believed in his bones in the integrity of judging. He had great confidence that the court's intervention in contentious issues was vital to the effectiveness of the constitutional scheme.

These principles led Kennedy to different places in different contexts. But no matter which way he ruled, he truly sought "in each case how best to know, interpret and defend the Constitution and laws that must always confirm to its mandates and promises," as he put it so well in his retirement letter to President Trump. And he possessed a model judicial temperament: fair-minded, thoughtful, balanced and deliberative.
I prefer my Supreme Court Justices to have a less activist view of their role and to have a more consistent legal philosophy than Kennedy. But, certainly, there is plenty of precedent for Kennedy's view of the institution.
Taking Tomasky's argument to its reasonable conclusion, Kennedy was already a total disgrace for not resigning years ago and letting Barack Obama appoint his successor. That Trump is "a corrupt gangster who's almost certainly never read a Supreme Court opinion in his life" doesn't seem to be especially relevant to Tomasky's argument. On the day that Kennedy retired, some OTB commenters contended that Trump shouldn't be allowed to appoint another Justice while the Mueller investigation is ongoing because said Justice might rule on his future if, say, Trump tried to pardon himself or some such. While I find those arguments unconvincing, they're at least Trump-related. But any Republican President, even a Mitt Romney or Jeb Bush or John Kasich, would be likely to appoint a conservative replacement and thus endanger Roe or Obergefell. Indeed, if Neil Gorsuch is any indication, judicial appointments may be the one way in which Trump is a normal Republican President.
Kennedy has earned the right to retire. He's served more than three decades on the court. He's on his seventh President. Neither the Internet nor cell phones existed when he was sworn in. Cadets who graduated West Point that year who didn't make general were forced into retirement two years ago. And, as I may have mentioned, he's about to turn 82.