Intervening In Syria Would Be Suicidal
President Obama is keeping the conflict in Syria at arms length. That's a good idea.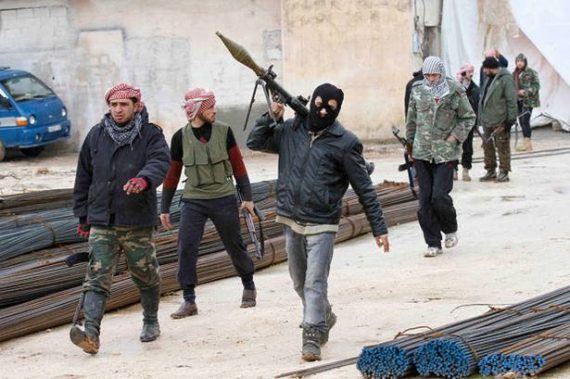 Jackson Diehl thinks failing to intervene in Syria may be Barack Obama's biggest foreign policy failure:
The president's handling of Syria, on the other hand, exemplifies every weakness in his foreign policy — from his excessive faith in "engaging" troublesome foreign leaders to his insistence on multilateralism as an end in itself to his self-defeating caution in asserting American power.

The result is not a painful but isolated setback, but an emerging strategic disaster: a war in the heart of the Middle East that is steadily spilling over to vital U.S. allies, such as Turkey and Jordan, and to volatile neighbors, such as Iraq and Lebanon. Al-Qaeda is far more active in Syria than it is in Libya — while more liberal and secular forces are turning against the United States because of its failure to help them. More than 30,000 people — most of them civilians — have been killed, and the toll mounts by the hundreds every day.

Of course, Obama is not solely responsible for this mess. But his serial miscalculations have had the consistent if unintended effect of enabling Syria's Bashar al-Assad — first to avoid international isolation, then to go on slaughtering his own population with impunity.

(…)

For the past three months, Obama's policy has become a negative: He is simply opposed to any use of U.S. power. Fixed on his campaign slogan that "the tide of war is receding" in the Middle East, Obama claims that intervention would only make the conflict worse — and then watches as it spreads to NATO ally Turkey and draws in hundreds of al-Qaeda fighters.

No doubt it's easier for Romney and the Republicans to talk about the death of an ambassador in a terrorist attack than to ask war-weary Americans to think about this. But it is Syria that is Obama's greatest failure; it will haunt whomever occupies the Oval Office next year.
There's no doubt that the situation in Syria is serious. Not only has the civil war been devastating for tens of thousands of Syrian civilians, it has increased tensions between Syria and its neighbors, most especially Turkey, and has tended to sour the relationship between the West and Russia. It has revealed a rift between the United States and Iraq as the Iraqis have freely allowed Iran to use its airspace to transport weapons, material, and personnel. And, perhaps most ominously, it has created another opening for radical Islamists, many of them from far outside Syria to slip in under the guise of helping the rebellion while they develop plans of their own for a post-Assad Syria that could be even more dangerous than what we're dealing with today. I don't think there's anyone who denies any of these facts.
What Diehl doesn't address, though, are the potential consequences of intervention by the U.S. and the West into a situation that is already fraught with danger. Much as with the Iraq War, which Diehl was a huge supporter of, the sight of American troops in yet another Arab nation are just as likely to inflame the passions of our detractors in the region as they are anything else. When the inevitable civilian deaths at the hands of American troops come, those passions will become even more inflamed. Furthermore, the Syrians have already threatened to use chemical weapons against any outside forces that invade the country and, while doing that against American troops would likely be suicidal for the regime, it could inflict a heavy cost on a military that has already paid a heavy price over the past decade. At the point which the regime does fall, we would find ourselves responsible for the future of Syria, just as we were in Iraq. Inevitably, we would likely find ourselves the targets of the various factions that made up the Syrian rebels and the ethnic groups that make up Syria. A commitment to the future of Syria by U.S. military forces would likely be as long an endeavor as the Iraq War was, and just as costly.
Moreover, as Daniel Larison points out, such an intervention would be political suicide:
According to a recent Turkish opinion survey, 58% of Turks are opposed to war with Syria even as part of a NATO operation. For their part, NATO members want no part of a Syrian war, and opposition within Turkey to a unilateral Turkish war against Syria is even higher (76%). Diehl is calling for the U.S. to wage a war that the most important allied government in the area could not help wage without committing political suicide at home. So neither Turkey nor NATO would be in a position to support U.S. action if it were to happen.

Even more than in Libya, the U.S. would be acting virtually alone in Syria if it intervened.Regional opinion would be strongly against such action, and so would American public opinion. It would be the height of political folly for any administration to lead a military intervention in Syria, and it would also be the wrong policy for the U.S., its allies and clients, and Syria. Opting not to drag the U.S. into another unnecessary war can hardly be called a failure.
I've criticized Barack Obama for many things, and I opposed his decision to intervene in the Libyan Civil War, but I must say that his decision to be cautious when it comes to Syria is the right way to go. This is not a fight we need to be involved in.