Iowa GOP Declares Santorum Caucus Winner As Iowa Beclowns Itself
This year's Iowa Caucuses stand as Exhibit A for an argument against Iowa being first in the nation.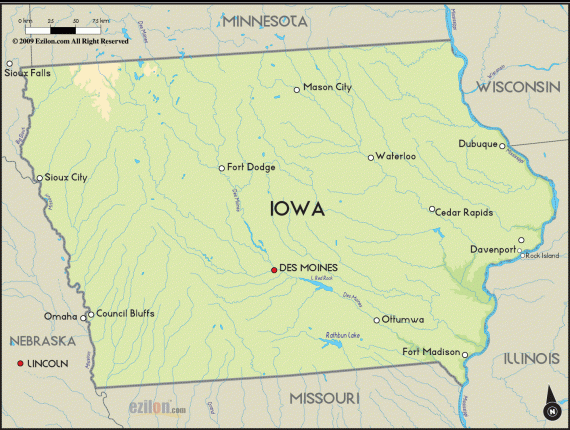 After first saying that they would not be declaring a winner for the Iowa Caucuses due to counting errors and eight lost precincts, last night the Iowa Republican Party declared Rick Santorum the winner of the 2012 Iowa Caucuses:
GREENVILLE, S.C. — On the eve of the South Carolina primary, ­ Iowa Republicans dealt Mitt Romney's campaign a blow by formally declaring Rick Santorum the winner of their Jan. 3 caucuses.

At 18 minutes before midnight Friday, South Carolina time, the Republican Party of Iowa released a statement revising its Thursday announcement that reported Santorum ahead of Romney but also saying the two-week-old race had no clear winner.

"In order to clarify conflicting reports and to affirm the results released January 18 by the Republican Party of Iowa, Chairman Matthew Strawn and the State Central Committee declared Senator Rick Santorum the winner of the 2012 Iowa Caucus," the state GOP's statement read.

The news that Romney — who for two weeks celebrated what he jokingly called a 'landslide' eight-vote victory in Iowa, only to see it reversed this week when the state GOP certified Santorum the leader by 34 votes — officially lost the first contest muddies his narrative, especially as Newt Gingrich surges in the polls in South Carolina.

It's also a boon to Santorum, who can now claim victory in one of the three key early states, though the former Pennsylvania senator badly trails Gingrich and Romney in polls here.

Strawn's Thursday announcement, which placed Santorum ahead but didn't definitively declare him a winner because eight precincts had yet to report their results, had left enough uncertainty for Romney's campaign to suggest that the state was a draw.

Now, with Iowa formally in the Santorum column and Romney polling behind Gingrich in the most recent public poll in South Carolina, the former Massachusetts governor faces the prospect of leaving here Sunday morning one-for-three in early state voting — a dramatically different scenario than when he arrived.
There's no reason given for why the Iowa GOP had decided to reverse it's decision on Thursday to decline to officially declare a winner. At that time, of course, they cited the fact that the results from at least eight precincts had been lost and could not be included in the recount. That decision was criticized by some Santorum supporters who accused the Iowa GOP of failing recognize the fact that their candidate was in the lead, even if that lead was a narrow one. Perhaps that's what caused Strawn to change his mind, I suppose we'll have to for him to answer questions about that one at some point.
Nonetheless, this still a bit of an embarrassment for the Romney campaign as South Carolina voters go to the polls. After two weeks of campaigning as the first Republican candidate since Gerald Ford, and the first non-incumbent, to win contested races in Iowa and New Hampshire, he's now the guy who "lost" Iowa (is 34 votes really a loss?) and only won the state everyone expected him to win. If he does lose South Carolina tonight as I expect he will, then his campaign won't look quite as strong as it did just a week ago. It's not a fatal blow, but it's going to require the Romney campaign to come back strong against Gingrich, and to make sure that the Florida firewall doesn't collapse on them.
The biggest loser of the 2012 Iowa Caucuses, though, are the caucuses themselves and the continuing absurdity of Iowa being the "First In The Nation" every four years for no reason other than that's the way we've done it since 1972:
The winner of the 2012 caucuses, we now know, was Rick Santorum. The loser, it's becoming clear, was Iowa.

The certified results released this week from the nation's first presidential nominating contest revealed that Mitt Romney's declared eight-vote victory on caucus night was actually a 34-vote defeat. They revealed that eight voting precincts went missing in action, and their votes will never be counted. And they were accompanied by evolving statements from the Republican Party of Iowa, which, having initially called the race for Romney, first declared this week's result a "split decision" and only later acknowledged victory for Santorum.

Such a muddled result and response threatens the already-contested legitimacy of Iowa's first-in-the-nation status and underscores the need for reforms to professionalize the voting process, political observers and party officials said.

"It's bad. It really hurts the caucuses," longtime Iowa observer David Yepsen said. "The caucuses have lots of critics, and for this to happen really jeopardizes the future of the event."

Criticism of Iowa's place on the nominating calendar has long come from other states envious of the attention it receives, and has often focused on the demographic realities that make it unrepresentative of the country as a whole.

But this year's fumbled result opens a new line of attack: that Iowa's process is amateurish, and that its results cannot be trusted.

"Iowa was just indicted for not being able to add. We look silly," said Yepsen, the director of the Paul Simon Public Policy Institute at Southern Illinois University-Carbondale and a former Des Moines Register columnist.
The entire process in Iowa has been silly from the beginning. From the entirely meaningless Ames Straw Poll and the corn dogs and Butter Cows at the Iowa State Fair, to the endless need to kow-tow to farming interests on issues like ethanol, to the caucuses themselves which seemed to me a fundamentally silly way to pick a Presidential nominee even before these latest issues arose this week. All of those other elements have been brought up by critics of Iowa's status in the primary schedule for years, of course, but this week's events are the exclamation point on the end of that argument. If we cannot even trust the integrity of Iowa's process, then why give them such a prominent role in "weeding out" candidates? Why not give it to another state for awhile and see how they do with the task? South Carolina could perform that role quite nicely, now that I think about it, and the candidate wouldn't have to worry about campaigning in the cold quite so much.
There have already been suggestions made about how to improve the process in Iowa, such as relying on more technology and fewer paper ballots and bringing in state and county election officials to conduct the balloting instead of relying on party volunteers. If you're going to go that far, however, why continue having caucuses that don't start until 7 at night to begin with? In the run up to this year's caucus, there were dozens of news stories profiling voters who could not participate in the caucuses at all because they work nights, or because they can't leave their children alone at night for several hours at a time. That's not a problem in a primary, of course. The polls are open in South Carolina today for twelve hours and people can go vote whenever they're able to. If they're unable to vote today, they could have voted absentee. In Florida, there have already been more absentee and early votes cast today than there were people (122,000) who participated in the 2012 Iowa Caucuses. If Iowa wants the rest of the nation to take them seriously as the first decider in our quadrennial primary fights, then maybe they need to implement a selection process that's more up-to-date than one better suited to choosing the County Sheriff in 1912.
In addition to the absurdity of Iowa's process, of course, is the fact that nothing that happened on January 3rd has anything to do with the nomination of the Republican candidate, and neither did last night's announcement that Santorum was the official winner. As I've noted several times before, Iowa's delegates won't be named until well after this race is wrapped up. If they can't count, if they're process is so antiquated and silly as to be useless, and if it doesn't even result in the awarding of any delegates, then tell me Iowa, what's the point of all the time we wasted on you in 2011? I sure don't see it.