Is 2012 1964 All Over Again?
The Republican debacle of 1964 offers some lessons for the current cycle.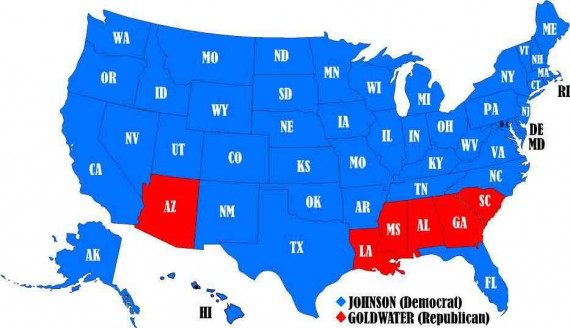 While I have no idea why it's in Foreign Affairs, Reihan Salam's "The Missing Middle in American Politics—How Moderate Republicans Became Extinct" (apparently a review of Geoffrey Kabaservice's Rule and Ruin: The Downfall of Moderation and the Destruction of the Republican Party from Eisenhower to the Tea Party) is worth a read. Or at least the article summary is.
Salam uses the analogy that many of us have pointed to in discussing the trend: the 1964 election debacle, in which Barry Goldwatert was thrashed and "the once-mighty Republican Party was reduced to a regional rump. The Democrats won overwhelming majorities in the House and the Senate, which they used to pass Johnson's Great Society legislation."
The infighting the followed may look familiar:
To rebuild the party, a number of moderate Republican governors banded together to form the Republican Governors Association, designed to serve as a counterweight to the Republican National Committee, which had been captured by Goldwater conservatives. Shortly after the election, the association issued a statement, sponsored by Michigan Governor George Romney and other leading moderates, calling for a more inclusive GOP and criticizing Goldwater's campaign. Stung by the failure of many moderates to actively support or even formally endorse his candidacy, Goldwater retorted that he needed no lessons in maintaining unity, having urged party members in 1960 to look past philosophical differences and pull together to support Richard Nixon's presidential candidacy. Goldwater wrote a letter to Romney dripping with contempt: "Now let's get to 1964 and ask ourselves who it was in the Party who said, in effect, if I can't have it my way I'm not going to play? One of those men happens to be you."

Romney wrote a lengthy reply to Goldwater, warning against European-style polarization. "Dogmatic ideological parties tend to splinter the political and social fabric of a nation," Romney wrote. Worse, he added, political parties with fixed ideological programs "lead to governmental crises and deadlocks, and stymie the compromises so often necessary to preserve freedom and achieve progress."
The GOP, and to a lesser extent the Democrats, have indeed became dogmatic ideological parties. And the results have been as Romney the Elder predicted.