Is Ivy League Education Worth the Cost?
Do graduates of elite colleges earn more because of where they went to school? Or because of the traits that got them selected?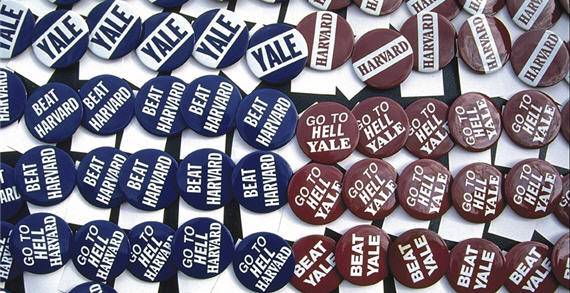 Nick Gillespie points to a NYT story asking "Is Going to an Elite College Worth the Cost?"
At first, the answer appears obvious:
Among the most cited research on the subject — a paper by economists from the RAND Corporation and Brigham Young and Cornell Universities — found that "strong evidence emerges of a significant economic return to attending an elite private institution, and some evidence suggests this premium has increased over time."

Grouping colleges by the same tiers of selectivity used in a popular college guidebook, Barron's, the researchers found that alumni of the most selective colleges earned, on average, 40 percent more a year than those who graduated from the least selective public universities, as calculated 10 years after they graduated from high school.

Those same researchers found in a separate paper that "attendance at an elite private college significantly increases the probability of attending graduate school, and more specifically graduate school at a major research university."
But, if you read well after most people will have quit reading, thinking they're wasting time with an obvious answer, you find:
Still, one flaw in such research has always been that it can be hard to disentangle the impact of the institution from the inherent abilities and personal qualities of the individual graduate. In other words, if someone had been accepted at an elite college, but chose to go to a more pedestrian one, would his earnings over the long term be the same?
Several studies, going back as far as 1999, are cited. And the answer seems to be: "It depends." In most fields, incomes wind up essentially the same. Which means that, if you've had to take out massive loans to finance an elite education, you may come out behind.
Nick titles his essay "Going to an Elite College Won't Get You More Money; Being Good Enough to Get Accepted at One Will."   And that's a satisfying answer for someone, like Nick, who managed to do reasonably well for himself despite undergraduate and doctoral degrees from non-elite institutions.   But even he admits that it's not quite that cut-and-dried.
In some fields, especially those that rely on semi-rigid grad school pecking orders as a filter, there's no question that it's probably always better to pick Princeton over Rutgers (two schools mentioned in the Times piece and the latter being my undergrad haunt). That's especially true at the grad school level. It's much rarer for a Rutgers Ph.D. to teach at Princeton than the reverse. But in most cases at the undergrad level, if money is an issue (and lord knows it always is), how "smart" you are at the all-important juncture of your life when you're 17 (I'm being ironic) is a better guide to your future than what school you, your parents, and taxpayers via many different subsidies end up paying for.
Nick's kid is a junior in high school and mine's about to turn 2.  (We're about the same age; I just got a later start.) I'm not sure about him but my intention is to help mine get into the best school she can get into and thrive in.  I'm not sure that a Yale education is any better than one she'd get at Alabama, much less Virginia.  But I have little doubt that the first will open more doors.  It's a bizarre fact of life that a lot of people are impressed by the school people attended, even late in life.   Recall recent presidential elections, Supreme Court nomination fights, and the like.  People still judge middle aged people deep into their careers by what schools they went to in their 20s.   That this is ridiculous doesn't change the fact that it is.
That calculation, however, is based on the presumption that I can weather the impact of ridiculously high student loans.  My general advice for people, especially those with multiple kids, would be "Send your kids to the best school they can get a scholarship to" or, at least, "Send your kids to the best school you can afford."   And recognize that "best" is about perception rather than the actual quality of teaching.