Is Lack of Investment Holding Back the Recovery?
People and businesses are sitting on cash out of fear, creating a vicious cycle.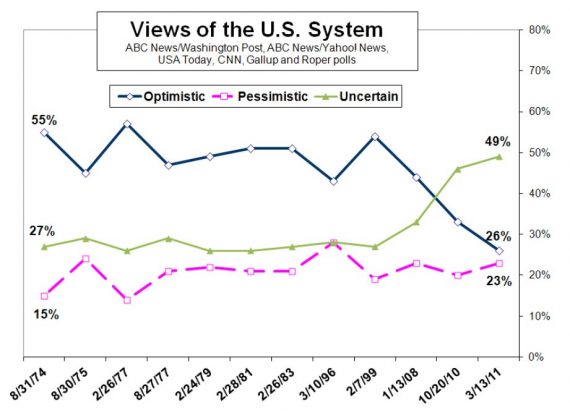 Over at his site, Dave Schuler, noted the rise in uncertainty for the past 12 years. Dave concludes his post thusly,
Uncertainty has its own costs. When you're uncertain about the future you're less likely to take risks. An employee may decide not to take that new job. A consumer may decide not to make that additional purchase. That manager may decide to hold onto cash to see what happens next rather than expanding his business.
I've also been reading several posts by Robert Higgs on regime uncertainty and its potential effect to slow an economic recovery (here, here and here). Coupled with all the stories of firms sitting on large piles of cash (here, here and here).
I've also looked at the BEA's numbers on total GDP, Personal Consumption Expenditures and investment, and the picture is one of where GDP and PCE have recovered to the point where they exceed their levels prior to the recession, but investment spending is still lagging considerably below its pre-recession levels.
So, I'm wondering is the anemic economic growth at this point and time really a function of lack of consumer spending or is the weak investment spending the real culprit? To the extent that labor and capital are compliments more spending on capital might also necessitate more spending on labor on the parts of firms. And is the increased uncertainty that Dave noted in his post a factor in this lack of investment? And how much of that uncertainty is due to the government? Considering the our precarious fiscal state, the deficits that show little or no sign of decreasing for sometime, health care reform, financial reform, Quantitative Easing parts 1 and 2, TARP, and now our growing commitments abroad.
If investment does not rebound then economic growth will likely remain sluggish. That will not help the employment situation. Both will likely exacerbate our fiscal situation which in turn could lead to even more uncertainty about the future as politicians look to additional measures to deal with the problem.