Is Marco Rubio Trying To Kill Immigration Reform? No, Not Really
Marco Rubio is threatening to withdraw support for the immigration plan he helped draft, but I would suggest not reading too much into that threat.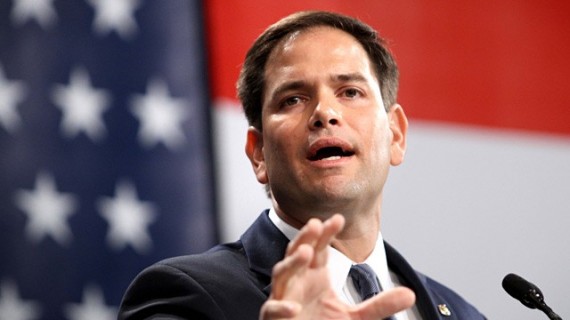 Senator Marco Rubio has been at the forefront of the so-called "Gang of Eight" that worked together to come up with the comprehensive immigration reform bill that the Senate will begin debating next week. In many ways, this was consistent with the position that Rubio has taken on immigration reform since he became a Senator in that he's long been an advocate of fixing what he continually calls a broken immigration system. Rubio has also worked hard to convince his fellow Republicans of the wisdom of the general idea of reform, both for the country and their party, and of the merits of the Senate bill in particular. As a result, he's taken plenty of barbs from the right over the past few months, both from fellow Senators like Ted Cruz and from the activist GOP base, many of whose members have essentially accused a man that they considered a GOP savior not one year ago, of being a "Republican In Name Only" (RINO). Now, there seems to be some signs that Rubio may be backing away from the very idea of immigration reform:
Sen. Marco Rubio (R-Fla.) on Tuesday threatened to vote against the Gang of Eight immigration bill he helped draft unless there are further changes to the legislation.

In an interview with conservative radio talk show host Hugh Hewitt, Rubio said more needed to be done to "strengthen the border security parts of this bill so that they're stronger."

Asked if he would still back the bill if amendments to tighten border security failed, Rubio said "no."

"Well, I think if those amendments don't pass, then I think we've got a bill that isn't going to become law, and I think we're wasting our time. So the answer is no," he added.

Rubio is one of eight senators who drafted the bipartisan Senate immigration deal that would provide a pathway for illegal immigrants already in the country, crack down on border security and create a new guest worker program.
Conservative journalist Byron York says this:
Rubio's turning on his own bill would be an extraordinary turn of events. After playing a major role in drafting the legislation, Rubio has been its public face since then, making countless appearances on television, radio, and in print to gather support for the legislation. What has changed that would mean he would not vote for his own bill? If anything, the security measures in the bill were slightly strengthened in the Senate Judiciary Committee; the bill's original intention to apply new security provisions only to "high-risk" sectors of the U.S.-Mexico border was expanded to apply to all sectors.

So it would be hard to argue that the Judiciary Committee changed the bill in ways that would make it unacceptable to Rubio. But now he says he will vote against the bill approved by the committee, unless major changes are made. It is hard to tell if Rubio really disagrees with the substance of the legislation approved by the committee — he suggested to Hewitt that he would vote against the bill because it wouldn't pass without the changes, not because he objected to particular passages in the bill — but the result would be that the principal author of comprehensive immigration reform would vote against it in the Senate
If Rubio really does turn on the bill, then it will effectively be dead. Not only would there be little hope that it would pass the House, but his defection would likely bring with it the defection of other Republican Senators who may have been persuaded to vote for the bill in part by his support for it. Of course, even if Rubio does stay on the bandwagon for the bill and it passes the Senate, it's prospects in the House are less than bright. Yesterday, Rubio spent the afternoon talking with House Republicans about the bill and quite obviously lobbying them behind closed doors to support it (an indication he's still on board for the moment.) If this report is any indication, though, he didn't really get a very positive reception:
Rep. Issa's reaction to Rubio immigration pitch: 'We have enough House members at 435, so we really don't need another one.'

— Byron York (@ByronYork) June 5, 2013
So, even if Rubio stays on board with the bill and it passes the Senate, its prospects in the House aren't very good at all, unless the House GOP Leadership is willing to put the bill on the floor and let it pass with majority Democratic, and minority Republican, support, which would be a violation of the so-called "Hastert Rule." Now, Speaker Boehner has been willing to violate this rule a couple times during his tenure, most recently with the Hurricane Sandy Relief Bill that passed the House in January. However, it's unclear that Boehner and Cantor would be willing to do something as controversial with the base of their party as immigration reform. It would most certainly lead to challenges to their leadership at some point in the future regardless of what overall public opinion is about the matter.
But, that brings us back to what may or may not be going on with Senator Rubio and what it means for the prospects of the Senate bill. Commentators on the left such as Ed Kilgore and Kevin Drum both seem to take this in stride as part of the supposedly inevitable GOP intention to block immigration reform. Personally, I think that things are far more complicated than that. It seems clear to me that Senator Rubio still supports the basic platform of the Gang of Eight's immigration plan. However, he's a both a politician with a political future on his mind and an experienced legislator.1
Right now, I'd submit, Rubio is trying to walk a very fine line between keeping the immigration bill alive and trying to mollify the base of his party, both for the sake of his own political future and in the hope that the immigration bill might actually have a chance to pass in the House. As I've said before, it is going to be next to impossible to get significant Republican support for immigration reform without provisions in the bill that address the issue of border control. Indeed, for many border state Members of Congress, the border control issue is likely the deciding issue for their vote on the entire bill. If Rubio wants the bill, or at least whatever version of it may come out of the votes in the Senate and the House, to pass, he likely knows that it will have to include something that is going to satisfy the border control crowd. Even if it turns out that what gets put in the bill ends up being entirely symbolic and pointless, something which is not uncommon when it comes to legislation that comes out of Congress, if it ends up getting the votes necessary to pass the overall package, then the overall effort may be worth it.
Obviously, Senator Rubio likely has his own personal political motives for how he's playing the immigration issue right now, but I'd caution those who, like me, support the overall idea of immigration reform, from tossing him under the bus at this very moment.
1 Before becoming a Senator, Rubio was a member of Florida's House of Representatives and, for two years, the Speaker of that body.