Is The Death Star Cost Effective?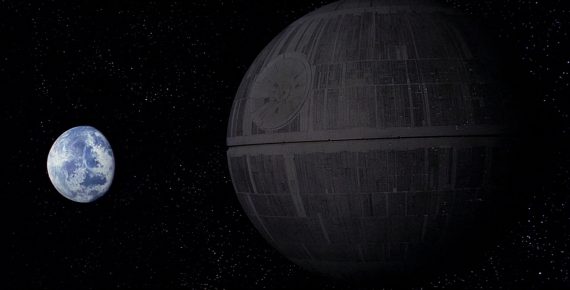 A group of students at Lehigh University have recently calculated that the construction cost of the Death Star was roughly 852 Quadrillion Dollars. While that sounds like a lot of money and, given the ultimate fate of the two iterations of the project it all seems like a total waste, Kevin Drum argues that the project would be surprisingly cost effective:
For starters, this number is too low. Using the same aircraft carrier metric they did, I figure that the price tag on the latest and greatest Ford-class supercarrier is about 100x the cost of the raw steel that goes into it. If the Death Star is similar, its final cost would be about 1.3 million times the world's GDP.

But there's more. First off, the technology of the Star Wars universe is well in our future. How far into our future? Well, Star Trek is about 300 years in our future, and the technology of Star Wars is obviously well beyond that. Let's call it 500 years. What will the world's GDP be in the year 2500? Answer: assuming a modest 2% real growth rate, it will be about 20,000 times higher than today. So we can figure that the average world in the Star Wars universe is about 20,000x richer than present-day Earth, which means the Death Star would cost about 65x the average world's GDP.

However, the original Death Star took a couple of decades to build. So its annual budget is something on the order of 3x the average world's GDP.

But how big is the Republic/Empire? There's probably a canonical figure somewhere, but I don't know where. So I'll just pull a number out of my ass based on the apparent size of the Old Senate, and figure a bare minimum of 10,000 planets. That means the Death Star requires .03% of the GDP of each planet in the Republic/Empire annually. By comparison, this is the equivalent of about $5 billion per year in the current-day United States.

In other words, not only is the Death Star affordable, it's not even a big deal.
Even if this is true, though, one has to wonder if the Galactic Empire really got its money's worth. For one thing, there's the lost tax revenue from the destruction of Alderaan. For another, there's the fact that the project stands as the greatest failure in the history of military contracting.
If I was Palpatine, I'd demand a refund.