Israel, Turkey Begin To Heal Wounds From 2010 Gaza Flotilla Raid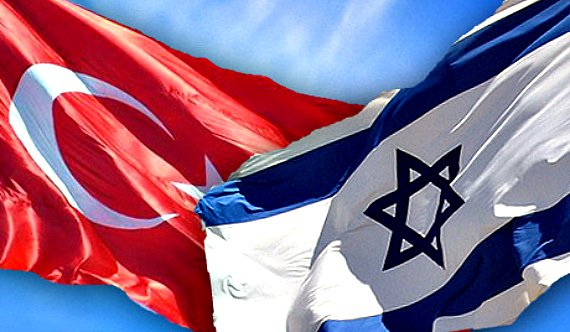 As President Obama was preparing to leave Israel yesterday, Israeli Prime Minister Benjamin Netanyahu was calling his counterpart in Turkey for the first time since relations between the two nations turned sour after an Israeli raid on a ship headed to Gaza that had originated in Turkey:
JERUSALEM — Under persistent prodding from President Obama, Israel and Turkey resolved a bitter three-year dispute on Friday with a diplomatic thaw that will help a fragile region confront Syria's civil war, while handing the president a solid accomplishment as he closed out his visit to the Middle East.

The breakthrough took place in the most improbable of surroundings: a trailer parked on the tarmac of Ben-Gurion International Airport. Moments before Mr. Obama left for Jordan, Prime Minister Benjamin Netanyahu telephoned the Turkish prime minister, Recep Tayyip Erdogan, and apologized for deadly errors in Israel's 2010 raid on a Turkish ship that was trying to bring aid to Palestinians in Gaza.

After years of angrily demanding an apology, Mr. Erdogan accepted Mr. Netanyahu's gesture, and both sides agreed to dispatch envoys to each other's nations, having recalled them in 2011.

The president's involvement, a senior American official said, was crucial to both leaders, which is why Mr. Netanyahu scheduled the call before Mr. Obama's departure from Israel. Mr. Erdogan insisted on speaking to Mr. Obama first before the president handed the phone over to Mr. Netanyahu. In the end, the call produced a win-win for all sides.

Mr. Obama achieved reconciliation between two of the United States' most important allies, while Turkey and Israel won good will with the White House, important for two nations that have made ties to the United States central to their foreign policies. Turkey and Israel, along with Jordan, have also been three pillars of stability for the United States as it confronts a civil war in Syria that threatens to spill beyond its borders and destabilize the broader region.

"Both of us agreed the moment was ripe," Mr. Obama said of Mr. Netanyahu at a news conference later in Amman, Jordan. He cautioned that the détente was a "work in progress" and that Turkey and Israel would continue to have significant disagreements as they mended fences. American officials say both countries are still "working the issue" of dropping criminal charges against four current and former top Israeli military officials that Turkey had indicted in the flotilla raid, and of determining Israel's compensation to Turkey.

Mr. Obama reiterated his support for Jordan, too, announcing after a meeting with King Abdullah II that the United States would provide an additional $200 million in aid to help Jordan with the burden of caring for 460,000 Syrian refugees who have flooded into the country.

Israel and Turkey have a host of shared economic and security interests, and both are concerned about the unraveling situation in Syria. Turkey also could play a strategic role in Washington and Jerusalem's efforts to stop Iran from developing a nuclear weapon, as well as in resolving the Israeli-Palestinian conflict.

It was the Palestinian issue that opened the rift between the two, when Israeli commandos raided the Turkish ship, the Mavi Marmara, as it was trying to break Israel's blockade of Gaza to deliver supplies. Nine people were killed in clashes on board, prompting an international outcry, several investigations and a rebuke by the United Nations.

"The prime minister made it clear that the tragic results regarding the Mavi Marmara were unintentional and that Israel expresses regret over injuries and loss of life," a statement issued by Mr. Netanyahu's office said.

Mr. Erdogan's office, in turn, said he had accepted the apology "on behalf of the Turkish people," and that in his conversation with Mr. Netanyahu he had emphasized their nations' shared history and prior eras of friendship and cooperation.

The call's timing came as a surprise after a visit by Mr. Obama that was intensely symbolic and, publicly at least, tightly focused on Iran, Syria and the peace process. Mr. Obama used his trip to convince the Israeli public that he was a strong supporter and ally — credibility he then hoped to use to persuade the Israelis that it was safe, and wise, to earnestly embrace negotiations with Palestinians. Public reaction suggested that Mr. Obama did win the public trust, but it was not at all clear that he would achieve the second goal and prompt any significant movement in the long-stalled peace process.
On the right, the reaction to this news of two nations that had been allies for many years prior to 2010 was greeted not with appreciated, but with, of course, attacks on President Obama. Apparently, the meme now is that President Obama forced Netanyahu to apologize to Turkey. Now,say what you will about the Prime Minister of Israel, but easily intimidated is not one of the phrases I'd use to describe him. The image of Obama "forcing" his Israeli counterpart to do something he didn't want to do is utterly absurd. What's more likely, of course, is that Obama persuaded Netanyahu that beginning to heal the rift with Turkey was in his nation's interests and, as Walter Russell Mead notes, this is a good thing:
This is most welcome news. Any progress on narrowing the rift between Israel and Turkey is very important if there is to be any hope of stabilizing the Middle East. Israel and Turkey, despite differences, have a lot of interests in common: Syria and Iran in particular draw them together. They have come close to resolving the flotilla issue before, and by all accounts the gaps between them were not all that wide. Nevertheless, to the extent President Obama helped to directly facilitate this diplomatic opening, he is to be applauded.
And, as Allahpundit notes,it's not hard to figure out what might be motivating the Israelis and the Turks to move beyond the flotilla incident:
The real significance of this, I think, is that it signals deepening worry among Syria's neighbors about spillover from the war. Whether that's related to the (probably apocryphal) claims of chemical weapons being used a few days ago or to some other form of escalation that the world doesn't know about yet is unclear, but evidently Bibi and Erdogan have reached the point where containing the Syrian black hole is more important than holding old grudges. That's more bad news for Iran, as naturally it prefers its enemies in Tel Aviv and its enemies among anti-Assad Islamists to remain divided.
In the long run, Israel and Turkey have more in common than that which divides them. So, this is a positive development.