Israeli Ground Offensive Underway
What comes next is anyone's guess.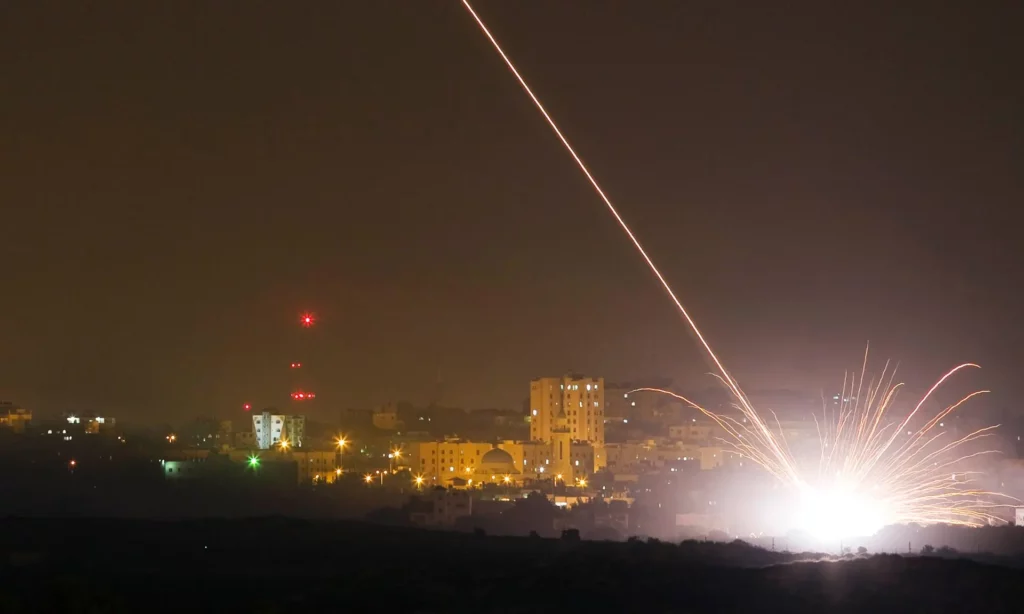 The reporting is, to say the least, disjointed.
Reuters ("Gaza under blackout as Israel reports 'good progress' in war against Hamas"):
Gaza was largely cut off from the outside world on Saturday after Israel expanded air and ground operations and suggested its long-promised ground offensive against the Hamas militants controlling the Palestinian enclave had begun.

Israel said on Saturday morning its troops, sent in on Friday night, were still in the field, without elaborating. The country had earlier made only brief sorties into Gaza during three weeks of bombardment to root out Hamas militants, who it said had killed 1,400 Israelis, mostly civilians, on Oct. 7.

"The forces are still in the field and continuing the war," Rear Admiral Daniel Hagari told a news briefing on Saturday morning.

Gaza was under an almost complete communications blackout, with internet and phone services cut for more than 12 hours by Saturday morning. The Palestinian Red Crescent said Israel had cut the communications.

Hagari also said Israel would allow trucks carrying food, water and medicine to enter Gaza on Saturday, indicating that bombing might pause, at least in the area of its border with Egypt where small amounts of aid have been arriving.

Aid agencies have said a humanitarian catastrophe is unfolding in Gaza, whose 2.3 million people are under a total Israeli blockade. Health authorities in the Hamas-run enclave have said more than 7,000 Palestinians have been killed since Israel's bombardment began.

The head of the World Health Organisation (WHO), Tedros Adhanom Ghebreyesus, said the blackout was "making it impossible" for ambulances to reach the injured in Gaza.

"Evacuation of patients is not possible under such circumstances, nor to find safe shelter," he said on X.

He, the Red Crescent and the U.N. children's fund UNICEF said they were unable to contact their staff and facilities.

Al Jazeera, which broadcast live satellite TV footage overnight showing frequent blasts in Gaza, said Israeli air strikes had hit areas around the enclave's main hospital, Al Shifa, in Gaza City in the north.

Israel's military accused Hamas on Friday of using the hospital as a shield for its tunnels and operational centres, an allegation the group denied.

Reuters could not verify reports of strikes near the hospital. Medecins Sans Frontieres (Doctors Without Borders) said it was particularly worried for patients, medical staff and thousands of families taking shelter there and at other health facilities.

An Al Jazeera correspondent, reporting live on Saturday morning, described the cut in internet and phone communications as "catastrophic" for rescue efforts following a night of heavy Israeli bombardment.

Unable to reach ambulance services, Palestinians were transporting the dead and injured to hospital in their cars, the correspondent said. The Hamas-run government said rescue crews were unable to receive emergency calls.

[…]

Some of the relatives of people captured in Israel during the Oct. 7 Hamas assault demanded an urgent meeting with the Israeli government after what they called "the most terrible of all nights".

"None of the war cabinet bothered to meet with the families of the hostages to explain one thing – whether the ground operation endangers the well-being of the 229 hostages in Gaza," the Hostages and Missing Persons Families Forum headquarters said.

Defence Minister Yoav Gallant said he would meet with family representatives of the hostages on Sunday. The hostages include children and the elderly and many people with foreign passports. Four women have been released so far.
NPR ("Israeli troops remain in Gaza, marking a significant escalation of the conflict"):
Israeli troops remained on the ground in the Gaza Strip Saturday as part of what military officials have described as an "expansion" of ground operations, marking a significant escalation in Israel's war with the militant group Hamas that began earlier this month.

For the last several days, the Israel Defense Forces had mounted a series of limited incursions into Gaza, in which soldiers left soon after entering. But Saturday's announcement was the first extended presence of Israeli troops in the territory.

"Expanding the operation serves all the war's goals," said Rear Adm. Daniel Hagari at a press briefing Saturday morning.

Israeli troops entered from northern Gaza, Hagari said, among them ground troops, armor and artillery. Footage released by the Israeli military appeared to show tanks entering along the beach on Gaza's north end. The ground operation was supported by "very significant, massive attacks from the sea" and heavy air bombardment, Hagari said.

"The impending IDF operation is set to neutralize the threats of Hamas with precision and intensity," Hagari said in a video message posted to social media Saturday afternoon local time.

[…]

IDF fighter jets struck 150 underground targets across the northern Gaza Strip, officials said, killing a number of Hamas operatives. Among those killed was Asem Abu Rakaba, the IDF said, describing him as an official who had helped to plan the Oct. 7 attack in which hundreds of Hamas fighters flooded across Gaza's border and killed more than 1,400 Israeli soldiers and civilians. Abu Rakaba was responsible for the drones and paragliders used by Hamas that day, an IDF statement said.

"Their death and assassination leads to a good advancement in the war's stages and allows the forces on the ground to battle a weaker enemy," Hagari added.
Snippets from the BBC live blog ("Israel pounds Gaza with non-stop strikes after overnight bombing causes 'total chaos'"):
As we've been reporting, a communications blackout across Gaza has made it difficult for civilians, aid agencies and journalists to contact the outside world, with some reports attributing the outage to Israeli authorities.

The BBC's Today programme asked Mark Regev, senior advisor to Benjamin Netanyahu, if cutting the lines was an acceptable practice.

"In military operations conducted by the British army, the American army often it is standard behaviour to disrupt the communications of your enemy," Regev said.

Asked directly by the BBC if Israel had deliberately cut the communications to Gaza, Regev replied: "I didn't say that. I just said that it is normal practise for Western, democratic armies to do".

He added that he was waiting for a "full briefing" from the IDF to be able to answer why lines were down.

[…]

Israel's defence minister Yoav Gallant says the country's military has "shifted phases in the war" and that its operation will continue "until further notice".

"Tonight the earth in Gaza shook," he told Israeli television channel Kan 11.

"We attacked above the ground and under it. We attacked terrorist operatives from all levels everywhere. The directives to the forces are clear: the operation will continue until further notice."

[…]

The IDF has told the BBC a variety of methods has been used to relay its latest warning to the people of Gaza, including dropping leaflets from the air, radio, the internet and what are described as "additional methods we cannot elaborate about."

[…]

Israeli army spokesperson Daniel Hagari has issued an "urgent plea" to the citizens of northern Gaza and Gaza city to move south "immediately".

In a post on X, Hagari says they will be able to return to their homes when once the "intense hostilities end".

He adds that Hamas puts their lives in danger by placing weapons in civilian areas, and that Israel will not forget the group's brutal 7 October attacks.

"Your window to act is closing," Hagari warns. "Move south for your own safety."
The carnage and destruction from this will be awful, quite probably with no resolution of the underlying conflict on the other side. That's tragic and frustrating but it's not at all obvious what the alternatives are.
The idea that any democratic government would refrain from a ground invasion under these circumstances is a pipe dream. Similarly, the idea that they would postpone such an attack—which they have already done for three weeks—indefinitely while somebody negotiates with terrorists to release hostages makes no sense.
The notion that the IDF is going to constantly give up the advantage they gain from an offensive to allow supply vehicles to enter is equally absurd. That's just not how wars work.
That they cut communications ahead of the invasion is simply standard practice. They have their own comms and the ability to fight at night, so they're naturally going to use that to their advantage.
That journalists, aid workers, and the like are getting killed, in danger of getting killed, and unable to communicate with their loved ones is, of course, awful. It is, alas, the nature of the enterprise: if you intentionally put yourself in a war zone, you're assuming that risk.
All in all, while the "human animals" language used by senior Israeli officials in the early going, along with cutting off food, water, and electricity were own-goals that played into Hamas' hands, it's not all that obvious what more the IDF is supposed to do under the circumstances. By warning non-combatants of attacks, they're denying themselves the element of surprise and yet they're continually doing that. While the options to flee to modestly safe zones are decidedly less than ideal, it's certainly much more than Hamas afforded Israeli civilians while they murdered, mutilated, and kidnapped.
Again, I have no idea what the end game here is. It's an emotionally driven reckoning, to be sure. But they're making clear that they expect Palestinians to be living in Gaza once the fighting ends; this isn't an attempt at ethnic cleansing. But that also means that there is going to be a Hamas or some other militant Palestinian group arising from the ashes of the conflict.